DJ Khaled Interrupts Preschool Class To Show Off His Son's Exclusive Nike Jordan Drip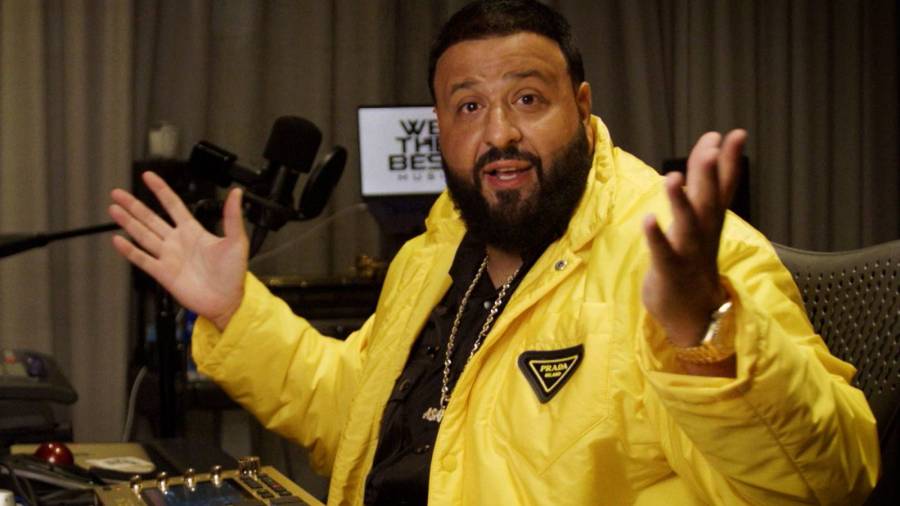 DJ Khaled found himself a trending Twitter topic on Saturday night (January 30) after he shared a clip of his 4-year-old son Asahd flossing some exclusive Nike Jordan drip. While that's not necessarily out of the norm, it's where he did that had people laughing.
In the viral clip, Ashad is munching on a snack when his famous father asks him, "What kind of sneakers you got on today?" to which Asahd answers, "Michael Jordans." Khaled continues, "These are very, very, very exclusive. Come over here in the sun. This is unbelievable. Look at these. He got the Father of Asahd 3s on and he got his own sweats. Let me see that t-shirt. Wow [laughs]. What does it say?"
Asahd replies, "All I do it win," to which Khaled says, "That's right boy! Keep doing your thing. Oh wait, let me get the back of your shoes. Wow! Alright guys, do good in school."
With that, Asahd walks back into a classroom where several students — and a teacher — are waiting for him.
.@djkhaled's son only wears heat! 🔥

Wait 'til the end 😂😂😂 pic.twitter.com/xYBOmAFyLr

— Nice Kicks (@nicekicks) January 30, 2021
According to Stadium Goods, the DJ Khaled x Air Jordan 3 "Father of Asahd" is an extremely rare friends and family edition of the Jordan 3 designed by and made exclusively for DJ Khaled. After debuting the red Jordan 3 "We the Best" in 2017, the multi-platinum artist followed up his exclusive colorway with two more versions in 2018 in blue to celebrate the release of his album Father of Asahd.
The shoe features a blue suede construction with a reflective mudguard at the base of the upper and the classic elephant print paneling in grey. The words "We the Best" is found on the left heel tab opposite the traditional Jumpman logo on the right, while a silver rubber outsole rounds out the look. A select number of pairs were given away via an online raffle to promote the project. They are currently going for $10,300 and up.
Although Khaled's little show-and-tell appears to be disruptive, the 45-year-old deserves some credit. In December 2020, PEOPLE magazine reported Khaled turned his guesthouse into a COVID-19 safe learning pod for his son and some of his classmates. Even so, the Twitter reactions were hilarious. Check some of them out below.
Dj Khaled literally called his son out of his class to do a YouTube Video then sent him back… pic.twitter.com/znVIXDsyPQ

— CHISOM (@_PLICE) January 31, 2021
LMFAOOOO dj khaled pulled his son out of class to do a fit check pic.twitter.com/WyVG0yDTfd

— 𝐿𝑒𝑒⁷ (@uhhhhgood) January 31, 2021
The teacher and students waiting to start class while Khalid yelling in the hallway pic.twitter.com/p354NRipZQ

— 🥫beans. (@thehousechillnn) January 30, 2021
Lmao this man waited til he got to class 😭😭, he woke up n chose flex

— Shameek Miller (@Shameek_Miller_) January 30, 2021
This man is a legend in my eyes , he literally interrupted his son's class just to showcase his shoes 😂😂

He the best ! @djkhaled 🤣pic.twitter.com/tHQzyKQ408

— Jaiswal 😈 | Red Eye Stan (@Belieberauhl) January 31, 2021
lmfaoooooo no he didn't stop the whole class bro i'm crying fr https://t.co/0pzyYBR9YC

— oneek (@auqeno) January 30, 2021
My goodness DJ Khaled really stopped the whole class just to hype up his son 😭 that teacher looked FED UP 😭😭

— 🐾 (@cardiovsculrhor) January 31, 2021
Dj Khaled really interrupted his son's school day to yell WOWWWWW mad times. Lmfao.

— native butterfly. (@Tyresell) January 29, 2021
I imagine him interrupting his son's class and be like "DJ KHALED! May I please borrow my son for a bit." https://t.co/ZarZZjI99Q

— Ken 爺さん (@Poteytoooo) January 31, 2021
dj khaled taking his son out of class to flex on ig real quick is honestly a power play.

— chris (@killchris2) January 31, 2021
LMAO , I thought he was in the dressing room . . DJ Khaled is wilddddd 🤣🤣🤣🤣 I'm definitely gone hype my son up like this https://t.co/K26Q58iDky

— sK❣ (@k_jvckson) January 31, 2021