10 Juice WRLD Songs That Honor The Live Free 999 Legacy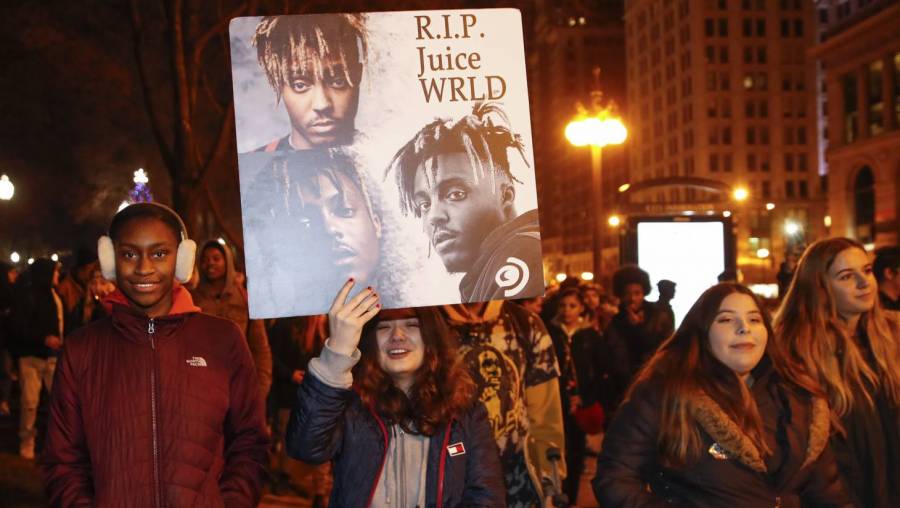 Chicago, IL – Today marks a year since we lost Juice WRLD, a generational talent that smashed genre barriers and ushered in a new sound of Hip Hop. The Chicago-born rapper tragically died from an opioid overdose at an Illinois airport while traveling to celebrate his 21st birthday.
During his far too brief tenure on this earth, Juice, born Jarad Anthony Higgins, nimbly ascended rap's hierarchy with striking ease.
From the moment his aching crooning reached the public through 2017's "Lucid Dreams," it was immediately clear the monumental impact Juice would have on Chicago and rap at large. Working at a break-neck pace, Juice quickly amassed a bulletproof discography of emotional anthems and belligerent escapades. As he accelerated through rap's ranks and the charts alike, Juice became the bard for the youth, especially those with tortured minds.
During his lifetime, Juice produced three studio albums, Goodbye & Good Riddance, Death Race For Love and a collaborative album with Future, Future & Juice WRLD Present… WRLD ON DRUGS. Alongside his published music, fans can dive into the hours and hours of freestyles and snippets buried throughout the internet.
Juice WRLD's legacy will be as complicated contrasting as his life and music. He'll be known for his songwriting talents, touching voice and his spiraling, endless freestyles. He'll also be known as someone who struggled immensely with mental health and addiction. But those struggles were exactly why he transcended his peers; he was vulnerable when detailing his life and presented the whole picture — not just the highlights.
Juice WRLD never made it to his 21st birthday party, so let's celebrate for him. Here are ten songs that honor every part of the late rap star's legacy, from the darkest crevasses to the highest peaks. Long Live Juice WRLD.
"End Of The Road" – Goodbye & Good Riddance [2018]
Like every good rapper, Juice WRLD wrote songs to represent the world around him and didn't shy from the darkest parts. So, listening to "End Of The Road" has become an uncomfortable but incredibly insightful experience in the wake of his death. We find a destitute Juice just trying to survive while carrying the weight of an increasingly demanding addiction. There's a brutal point of reflection in the track where Juice realizes that despite his newfound success, his problems have not subsided, and frankly, there's nothing more tragic.
Conversations" – Legends Never Die [2020]
From Juice WRLD's first posthumous album, Legends Never Die, "Conversations" is something of an artist statement from Juice WRLD. Listening to "Conversations" feels like observing Juice in the midst of an intimate conversation with his demons. There's a vague sense of acceptance of his circumstances, but it's unclear whether that's a sustainable feeling or a sign of giving up—Juice lets the listener decide.
"Maze" – Death Race For Love [2019]
A common theme which Juice perpetuated throughout his music was his fate for early death. "Maze," off the hauntingly titled Death Race For Love, presents Juice in an endlessly spiraling maze within his own mind. Juice is lost, attempting to escape his pain through drugs and adrenaline rushes. What's more, there's a notion that his fame pushed him further into his dark space, sending warnings for future artists and industry executives about the destructive nature of the industry.
"Lucid Dreams" – Goodbye & Good Riddance [2018]
No Juice WRLD list could ever be complete without the late rapper's "Lucid Dreams." A groundbreaking song both sonically and the massive influence it imparted on the genre. The production is crisp and simple, with a wispy piano riff which drifts and dances with Juice's emotive singing. We don't give Juice enough credit for his maturity on the subject of love. Though he was barely 21-years-old at the time of his death, he spoke about love with a care and generosity foreign to most of his peers.
"Legends" – [2018 Single]
The most poignant lyric Juice WRLD ever wrote was: "What's the 27 club? We ain't making it past 21." Because of its dark irony, the bar has been quoted endlessly since his death, but it was originally written for "Legends," a track remembering the artists we had lost that year. As he mourns the deaths of XXXTENTACION and Lil Peep, he ponders his own fate — what pushes these young superstars to fall? Juice suggests that the pressure and sudden acclaim is an important factor.
"Hear Me Calling" – Death Race For Love [2019]
On "Hear Me Calling" from Juice WRLD's Death Race For Love, we see a portrait of a 20-year-old in love. It's been mentioned so frequently that it's begun to lose meaning but it's important to note how young Juice was. We see him as a kid, really, serenading a lover with youthful zeal. The ballad is somewhat childish but piercingly genuine — it's a Gen-Z romance that encapsulated a generation.
"ON GOD" f. Young Thug – Death Race For Love [2019]
Juice WRLD's ability to transcend generations and appeal to not only Gen-Z and the SoundCloud era, but also previous generations was a special skill only present in legendary artists. "ON GOD" puts Juice head-to-head with a worthy sparring partner in Young Thug. Throughout Juice's discography, he fears the impact his success will have on his life. But "ON GOD" allows him some needed reprieve to celebrate his hard-earned accomplishments.
"Nuketown" (Ski Mask The Slump God f. Juice WRLD) – STOKELY [2018]
Since we're celebrating Juice WRLD, let's get rowdy. "Nuketown" from STOKELY, Juice WRLD's close friend and frequent collaborator, Ski Mask The Slump God's 2018 album, is pure belligerent fun. The two partners-in-crime trade raucous bars over an absolutely ground-shaking beat from FreshThPharmacy. Watch the corresponding music video and see a defiant Juice living his life to the fullest.
"Fine China" – Future & Juice WRLD Present… WRLD ON DRUGS [2018]
If Gunna, Lil Keed and the YSL crew was spawned from the eclectic influence of Young Thug, Juice WRLD is the direct progeny of Future. Their relationship and its implications was complicated. When Juice WRLD revealed that he began sipping lean and popping pills as a youngster trying to emulate Future, it left the Freebandz Boss in an unsettled state, which was only exacerbated with Juice's untimely fatal overdose in December 2019. It brought into question artists' responsibility for their listeners and the negative repercussions their music can have on the youth. There is no simple answer, but the conversation must continue. But despite the controversy, WRLD ON DRUGS was a full-circle moment for an artist who went from listening to their favorite artist to working with him in only a few years.
"Man Of The Year" – Legends Never Die [2020]
Juice had an enviable ability to look through the pain he was experiencing to see better days. "Man Of The Year" is Juice expressing a beautiful sense of pride for his life. He doesn't hide his demons; he places them right in the forefront of the message, balancing them honestly with the love and joy present throughout his life. He's exalting his own strength and trust in himself to overcome any obstacles in his life. His songs dripped with heartache and pain, but he should also be remembered for the joy he imparted on others and the bravery he shared in the face of overwhelming pain.
View this post on Instagram
Click here to support Live Free 999, Juice WRLD's memorial fund committed to aiding youth with mental health services and substance dependency.