21 Savage Encourages Fans' UK Jokes As 'Savage Mode 2' Eyes Billboard 200 Crown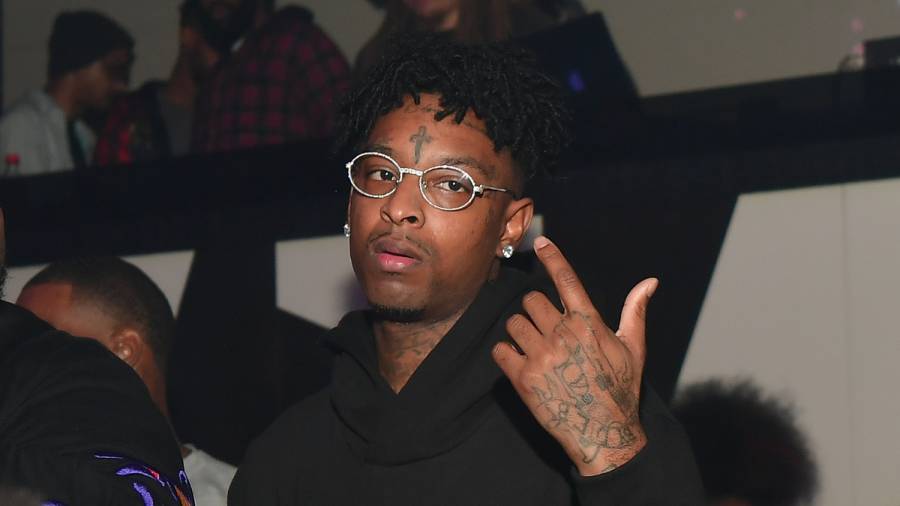 21 Savage isn't bothered by anyone's jokes about his British origins — in fact, he encourages them.
On Tuesday (October 6), the U.K.-born rapper shared several Instagram photos of himself rocking all white, a Friday the 13th Halloween mask, a slick, gold OVO owl chain and black and white Nikes as he showed off stacks on stacks on stacks of hundred dollar bills.
He wrote in the caption, "im from Atlanta where even da J's Hustle!! (drop your uk jokes here)."
View this post on Instagram

im from Atlanta where even da J's Hustle!! (drop your uk jokes here 👇🏾)
21 has every reason in the world to celebrate right now, even with the current COVID-19 pandemic. His new album with Metro Boomin, Savage Mode 2, is predicted to debut at No. 1 on the Billboard 200 next week and people can't stop talking about the project — whether it's about Morgan Freeman's involvement or the Drake controversy.
The OVO boss stirred up some internet chatter with the song "Mr. Right Now" in which he revealed he used to date Top Dawg Entertainment singer SZA in 2008. While initially mum on the topic, SZA eventually admitted to their romantic history on Twitter and made sure to note there was nothing creepy about it.
"So it was actually 2009 lol," she said. "In this case a year of poetic rap license mattered. Lol I think he jus innocently rhymed 08 w wait. Anybody who really knows me and was around during this time can confirm.. it's all love all peace."
As for 21, the rap community lost its collective mind in February 2019 when he was arrested by U.S. Immigration and Customs Enforcement (ICE) for overstaying his visa.
ICE spokesman Brian Cox said 21 was taken into custody as part of a "targeted operation" and was an "unlawfully present United Kingdom national." Although 21 legally entered the States in July 2005 on a visa, that visa expired a year later and he remained in the U.S. illegally for over a decade.