21 Savage Reflects On Takeoff: 'I Ain't Never Seen That N-gga Mad'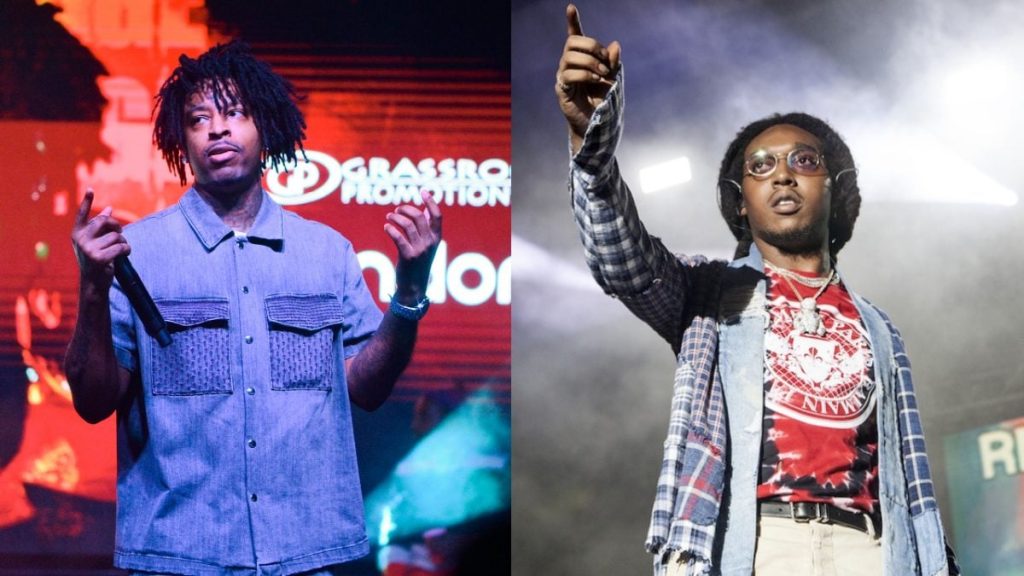 21 Savage has reflected on his relationship with TakeOff, who was shot and killed in Houston, Texas last week.
The Slaughter Gang rapper stopped by Akademiks' Off The Record podcast, and said he had never seen TakeOff frustrated about anything.
"TakeOff the type of n-gga like if I see TakeOff arguing with a n-gga I know the other n-gga wrong," Savage said. "Like automatically. He a man, he ain't no bitch, he just not confrontational. He in his own world. He wanna do what he do."
He continued, "He not really in the way, in the mix for real. He just always in his own world. He really quiet for real unless he know you. He funny as hell though, but if he know you type shit. I ain't never seen that n-gga mad, had an attitude. I ain't never seen him out of character. He always the exact same way everytime I see him. He'll smile, dap you up. Mind his business bro."
View this post on Instagram

TakeOff (real name Kirsnick Khari Ball) was shot and killed while at a Houston, Texas bowling alley on November 2. Authorities in Houston, Texas were notified of a shooting "shortly after 2:30 a.m." at a local bowling alley where a dice game had taken place. A conflict reportedly arose at this time, followed by shots fired, though more details weren't available.
The Harris County Medical Examiner confirmed in TakeOff's autopsy report on Wednesday (November 2) that the Migos member died of "penetrating gunshot wounds of head and torso into arm." No arrests have been made yet, but the Migos member was honored with a candlelight vigil on November 4.
TakeOff had just joined Quavo for their first joint album together Only Built for Infinity Links, while Migos wrapped its critically lauded Culture trilogy with Culture III last June, where 21 Savage appeared on the track "BBO (Bad Bitches Only)." TakeOff also released his first solo album The Last Rocket in 2018.
As for 21 Savage, his new Drake-assisted album Her Loss is about to have a massive week on the Billboard charts, and will likely debut at No. 1 on the Billboard 200 with 335-350K first-week units sold, including 425-450 million on-demand streams.