42 Dugg Snaps After He's Called Out For 'Inappropriate' Video With 3-Year-Old Son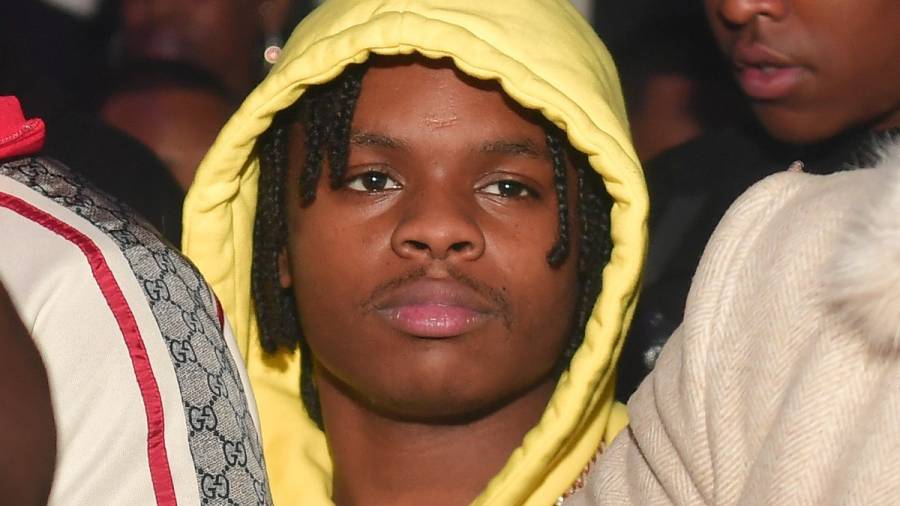 When someone is trending on Twitter, it's typically not something to celebrate. Either they've passed away or there's some scandal people can't ignore.
Such is the case with 42 Dugg who became a trending Twitter topic on Friday night (July 30) for an "inappropriate" video he posted with his 3-year-old son. In the clip, the Motor City rapper appears to give his child a hickey on his neck by first licking it with his tongue and then sucking on it for a prolonged period of time.
The post prompted several people to threaten to call Child Protective Services.
"42 Dugg wtf type kiss of this???" one person wrote. "I'm about to call CPS #IDontLikePeopleWho touch kids inappropriately. SMH."
42 dugg Wtf type kiss is this??? I'm about to call CPS #IDontLikePeopleWho touch kids inappropriately smh

pic.twitter.com/8TrP9XGjUJ

— 𝙷𝚘𝚘𝚍𝚒𝚎𝙻𝙱𝙹 ➐ (@HoodieLBJ) July 31, 2021
In a quick post-and-delete, 42 Dugg responded to the backlash with "Suck my dick you gay biotches" before seemingly addressing the DaBaby Rolling Loud Miami controversy and Lil Nas X.
"Ain't nobody going for that gay ass hoe ass shit y'all on," he wrote. "y'all quit to get on some GAY BITCH ASS SHIT BUT WHEN AS N-GGA JUMP DOWN ON ONE YOU HOE N*GGAS AND CALL SOMEBODY OUT WE HOMOPHOBIC. DON'T NOBODY GIVE AH FUCK ABOUT THAT SHIT YALL DON'T NONE US WE ENTERTAINERS THATS IT."
He added, "WE NOT HERE TO coach you on life if I say I'm not with that gay shit that's where y'all should leave it quit tryna shove that shit down n-ggas throats, ah gay n-gga ah be on national tv tonguing another HOE ASS N-GGA, but that's ok though y'all or no other muthafuckas on earth ain't finna make me like SHIT ION LIKE."
Still, it didn't stop Twitter from coming for him. Check out some of the reactions below.
Me looking at 42 dugg give his son a hickey pic.twitter.com/DTELJezWpN

— ♧︎ (@Slxmebeezy_) July 31, 2021
SMH why the fuck did I check to see why 42 Dugg was trending pic.twitter.com/oG8yV3UwGs

— TayLito Shute💕 (@BlackBoy16_) July 31, 2021
Lil Baby next time he see 42 Dugg pic.twitter.com/eoeZp8g3TC

— Mink Flow (@currypistonn) July 31, 2021
42 Dugg once his plane lands pic.twitter.com/bKeGxgKcZ8

— Timbo 🏁 (@Iamthetimby) July 31, 2021
Me when I saw why 42 dugg was trending… pic.twitter.com/L61uwJBQT4

— SanaBanBiche (@RalphyIsComedy) July 31, 2021
Me checking to see why 42 Dugg is trending.

pic.twitter.com/lJPw6BjvCp

— NUFF (@nuffsaidny) July 31, 2021
seeing 42 Dugg give his son a hickey messed up my whole weekend… pic.twitter.com/un16bLXY45

— R+^* (@xxrxggie) July 31, 2021
I did not just see 42 dugg give his son a hickey pic.twitter.com/tIRFLCOgV4

— Reigen 🐲 (@jusdonjee) July 31, 2021
I really wish I didn't see that 42 Dugg video… pic.twitter.com/2oxnEXBCNq

— The Void (@overneptune) July 31, 2021
I love 42 Dugg but that video with his son is weird. pic.twitter.com/MvjjzhFw8N

— ❤️ (@SipOf__TEE) July 31, 2021
42 Dugg didn't have to post that pic.twitter.com/8N05QpS9EE

— Edwin🇸🇻/RIP Mamá Lydia (@squid_win) July 31, 2021