42 Dugg's Slick Trap Rap + Double-Platinum Touch Snags A HipHopDX 2021 Rising Star Slot!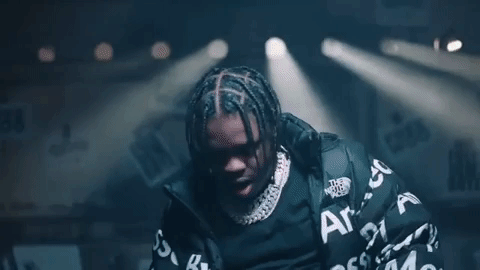 Hailing from Detroit's venerable Seven Mile area and solidifying his name as a lyrical, fashion and op killa, HipHopDX is proud to introduce 42 Dugg as a 2021 Rising Star.
From aligning his goals with those of Yo Gotti and Lil Baby's for their CMG and 4PF imprints, respectively, to casually beasting Billboard hit singles such as "We Paid" and "Grace," 42 Dugg carries himself like a rap vet who disregards any rookie hazing.
Hometown: Detroit, MI
Notable Co-Signs: Yo Gotti, Lil Baby, Meek Mill
Notable Projects To Date: Young & Turnt 2 (2020)
Accolades To Date: Signed to both Lil Baby's 4PF & Yo Gotti's Collective imprints (through EMPIRE); Lil Baby's "We Paid" reached No. 10 on Billboard; Breakout mixtape Young & Turnt: Vol. 2 reached No. 58 on Billboard 200
Musical Style
When the Detroit rap firecracker haphazardly gave former Billboard chart-topper Yung Joc a lyrical stray on Lil Baby's monster hit single, the double-platinum "We Paid," it was the trapper drawl that stuck to fans' ears the longest.
"Fore I go broke like Joc/Fuck with that dog like Vick (roof)/Not that rock, that pit'/Palm Angels down to my sock/Can't hold my Glock, reason I don't really like that shit," the 26-year-old flexed, leaving listeners hypnotized where he deems the bars to begin and end.
And therein lies to the allure of 42 Dugg's music: his ability to transform the most gully street encounters into infectious bops that speaks to both the hood-hop enthusiast and hardcore TikTok'er. He's also known for his signature whistle to open each track; its piercing sonic all but guarantees the track is set to be a banger. 

Just ask incognito EDM royalty Marshmello, who tapped 42 Dugg for their 2020 single "Baggin'" — having hobnobbed with pop sparklers such as Selena Gomez, Kane Brown and Halsey in the past.
While his lyrics display a heavy affinity for fashion and diamond-encrusted accessories, his delivery allows for a vivid expansion in detail and as if every song is designed to be a story-telling rap.
Rising Star Power
An up-and-coming rapper could genuinely benefit from a more established act singing their praises, giving them guidance and opening up revenue streams. After a rough go throughout the Motor City streets, 42 Dugg landed not one mentor but two through the tutelage of Yo Gotti and Lil Baby — who both split the artist and repertoire duties for Dugg's ever-expanding craft.
On their three-headed monster of a track "Not A Rapper" (from Dugg's sizzling 2020 mixtape Young & Turnt 2), the two megastars bob a lyrical triangle offense onslaught around their young mentee, allowing him to shine like a true Rising Star.
"Hit my n-gga Baby for the G behind the PMFive outta nine, I done hit a n-gga BM/I bet whatever on the team, fuck a re-up/These n-ggas hoes, half of 'em wanna be us," Dugg slides with ease on the bass-boosted production.
Meek Mill also leaned on Dugg for his comeback-starting single "GTA" in 2020, which employed the Detroit drill sound that's imploding all through the Midwest as you read this sentence.
HipHopDX will closely chronicle 42 Dugg's tracks and triumphs alike this year as he preps his studio debut album. Congratulations on the youngest, most "turnt" youngin' for being a 2021 Rising Star!
Check out more of the 2021 Rising Stars here.