50 Cent Wants Rom-Com Collab With Nicki Minaj: 'I Understand Her More Than Other People'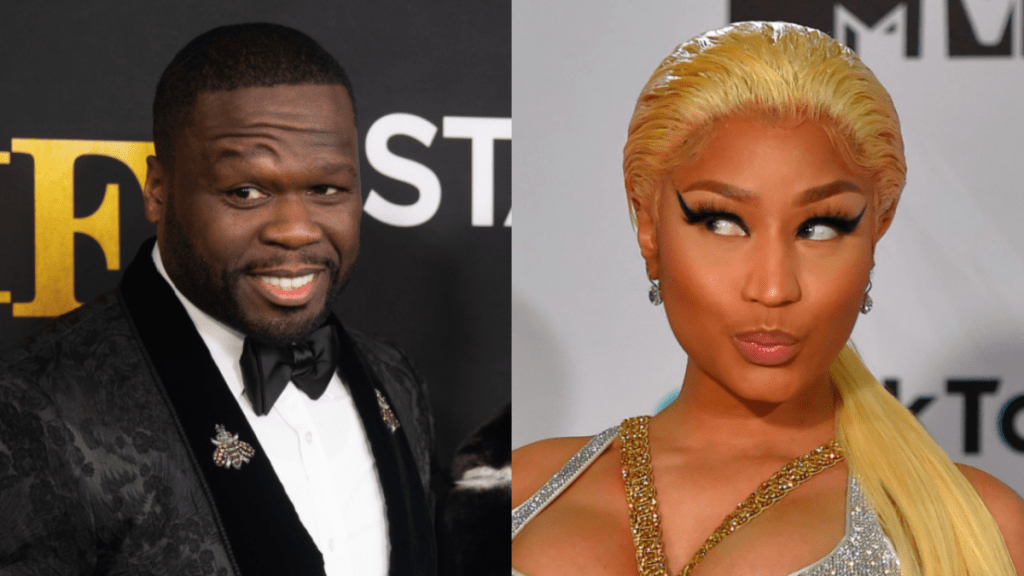 50 Cent has an acting career stretching back to 2005's Get Rich or Die Tryin', but he's yet to land a lead role in a romantic-comedy film. During an appearance on the Jalen Rose: Renaissance Man Podcast on Thursday (September 30), he was asked whether he'd ever delve into that genre of movies and who he'd like to star opposite in a love scene.
"You know who would probably be fun to work with? Nicki," 50 Cent said. "Nicki Minaj would be fun to be in a romantic comedy with. I kinda understand her a little bit more than the other people. She's tougher. When she's being an asshole, it's because she's telling you, 'You're not going to take advantage of me.'"
He continued, "The environment, it made her a little more like, she's going, 'Don't play with me,' before you play with her, because of how the temperament of the environment and how people are where we come from."
In July 2020, 50 Cent talked about his love for Nicki Minaj on an episode of Lil Wayne's Young Money Radio show, having both grew up in the South Jamaica neighborhood of Queens, New York.
"I love me some Nicki," he said. "This n-gga actually happens to come from my neighborhood. It happens to be a girl, but that n-gga is tough! She be harder than the n-gga she fuck with. She be harder. And she's an alpha female! That muthafucka tough! You see what I'm saying, son? You got to watch her or she'll go, she'll do something that's pulling a move to assert herself.
"Some things I don't understand, some things I know it's just her. And I know the journey, I know the experience, the bumps and bruises from it because I got the similar bumps and bruises on myself. So I always appreciate it, you know what I'm saying?"
Following Nicki Minaj's viral swollen testicles tweets in September, 50 Cent joked about the situation on Jimmy Kimmel Live.
"Listen, you didn't look at the details of that situation," he said. "The details said he was about to get married. I think the testicles, it could be from the bachelor party. Nobody said that. Why nobody thought about the bachelor party? Now, if you had a really good bachelor party and stuff starts swelling, it was Pfizer! It was definitely Pfizer!"