6ix9ine Claims Weight Gain Kept Him Off IG While Slapping 'Throat Baby' Rapper BRS Kash With 'One-Hit Wonder' Tag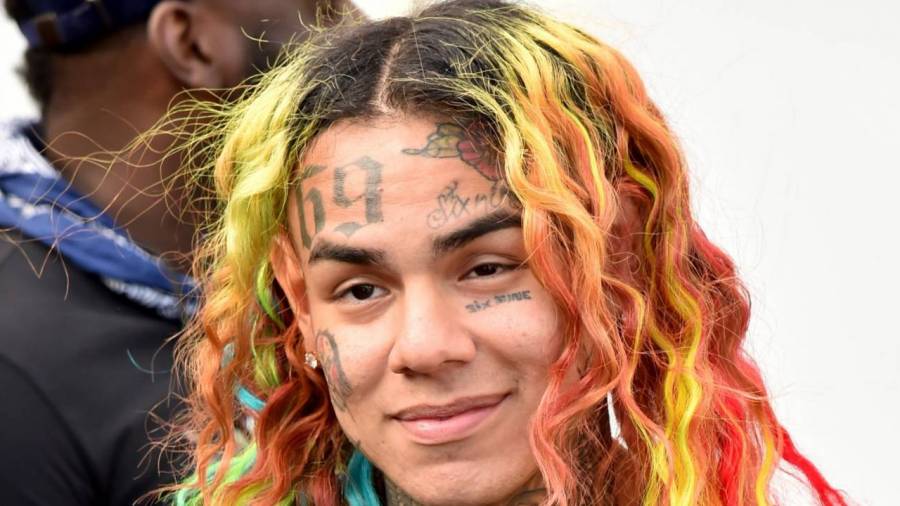 6ix9ine can routinely be found on social media stirring up controversy these days but for several months prior, he'd pulled a Houdini. Routine posts faded away into obscurity as he retreated from the spotlight, which fans assumed was because his sophomore album TattleTales had failed to hit No.1 on the Billboard 200 and he was hiding in shame.
But according to the instigative rapper, that had nothing to do with it. In an Instagram post dated Wednesday (February 24), 6ix9ine explained he'd simply gained weight and wanted to focus on his health.
"Hey guysss………. SO the real reason I LEFT Instagram and MUSIC for 6 months is because in September I was the biggest I ever got," he captioned the post. "I weighed 204 pounds and I was kinda going through a lot in life and I was just constantly eating and eating…… I told myself to put the music to the side and focus on myself and here I am today 60 pounds lighter at 140.
"ALL THIS TO SAY … – IN LIFE everyone needs a break, in the chaos of everything that is going on in your life, tell yourself  'I control what happens in my life' do NOT let anyone tell you that things you want it's not possible, that's FALSE! YOU WANT IT GO GET IT ! OWN THAT SHIT ! I AM AND FOREVER WILL BE THE KING OF NEW YORK CHECK THE FUCKING STATS !!!!!!"
View this post on Instagram
6ix9ine has been claiming "King of New York" status for awhile, but the timing of this particular caption could relate to Bobby Shmurda's recent prison release. Prior to walking out of New York's Clinton Correctional Facility, the 26-year-old rapper shared an Instagram post that featured a five-minute clip of the 1990 Christopher Walken film King of New York, making a case for the title.
The inflammatory rap personality's claim is already being brought into question by "Throat Baby" rapper BRS Kash who asked, "The King Of New York tho?" to which 6ix9ine said, "You are a one hit wonder, please take a seat." Kash replied with a valid point, writing, "So You Telling Me U Over Biggie An JAY-Z Is My Question."
View this post on Instagram
The Notorious B.I.G. and JAY-Z are two of many East Coast legends who've claimed the title in the past. In 2006, Jadakiss  proclaimed he was the "King of New York" on the 50 Cent diss track "G's Up Freestyle" featuring Sheek Louch, rapping, "You could see the pictures I paint son/If I ain't the King of New York then there ain't one."
50 Cent, Uncle Murda, Prodigy, Shyne, Smoke DZA and Fat Joe have also used the title before. But when 6ix9ine says it, it hits differently for people considering his soiled reputation in the rap world. While shooting the "Punani" video in August 2020, he bragged about being able to wander around the streets of New York City while giving himself the title once again.
"IM FREE !!" he wrote at the time. "LINK IN BIO LINK IN BIO WHO SAID WE AINT OUTSIDEEEEEE .PUNANI. BROOKLYN THIS MY TOWN NEW YORK THIS MY CITYYYY YOU HEAR ME!?!?! KING OF FUCKING NEW YORK YA COULD NEVA DO WHAT I DID AND BE OUTSIDE DUMMY!"
But evidently, nothing is stopping 6ix9ine from owning the title or trolling other rappers online — fat or not.