Akademiks Gets Into Physical Altercation With Girlfriend While Yelling 'I'm The Prize!'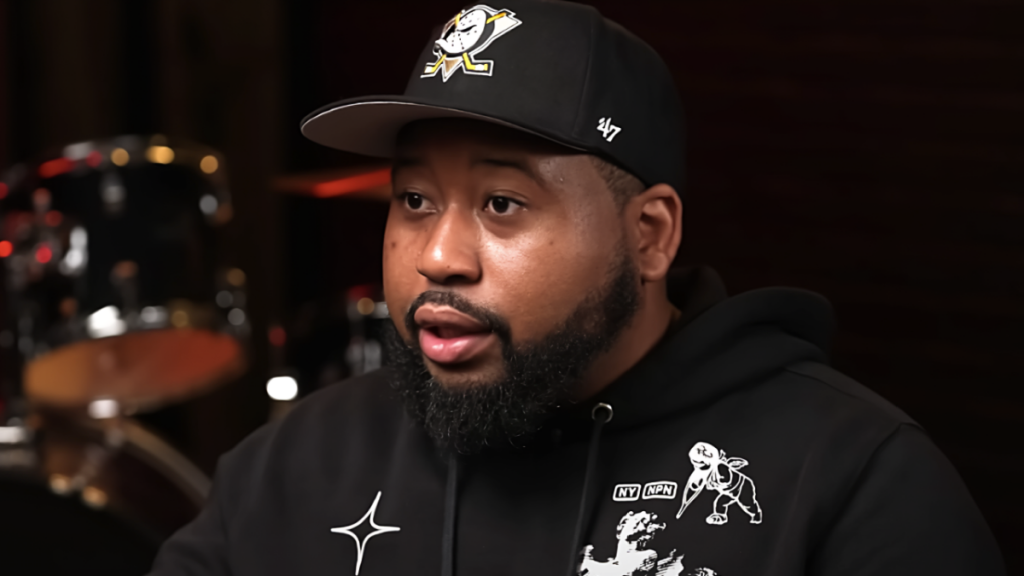 Miami, FL – Akademiks got into a physical altercation with his girlfriend in Miami that went viral this week.
A video that surfaced on Thursday (October 13) showed the media personality in a heated argument with his partner, which reportedly happened after recording an episode of The Fresh and Fit Podcast.
Akademiks (real name Livingston Allen) can be seen shouting aggressively in his girlfriend's face while holding a Louis Vuitton bag that appears to belong to her. "Respect the game, n-gga!" he screamed. "Stop this shit! I'm the n-gga!"
After his girlfriend attempted to confront a red-haired woman stood behind Akademiks, the Off the Record host shoved her against the wall and continued to yell in her face.
Ak's girlfriend retaliated by yanking his hat off his head and throwing it away. The former Everyday Struggle star went to retrieve it while declaring: "I'm the prize!"
His girlfriend then swung at the red-haired woman, sparking a scuffle. Akademiks attempted to break up the fight while screaming: "Stop it!" Another woman joined the fray and assisted the red-haired woman in trying to hit Akademiks' girlfriend.
The clip ends with a group of security guards stepping in and separating the women.
🚨 DJ Akademiks gets into an physical altercation with his girl as he screams "I'm the Prize" after Fresh & Fit show. Other women start throwing punches.#djakademiks #freshandfit #fight #fights #miami #akademiks #viral @Akademiks pic.twitter.com/xplmGhc6qH

— CulturedUpdates (@CulturedUpdatez) October 14, 2022
After the footage gained traction on social media, Akademiks jumped into The Shade Room's Instagram comments section and shed light on the incident.
The podcaster claimed his girlfriend was "drunk" and being "aggressive" towards the women after they took photos with him at a party.
"So I gotta type this again… I was breaking up a fight," he wrote. "My girl was drunk and being aggressive wit other women cuz they were coming up to me in a party taking pics.
"One of the girls swung on her and that's where this video starts I'm tryna get women to chill out. But they ain't listening. They fighting over pics n shit."
That didn't stop the reactions and jokes from flooding in on social media, though.
"Fighting over Akademiks gotta be scraping the bottom of the dignity barrel," one person tweeted, while another wrote: "I promise you Akademiks never got in a n-gga face the same way he did to that woman in that video."
Check out more reactions below.
Fighting over Akademiks gotta be scraping the bottom of the dignity barrel https://t.co/zVIDQsJYg4

— The Anonymous Nobody (@el_budget) October 14, 2022
I promise you Akademiks never got in a nigga face the same way he did to that woman in that video 😂

— 🇳🇬 Gyal Ripken (@BigBichote) October 14, 2022
Akademiks going back n forth with a female screaming "I'm the prize" is the weakest shit I've seen a grown man do in a while

— 👑#4, for the Old Nat Royals👑 (@Southside_Gunn) October 14, 2022
It's crazy how DJ Akademiks ain't have this same energy when Vic Mensa called him a bitch to his face

He pick and choose who to get loud at https://t.co/1U2Xt9ild2

— JT (@JTriplett0825) October 14, 2022
@Akademiks, why you always got this energy with women but be so calm when it's dudes? ? pic.twitter.com/sQdQugYrLy

— NFL OldMan (@greg_mamba) October 14, 2022