Benny The Butcher & B$F Reflect On DJ Shay's Legacy: 'We Talking About A Buffalo Legend'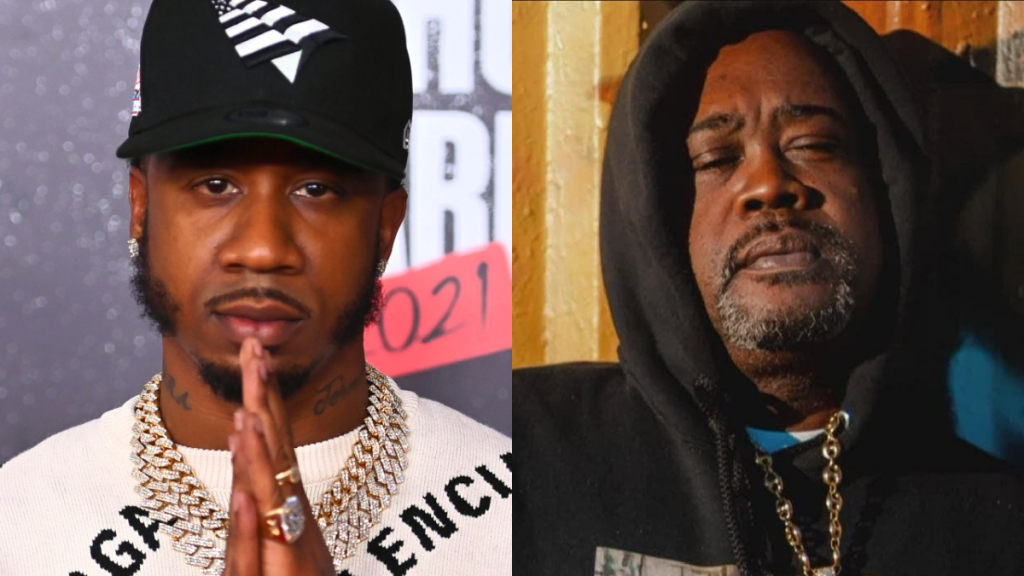 EXCLUSIVE – Benny The Butcher and his Black Soprano Family (B$F) collective were brought up under the tutelage of the late DJ Shay — and while the Buffalo, New York Hip Hop legend is sadly no longer around, his legacy is being kept alive on the crew's latest album Long Live DJ Shay
DJ Shay, born Demetrius Chawton Robinson, passed away in 2020 following a bout with COVID-19, and his absence is felt deeply — especially considering Buffalo Hip Hop is thriving right now. When the Black Soprano Family was created in 2011, Buffalo's Hip Hop scene was still finding its footing, and Shay was in the thick of it trying to shine a spotlight on the city.
B$F was one of the collectives that Shay worked closely with, serving as something of a father figure to the nine-deep collective. If it had something to do with bringing attention to Buffalo Hip Hop and steering its artists in the right direction, Shay was there to help however he could.
"That n-gga Shay, that's the epitome of Shay right there. He going to correct you because he take pride in mentoring the young n-ggas," Benny The Butcher tells HipHopDX. "So I'm saying, correcting you, pointing you in the right direction. Shay taught me, gave me my routine, too.
"He taught me that I need to be in that studio every day. And I was a young n-gga — I was 21, 22, going to the studio every day with Shay. That kept me out the street so much. That's what Shay meant to us."
There isn't one person in the Black Soprano Family — whose members also include Rick Hyde, El Camino and Heem B$F — that doesn't have a fond memory of DJ Shay. A DJ, producer and manager, Shay's presence was strong and he was always willing to help up-and-coming artists learn the ropes, particularly those who were hungry.
Black men, especially those from inner-city neighborhoods like the east side of Buffalo, don't always have the same guidance or opportunities in life as their white counterparts, leaving many to figure it out as they go along. Drugs, gun violence, poverty and other social ills plague these neighborhoods — something all the members of B$F have experienced.
Thankfully, DJ Shay was around to steer these Black men away from the plights of street life and push them towards their music dreams, which is something the late icon knew all about.
"DJ Shay was almost like a dad, a pops in a sense," Rick Hyde says. "He just wanted the best out of everybody that was around. And he knew what we all was capable of together. He was like the machine, the reason, you know what I'm saying?
"He's the reason we all doing what we doing right now, so we forever indebted to DJ Shay, man. And his lessons, whatever taught, they just go a long way."
Heem B$F added: "Shay was definitely, like Rick said, a father figure to all of us when it come to this because this was something we all was trying to figure out. He gave me pointers that nobody would give me. If I was in studio doing bad, he going to tell me like, 'That ain't it.'
"Somebody else might be like, 'I like that,' but Shay, he ain't going to take no shortcuts with you. He been doing this. He told me his whole life his dad did music, so it was something he always wanted. He had a different outlook with what he wanted and where he wanted to go with it. He had the most ambition I ever seen probably."
View this post on Instagram
On Long Live DJ Shay, the Black Soprano Family display a vicious array of bars over hard-hitting producing that was inspired by the late pioneer. As much as the album serves as another introduction to the burgeoning crew, it's also a project made to celebrate Shay and his contributions to Buffalo Hip Hop.
What better way to commemorate a man who lived and breathed Hip Hop than by dropping something that's purely that? Songs such as "Times Is Rough," "Danger Zone" and "Bastard Child" find the Black Soprano Family showing off their raw talent that their mentor helped build.
El Camino knows firsthand what it's like to push himself and his art to the next level, and he couldn't have done so without DJ Shay lighting the fire under him.
"Shay broke me out of just being lazy as hell when it came to making my music and shit," he says. "I always come with my shit damn near being like snippets, but then Shay get back on my ass — pause. He'll tell me, 'Bruh, that shit ain't done.' I think shit be so hard, but the shit only be like 30, 45 seconds.
"Shay got on my ass, like, 'Yo bruh, you got to go back in there and dump, put a hook on that shit. You feel what I'm saying? Make it a song.' Basically, he just gave me my structure, which is making songs, honestly. Just pushing me to go harder with my shit."
Fuego Base had a similar experience with DJ Shay, who got on his case about using backing vocals during live performances. Hip Hop purists know that backing vocals can be a crutch for artists during shows, and DJ Shay wasn't going to let the B$F rapper tarnish his raw talent with such tricks.
"When I met Shay, he went in on me," Base recalls. "I met him at a show and I was rapping over the lyrics, but it was like my first or second show. When I got off the stage, he was like, 'Man, you fire. Why you rapping over the lyrics? Your voice ill. What's wrong with you?'
"I'm like, 'This is my first time you got to be in the corner,' and he was like, 'Don't do that no more, ya mean?'"
DJ Shay's memory will continue to live on way beyond Black Soprano Family's Long Live DJ Shay thanks to Buffalo's thriving Hip Hop scene. In addition to Benny The Butcher and his B$F crew, the city has been put on the map thanks to fellow Griselda success stories Westside Gunn and Conway The Machine, cementing itself as a force in the modern-day rap landscape.
Long Live DJ Shay is just the start of what the city of Buffalo has to offer as the Black Soprano Family has even bigger plans to push the brand forward. But one of the best things about the crew is how they're continuing the legacy of DJ Shay and opening the door for younger rappers to step up and seize their moment.
"It's high energy in Buffalo right now," Hyde declares. "And then we talking about a Buffalo legend, DJ Shay. Everybody knew Shay and respected him from all age levels — from the kids to the elderly. It's going to be a big moment with so much more to come."