Benny The Butcher Previews NFL Buffalo Bills Anthem: 'We The Mafia'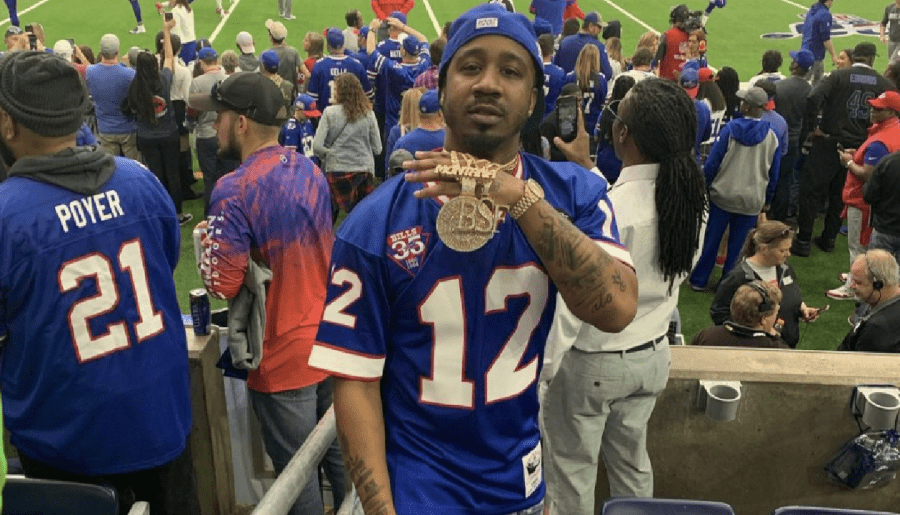 ORCHARD PARK, NY – The original Buffalo Bills "Shout" anthem is getting a Griselda-dripped rework ahead of the 2020 NFL postseason. Benny The Butcher shared a rework of the chant with a preview of the rugged Bills-themed track on Friday (January 1) to kick off the New Year.
Benny The Butcher x Buffalo Bills https://t.co/jSbfSaJFsb | @BennyBsf pic.twitter.com/66BbaCakCe

— Buffalo Bills (@BuffaloBills) January 1, 2021
The clip finds Benny and co. rhyming from the turf of Bills Stadium in a director's chair of sorts with the Buffalo native still recovering from being shot in the leg outside a Houston Walmart in November.
"Went to go get it even tho they didn't want me to have it @buffalobills @billsmafiapage," Benny captioned a post teasing what was to come.
View this post on Instagram
The 36-year-old is also teaming up with his hometown team on a merchandise collection, which is now available for pre-order in a black t-shirt and hoodie for $30 and $60 each. The graphic finds Benny in a Bills 716 jersey representative of Buffalo's area code and him holding a Pyrex measuring cup like a quarterback does a football.
The 12-3 Buffalo Bills wrap up their season against the Miami Dolphins on Sunday (January 3) before heading into the playoffs. Buffalo clinched their first AFC East title in over two decades this season with a division title drought that had been standing since 1995.
@BuffaloBills x @BennyBsf collab pic.twitter.com/ppzWC71CGt

— Jets Blew The Tank (@LordTreeSap) January 1, 2021