BLEU Explodes On R&B Vet Tank With Stat Comparisons, DMs & Disses After Being Slighted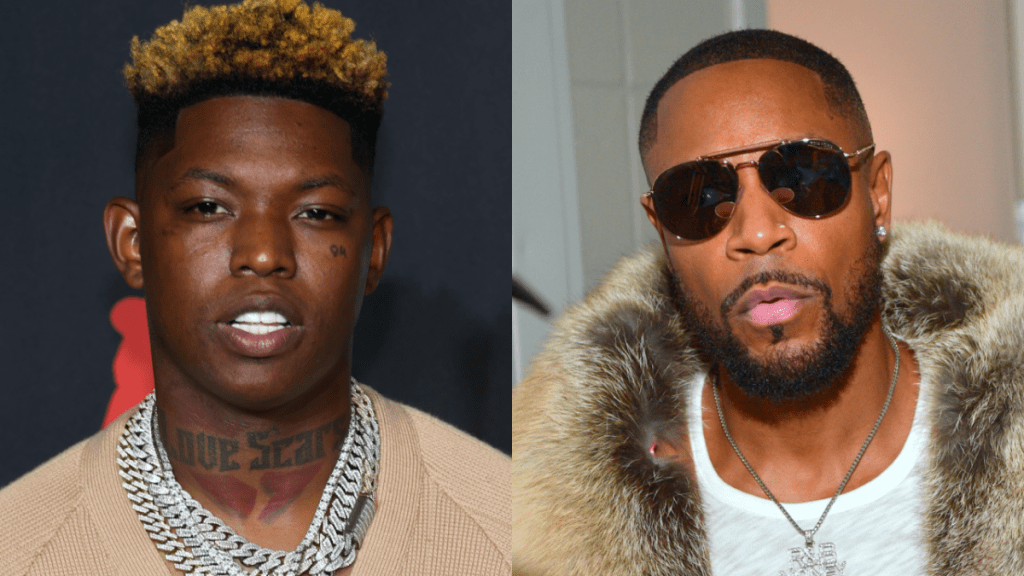 2021 HipHopDX Rising Star BLEU is one of the hottest new acts to come onto the scene. His brand of melodic R&B has led to fans taking notice of the Alabama product, who has snagged several platinum and gold plaques while working with Drake, Chris Brown, John Legend, H.E.R and more.
With a résumé stacked like BLEU's, you can't fault the singer for feeling like he's one of the top crooners in the game today. The 27-year-old actually supported a tweet calling him the new King of R&B on Wednesday (February 23), but veteran artist Tank took issue with the statement.
"I'm glad I'm from a different generation cause yall wild!" he wrote in the comments section of The Shade Room's Instagram post.
The Moon Boy felt Tank was throwing shade in his direction and decided to clap back at his older peer for the disrespect.
"Another episode of a bitter old n-gga!" BLUE wrote in response. "Tank u still waiting on that verse that's why u mad. U supposed to be a Og! U commenting on shade room acting like a female. Dnt worry I'm not interested in being labeled as no king of r&b I'm about to be a real Super Star soon!
"I don't say shit to y'all dudes I be in my own world. I already felt you weird energy that's why Ian record to that wack azz song."
View this post on Instagram
BLEU then posted a text conversation with Tank that shows him blatantly ignoring the "Maybe I Deserve" singer's request to listen to a song for a potential collaboration.
Tank heard the commotion and recorded a video of him clearing the air. According to the 46-year-old, he has no beef with BLEU and is actually proud of him.
"Only thing I was communicating to him in that text which you guys saw is: Hey man, communicate what you feel. If we supposed to get down and do something and get it done, then do it. And if you don't want to do it, that's fine, too." Tank said.
"This generation throws the king and queen around like you don't have to earn that. You know how many years and success it takes to earn the title of king or queen?"
View this post on Instagram
BLEU then proceeded to hit Tank with a few stats and compared both of their résumés. He also said he can be the legend that Tank is referring to with just a bit of time.
"Tank say I gave myself a titled I haven't earned ! Tank you scored you first platinum hit just recently 2018 and u been out 20 years," he wrote. "I'm on my 7th plaque in 2 years. u sold 1.6 million records in your whole career I'm about to lap that in a few years."
He continued, "But I never did anything but gave u your flowers just answer me one thing. Seeing that I have more plaques than you and sold more records. What make you more legendary than me? Time right? Give it time!
"I can be Legendary within my own generation just like you were! All these songs I wrote 100%! NO HELp 'except baddest'! All I'm saying! but its no beef bro I wish you nun but blessings u a legend but that dnt mean ima stop tryna be one also!"
View this post on Instagram
A similar situation happened between these two last May when BLEU jumped on Triller to give his thoughts on his status within the current landscape of R&B. "I'm saving r&b n-ggas lyrics dnt hit this deep no more," he claimed at the time.
The Neighborhood Talk reposted BLEU's comments on Instagram, which prompted Tank to jump into the conversation and offer his two cents.
"You gotta let this generation sing their r&b the way they feel it," he wrote. "The rhythm always changes and the blues is personal so no one can tell you how to create your art. 'Real' is what's true to you. That kid @bleuvandross is dope and he has the support of a person who's been doing it successfully for over 20 years! R&B MONEY!"