Blueface Takes A Swing At Girlfriend Chrisean Rock As She Attacks Him On Hollywood Street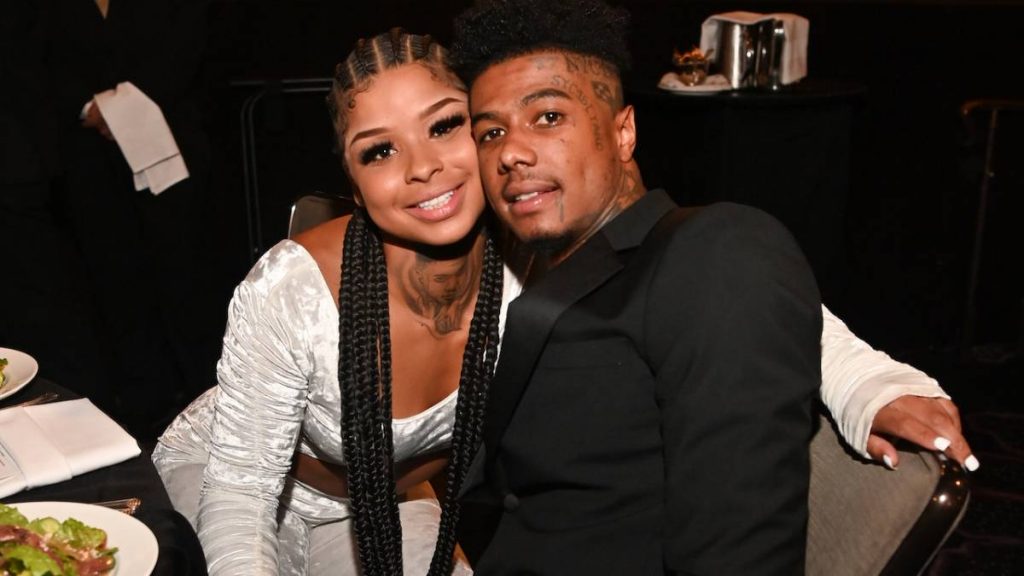 Hollywood, CA – Blueface and his girlfriend Chrisean Rock got into a physical altercation in Hollywood on Monday night (August 1) — and it was all captured on video.
In a clip shared by TMZ, the couple are seen strolling down the street when they begin to argue. Rock attempts to put Blueface in some kind of chokehold while telling him, "I hate you, my n-gga!"
As they stumble down the street, Rock attempts to punch him but misses. At the 00:39-second mark, he takes a swing at her but fails to connect as he slips on the wet sidewalk and they both fall to the ground. Blueface then climbs on top of her and tells her to "calm down."
He then gets up and says: "Let me go. Stop following me" as Rock continues to walk behind him. That's when things take another sharp left and Blueface swings at her again at the 1:40-minute mark. By this time, a small crowd has gathered and start filming the pair. Rock rips Blueface's t-shirt off and they keep taking jabs at each other until the video ends.
In a follow-up video from Blueface, he claimed they were fighting over her phone after he discovered she's allegedly talking to several other men. Blueface went into great detail, accusing her of sleeping with a corrections officer at a New Orleans jail while showing off his shiner.
"Y'all shut the fuck up," he began. "Y'all don't know this whore. Y'all don't know her. I barely know her. Went through her damn phone. She fuckin' the CO at the damn jailhouse. She sending the CO the hotel, and he got a wife and she probably going to see this […]
"At the jailhouse in New Orleans. What kind of bitch? Like, what? You fucking with the CO?  You was in jail for 48 hours. What I wanna know is for real, how you gotta bail the bitch out and she fuckin' the CO? Like he couldn't give you a get out of jail free card?"
Rock can be heard denying the allegation, saying, "Why do you have to say I fucked him?" to which Blueface replied, "He didn't fuck you? So how did he know what hotel you was staying out? He was waiting outside your hotel when he called you. You said you enjoyed his company. You said I was just observing you and blushing. Where the fuck was this happening at?"
Blueface then explains why he was providing all of their private information publicly as he continued to accuse her of cheating with multiple people.
"They think you just a real solid bitch," he said. "They don't know you really a whore with tattoos. It's crazy, cuh. Then we got this n-gga named 'Badass' that picked the bitch up from her little apartment. Picked her up, dropped her off, they did lord knows what. I don't fucking know. We got Terry sending her his whole fucking dick. Then we got Jarvis when she was on tour with Badees talkin' bout 'stay another two days.'
"I'm only airing this out 'cause you think she's a solid bitch. Y'all know I'm a whore […] it's different when you think somebody's not a whore. That's why I'm doing it like this. She really had a n-gga fooled. She's a good actor. I'm going to put you in a movie."
The relationship between Blueface and Chrisean Rock has been marred by dramatic incidences, including arrests, vehicle theft, police confrontations and, more recently, her puking inside his car. Blueface didn't seem to mind, though, and told her he loved her multiple times as she vomited all over his Mercedes.