Bobby Sessions Wants To Be Def Jam's Public Enemy For A New Generation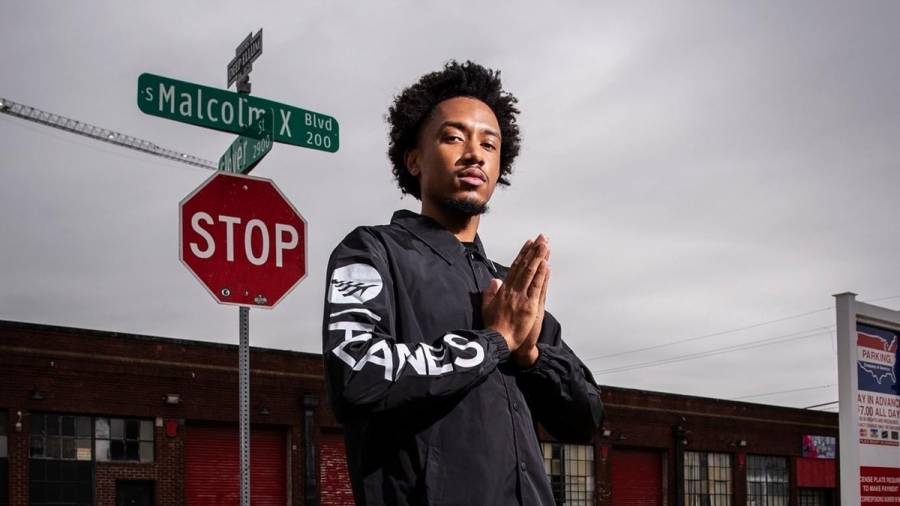 Major labels may not seem like the right home for a socially conscious artist who desires creative freedom, but Bobby Sessions hasn't been stifled since signing with Def Jam Recordings. Over the past two years, he's been able to release three installments of his RVLTN series through Def Jam while frequently rapping about racial injustice and America's political system.
Sessions was signed by the label's former CEO Paul Rosenberg, the longtime manager of Eminem. Rosenberg saw the Dallas, Texas native's vision, which evoked Def Jam's legacy. Although the label recently brought the actual Public Enemy back into the fold, Sessions sought to be Def Jam's "CNN of the streets" for a new generation.
2018's RVLTN (Chapter 1): The Divided States of AmeriKKKa and (Chapter 2): The Art Of Resistance began this mission for Sessions. He completed his trilogy with (Chapter 3): The Price Of Freedom, which arrived this past September amid the chaos of 2020.
Following the release of what's arguably his best work to date, HipHopDX caught up with Sessions to discuss the Chapter 3 project and his career journey. The thoughtful MC detailed how he ended up at Def Jam, his rise in the Dallas Hip Hop scene and much more.
HipHopDX: Was 2017's Grateful project when Def Jam first took notice of you? Did you have someone from the label reaching out or anything like that around that time?
Bobby Sessions: Yeah, so we released Grateful the first week of February 2017. Grateful was a starter, I guess, of things just around Dallas going to the next tier. Some of the events that I was throwing and concerts I was throwing, the size of the crowds began to get a bit bigger and more national media attention around that time around the release of that project.
But I would say what really caught Paul Rosenberg's eye was something I released on [2015's] LOA (Law Of Attraction), which is before Grateful, which was the "Black Neighborhood" record and the "Black America" record that was on those projects. After that, we played them early versions of what RVLTN (Chapter 1) was. And when he heard those, he was sold. It was a wrap from there.
HipHopDX: Chapter 1 ends up coming out in 2018. What was the timetable for you getting officially signed?
Bobby Sessions: I worked on Chapter 1 from the end of 2016 into pretty much all of 2017. Paul heard it around November 2017, and then I ended up meeting him in December, a few days before Christmas, in 2017. We played a lot of music. We played "Like Me." We played "Black Neighborhood." We played "Pick A Side," a number of those records for Chapter 1.
And we really broke down the vision to him and how that aligns with what Def Jam has done in the past with Public Enemy and that kind of content. It was like, we need a newer, a modern version of that kind of material that fits what's going on today. January 2018 is when I ended up signing.
HipHopDX: When it comes to the major label landscape, numbers are often dictating who gets signed. Was that exciting for you to see a major label like Def Jam wanting to invest in you and valuing the importance of your artistry?
Bobby Sessions: Yeah, definitely. I mean, that was huge. I started rapping in Dallas in 2010, and I was doing shows and things on the scene from 2011 until today. That was the goal, to get to a major. That was the dream for everyone, like how can we get into the NBA, so to speak. And for me to not compromise my message or compromise my content and still have a big engine behind it was huge because that was big for us.
We want it with any of the art, whether it's on the social justice thing or whether it's on manifestation or the power of gratitude that I spoke about on Grateful, I want to make the art unapologetic with no compromises. Def Jam has been a home for me to do that. There hasn't been any interference with the artistic vision at all, and that's been very encouraging and exciting. It gives me the confidence when I go in a studio to make the best art possible and not cut any corners.
HipHopDX: Paul Rosenberg departed Def Jam earlier this year. What did that mean for you? Did that have any effect on your situation or is it still business as usual?
Sessions: Well, I think his overall peace and happiness is more important than anything. So, if that's what he felt was best for his life, I'm in full support of that. He doesn't owe me a thing. The fact that he believed in what we were doing, that meant the world to me and it will mean the world to me for the rest of my lifetime. Because he really gave me a tremendous opportunity and that opened the eyes of so many people back at home.
But as far as the mission, we're just continuing the mission. He opened the door for us to have this mission on a bigger scale. And we're just continuing the work and continuing to water the seeds that were planted during his tenure. And I think the effect of him being there is still felt right now.
HipHopDX: You mentioned opening up some doors back home. I think Dallas is starting to get more national attention. We've seen Yella Beezy have some success, but it's cool to see your rise since it's showing a different side of Dallas. What was your experience coming up in the Dallas scene?
Bobby Sessions: I started performing in Deep Ellum, which is just like the spot where a lot of the concert venues in Dallas are at. I started performing in Deep Ellum in 2011. And just through the years from opening up for different out of town acts to me transitioning into throwing my own events in Dallas, it's been a crazy ride. It's been a very crazy journey and a crazy ride, but Dallas, performing in that Deep Ellum area, it prepared me for the international tours. The reps that I got were priceless. And just being in front of people, testing the art, fixing things, seeing what works, what doesn't works, making better music, coming back, testing that art, I would say, it prepared me for the major label system and major label expectations. It taught me how to effectively deal with those things and maintain your mental health, just the experience in Dallas.
Because Dallas, in particular, the Hip Hop scene was always separated. You had the more street or club side, and then you had what they would call the backpacker side, but it was really the side for the lyricists and the more, we'll say eccentric acts. And the more street side or the club side, they would be super popular around in their particular hood, but they would get no coverage from any of the media outlets in Dallas. And the people from the Deep Ellum side, they would get all the media coverage, but they didn't have any legitimate fan bases where any of the music was really sticking. So, they had a very difficult time filling venues up with people that wanted to see them. So, there was like this weird A-side, B-side thing in Dallas.
What I was able to do over this stretch of time is I was one of the few lyricists from Deep Ellum that got a chance to perform on that other side of town. I was accepted in those circles in those areas as well. So, we were just breaking molds and trying to pioneer what the lyricist in Dallas really sounds like, what does that feel like. And I think we've been building on that. I'm excited to continue to lay bricks on top of that foundation.
HipHopDX: After listening to your Chapter 3 project, I definitely felt like it was the most complete and compelling of the series. What also stood out is it's the longest entry of the trilogy and contains the most tracks. Was that by design or did it just naturally develop that way?
Bobby Sessions: It definitely naturally developed that way. We knew out the gate that Chapter 3 was going to be rooted in solutions, but I would be lying if I said I knew it would be 13, 14 songs. I didn't know that going into it. It's just that it was so many different topics to cover that it just naturally became a longer body of work. And I do feel it's the most complete body of work out of the three chapters.
But my answer on that can change depending on the day because recently I went back and listened to all the chapters. And each one captures a different mood. Each one captures a different stage of what emotions people will feel in the midst of a revolution. And each chapter is equally as important. But Chapter 3 is definitely the biggest body of work. The sequencing is [mimics a chef's kiss]. It's really good and it really takes people there, but you appreciate Chapter 3 more when you listen to Chapter 1 and 2 because they all seamlessly go together as one complete story that's split into three projects.
HipHopDX: I was wondering about how you felt it should be experienced. Do you prefer fans listen to the chapters in parts or should someone play all three in a row to fully experience it?
Bobby Sessions: It is one body of work that should be appreciated all together, but I think it can be digested in different ways. If you're the kind of person that you get caught up in the Netflix series and you binge season after season, then you should definitely do that with RVLTN. If you listen to Chapter 1 and you're caught in it and you're in the world, I would go ahead and listen to Chapter 2 and 3 immediately while you're in that space.
Some people when they listen to music, or when they watch a series on Netflix, they want to experience season one. And then when they're ready, they experience season two and experience season three. It can be broken up and digested in that way as well. But it is all meant to start from song one on Chapter 1, all the way to the last song on Chapter 3 and be one continuous story. If you're someone that likes to binge or you're someone that likes to break things up, it can be digested in either way. The impact would still be the same.
Look out for more from DX's interview with Bobby Sessions in the near future. Stream RVLTN (Chapter 3): The Price Of Freedom below.