Boosie Badazz Gets Checked After Calling Out VP Kamala Harris Over Brittney Griner Drug Sentence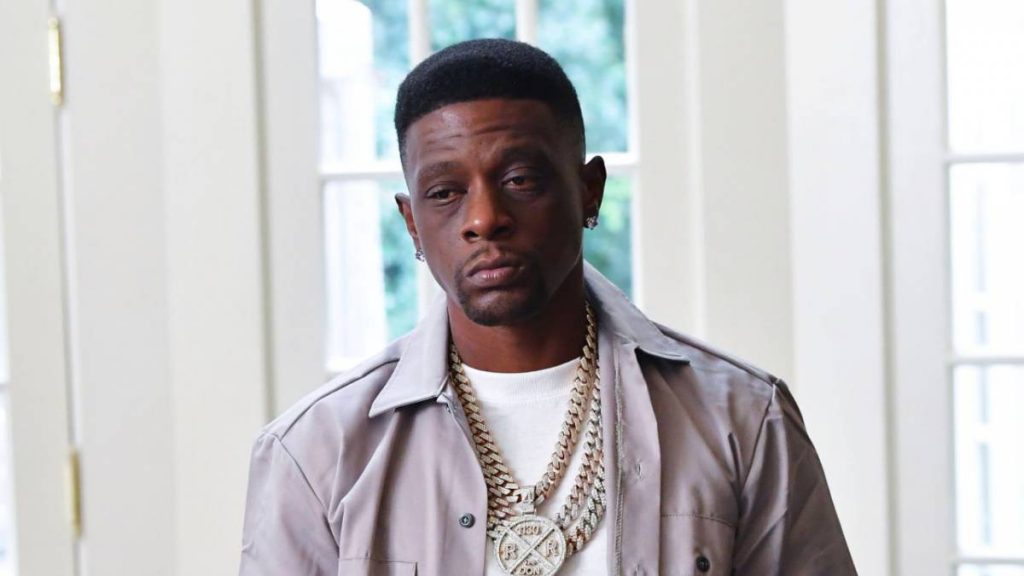 Boosie Badazz doesn't have his facts right when it comes to Kamala Harris' role in basketball star Brittney Griner's legal woes — according to one political commentator.
The Baton Rouge rapper called out the Vice President after Griner was handed a nine-year prison sentence in a Russian court on Thursday (August 4) after being found guilty of drug smuggling.
The WNBA champion, who plays in the professional Russian league during the off-season, was arrested in February after authorities discovered vape cartridges containing cannabis oil in her luggage at a Moscow airport.
"How the hell this girl get nine years for a weed pen? And the USA ain't doing nothing about it," an incensed Boosie said in an Instagram rant following the verdict. "You tell me that! If that was Taylor Swift, there'd be a peace treaty right now. They'd be drafting to go to war. For a weed pen! Nine years!
"What that show for Black women in the United States? And the Vice President, as a Black woman, you supposed to be on the frontline to get that Black woman out of jail! Nine damn years. Y'all fucked up in this world!"
View this post on Instagram
Reecie Colbert, founder of BlackWomenViews Media, responded to Boosie's video with a tirade of her own on Thursday, labeling the rapper "ignorant" for pointing the finger at Vice President Harris instead of Russian leader Vladimir Putin.
"Lil Boosie, I know you like to spell so let me spell some shit out for you: P-U-T-I-N," she began. "That's the muthafucking president of Russia who's holding Brittney Griner, political prisoner and as a wrongful detainee.
"Not V-P-O-T-U-S, Vice President of the muthafucking United States, Kamala Harris. So I don't know how the fuck, as fucked up as the situation is for Brittney Griner, the person you decided to make the boogeyman is goddamn Kamala Harris, a Black woman. Are you fucking kidding me?!"
Colbert pointed out that Vice President Harris, along with President Biden, has been working toward establishing a prisoner exchange with Russia to secure Griner's freedom.
"And where the fuck have you been? Because if you were paying attention to her case, you would've known that Vice President Kamala Harris and President Biden called up the Griner family and assured them that they were doing everything they can to bring Brittney Griner home," she said.
Colbert also slammed Boosie for not holding former President Donald Trump to the same standard after he called Griner "spoiled" and criticized her for being "loaded up with drugs in a hostile territory" on The Clay Travis & Buck Sexton Show earlier this month.
"Where the fuck were you at when Donald Trump was just talking about how her ass deserves to be in jail?" she continued. "Have you said shit about muthafucking Donald Trump? Have you said shit about Vladimir Putin? No. But you choose to go after the Black woman because you're fucking ignorant.
"Vice President Kamala Harris is not the problem in this situation; Putin is, and all the muthafuckas that sit up here and talk shit about Brittney Griner and want to see her behind bars.
"So if you want to be muthafucking helpful, maybe you should learn about the case and actually bring some attention to it and what we need to be doing, which is going ahead with this muthafucking prisoner swap so we can bring Brittney Griner home."
.@BOOSIEOFFICIAL Since apparently you are new to the #BritneyGriner case, VP #KamalaHarris actually IS helping her. How TF you blame VP and not the whole ass Russian President holding her political prisoner is asinine. The admin is trying to make a deal so go after Putin not VP. pic.twitter.com/rK1laJn2wE

— Reecie @BlackWomenViews (@ReecieColbert) August 5, 2022
Griner's nine-year prison sentence sparked outrage from across the Hip Hop community, with reactions also coming from 50 Cent, Angie Martinez, Meek Mill, Chuck D, DJ Paul and many more.
"This is wild, smh you don't ever want to get caught up in the politics," 50 wrote on Twitter. "They are gonna tell her like 10 years for a vape pin watch."
Griner's fate will ultimately be decided by whether the U.S. and Russia are able to negotiate a prisoner exchange — a deal the Kremlin have indicated they're ready to discuss.