Bootsy Collins Crowns Dr. Dre & Snoop Dogg 'The Bootsy Collins & George Clinton Of Hip Hop'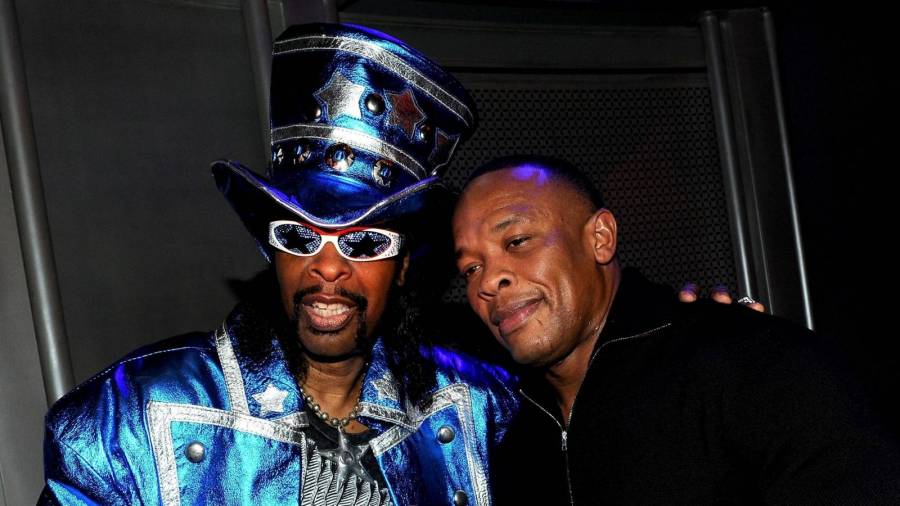 Exclusive – Parliament-Funkadelic icon Bootsy Collins is holed up at his Ohio compound, the appropriately named Bootzilla Ranch. Located 30 minutes outside of his hometown of Cincinnati, the expansive property boasts an array of amenities, including a home studio and basketball court — music to Snoop Dogg's ears.
Before the music industry came to a screeching halt with the onset of the COVID-19 pandemic, The D-O-Double-G flew out to Bootzilla Ranch to contribute vocals to "Jam On," one of 16 new tracks on Bootsy's latest album The Power of the One. Snoop was thrilled to discover a court in the middle of the Ohio backwoods.
"You know you've got to get down," Bootsy tells HipHopDX. "We had so much fun doing that. He loves basketball. We was doing this before COVID. I would say about 50 percent of the record we got a chance to actually record it the way I'm used to recording — and that's with the people in the studio.
"After the COVID thing hit, it took on a whole other way of recording. But if I had a choice, it would be always in the studio with the artists and with the musicians. But when that hit, I had to figure out, 'OK, what am I going to do now? I've got to finish this thing.'"
Boosty did finish the album and finally delivered the funk masterpiece on October 23, complete with the Snoop-assisted track.
Snoop and Dr. Dre owe an insurmountable debt of gratitude to Bootsy and the Chief Architect of Funk George Clinton — without them, Dre's 1992 debut The Chronic wouldn't exist. The album borrowed heavily from several songs that fall under the P-Funk umbrella, including  "Atomic Dog" and "Adolescent Funk." One of the most blatant samples appears on "Let Me Ride," which finds Dre, Snoop Dogg, Jewell and RC practically rapping over "Mothership Connection (Star Child)" from Parliament's 1975 album Mothership Connection. 
Embed from Getty Images
But just as Dre and Snoop are fans of the P-Funk legends, Boosty is a fan of theirs too. He rightfully credits them with taking Parliament's music and creating a whole new genre — G-funk.
"I'll tell you who I think really commanded G-funk as a source and a force of its own — Dr. Dre and Snoop with The Chronic," Bootsy says. "That's where the foundation of G-funk started. They did an excellent job of it."
Unsurprisingly, Bootsy has further plans to collaborate with Dre in the future. In fact, he was supposed to be on The Power of the One alongside Snoop.
"Me and Dre, we were really talking about doing some stuff," Bootsy explains. "He did a few drops from me with this party we just had. We talked about it. We were cracking up about different things. He's was supposed to do some stuff with me on this album, but the COVID thing hit and we didn't get a chance to get to it, but it's coming. It's coming. You were talking about the G-funk thing. We were getting ready to really hook it up, you know?"
When "Let Me Ride" was brought into the conversation, he concurred it's one of the standouts on The Chronic and even compared Snoop and Dre to himself and George.
"I must agree," he says. "I had been knowing Snoop much longer than Dre. I met him, but I hadn't really done anything with him like I had with Snoop. They remind me of us — George is kind of the Dre and Snoop is kind of like the me."
Snoop and Bootsy's relationship stretches back years. He was on deck for the West Coast rap legend's 40th birthday in 2011, but they first met at the 1992 Soul Train Awards.
"We were doing the Soul Train show out in Los Angeles, we were both on that show," he recalls. "I was doing it with Color Me Badd, playing bass with the band there. They wanted me to do the show with them so I did the show and Snoop was on the show. That's when we first got a chance to hook up. From then on, we always talked about hooking up and getting together. Then we started to record stuff together."
But Bootsy was just as honored to meet Snoop as Snoop was to meet him.
"The feeling was kind of mutual," he says. "I mean, because he had did his thing. Like I said, he reminded me of myself. It was like, I guess we was congratulating each other. He would even say, 'Man, you just don't know. You just don't know [how important you are].' I was feeling all of that. I can tell when it's really genuine. He's a genuine guy."