Cardi B Says She & Offset Are 'Going To Hell' Following Reconciliation — Then Deletes Her Twitter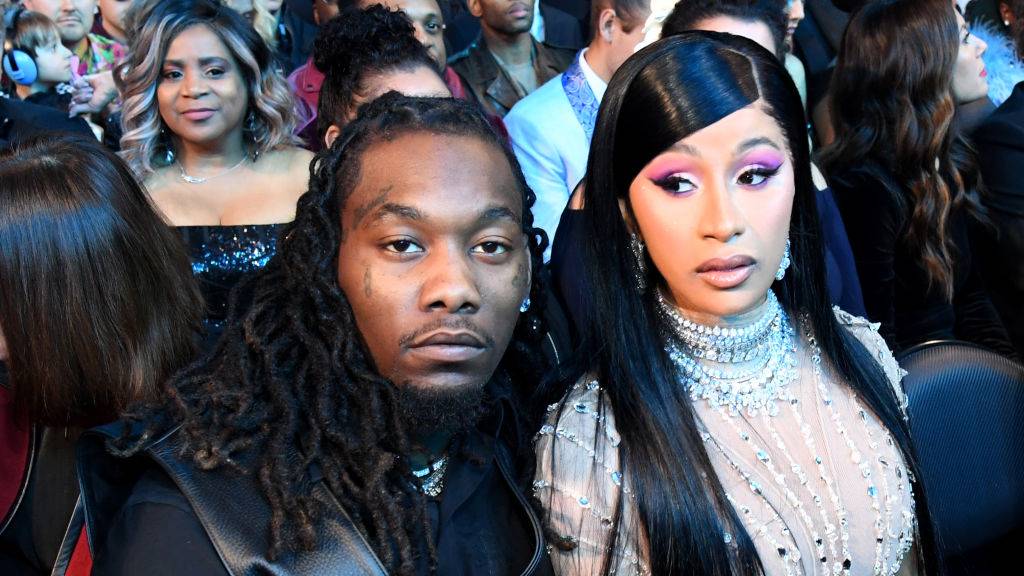 Cardi B filed for divorce at Fulton County Superior Court in September, leading her fans to believe she was finally done with Offset. But just like the couple's December 2018 split, their breakup was only temporary.
The Migos rapper eventually wooed Cardi back into his arms with a $330,000 Rolls-Royce and plenty of debauchery for her 28th birthday earlier this month. But the Grammy Award-winning rapper seems well aware of the optics. During a recent Instagram Live session, the formerly estranged couple was laying in bed, flirting for the camera.
"This is growth and development," Offset says, to which Cardi replies, 'You got a cigarette?" Offset then says, "I got whatever you need mama. You ever try a black cigarette?"
She says, "What the fuck that mean?" and then Offset explains it's a reference to his penis.
"Omg we're going to hell," she says. "You're gonna show your dick. Now if you show your dick, you're going to have to go through what I went through. Come on, let me smoke a cigarette. I'm not smoking your dick."
View this post on Instagram

Ain't finna lie … #offset and #cardib is the best celeb couple rn
But Cardi has evidently had enough of the internet's comments on her marriage. During an impromptu Instagram Live session on Saturday (October 17), the Bronx native explained she was tired of people harassing Offset and criticizing her decision to amend her relationship. Shortly after, she deleted her Twitter account.
"A whole bunch of 15-year-olds telling me how to live my life like I'm muthafuckin' Ariana Grande or something, like I came from Disney or something," she said. "I'm so tired that because of y'all I've gotta continuously explain myself. I didn't put my divorce out there, a fucking court clerk put it out there. And because people are making rumors up, 'Oh, this guy has a girl pregnant,' this and that, I have to address it."
Cardi B addresses fans on instagram live…. 😬 pic.twitter.com/KYZai3DMQC

— tiffany (@jonestiff314) October 17, 2020
Cardi added, "You guys want to be harassing this n-gga. Bro, if I work things out, why are you going to this n-gga's Twitter to harass him? That shit don't make no fucking sense. I'm bored, and I was drinking on my birthday. Offset is not the only fucking problem that I deal with. To be honest with you, my marriage is one of the least worries that I have right now.
"I love my fans and I'm thankful and I'm grateful for everything you do, but some of you really be acting like I sleep with ya."
The former Love & Hip Hop: New York star admitted they'd patched things up last week, explaining, "When people be saying I be doing shit for attention, with this and that, no, I'm just a crazy bitch," she began around the seven-minute mark. "One day I'm happy, the next day I wanna beat a n-gga up..I just be starting to miss [him]… It's hard not to talk to your best friend. It's really hard not to talk to your best friend. And it's really hard to have no dick."