Cardi B & 'You' Actor Penn Badgley Stan Over Each Other On Twitter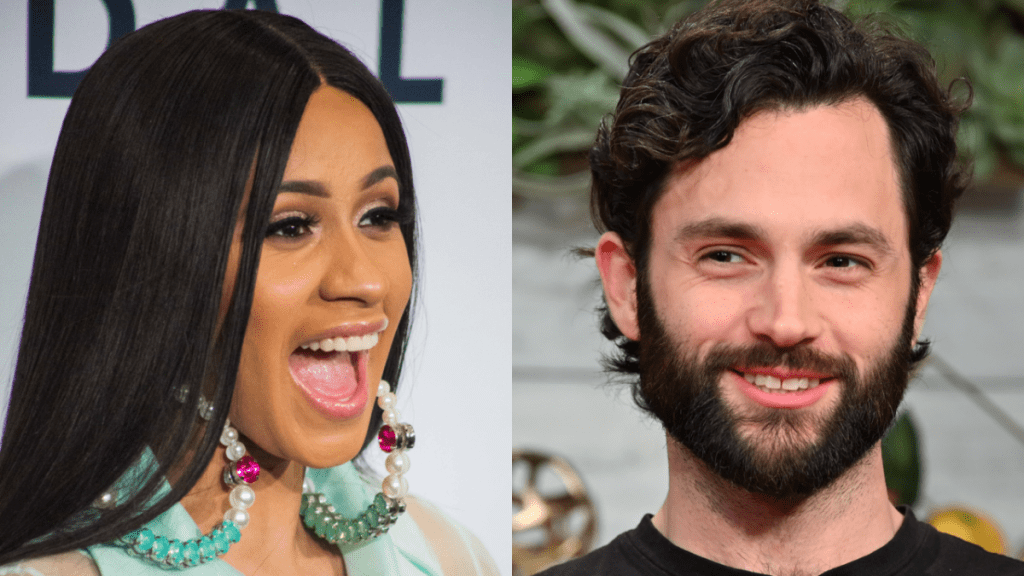 Cardi B's unashamedly Bronx appeal stretches way beyond her native New York City borough. Between her hit songs, authentic personality and political statements, Cardi has won the affections of everyone from Tom Ford and Marc Jacobs to Hillary Clinton and Bernie Sanders.
The latest celebrity to join the Bardigang is Penn Badgley, the actor best known for starring in Netflix's sinister stalker drama You, as well as the original Gossip Girl series.
During a recent press conference promoting the recently released third season of You, Badgley announced himself as a Cardi B stan, heaping praise on the way the 29-year-old "WAP" rapper maintains an "authentic relationship" with her fans on social media.
"I really appreciate people who have this second-nature relationship to [social media]," he said. "When you do have something meaningful and substantive to post, then I think it really comes through and people appreciate it all the more."
"Cardi B is a great example of that," he continued. "She has such an authentic relationship. To me, it's this incredibly nuanced place to be and despite what many might judge as antics, I feel like she has an incredibly authentic relationship to that — and that's why people like her so much."
The love between Cardi B and Penn Badgley is clearly mutual, as Cardi could barely contain her excitement when she caught wind of the clip on Twitter.
"OOOOMMFFFGGGGGG HE KNOWS ME !!!" she tweeted along with several screaming face emojis on Sunday (October 17). "OMMMGGGG!!!!!!Yoooo like I'm famous famous."
OOOOMMFFFGGGGGG HE KNOWS ME !!!😱😱😱😱😱😱😱😱OMMMGGGG!!!!!!Yoooo like I'm famous famous https://t.co/Z7MFQc2t2i

— iamcardib (@iamcardib) October 17, 2021
Badgley appeared to be equally as starstruck when he saw Cardi's tweet, replying with a speechless, "I-" a couple days later.
I- https://t.co/j6GRQkmP9r

— Penn Badgley (@PennBadgley) October 19, 2021
The pair have since cemented their unlikely friendship by hilariously changing their Twitter avatars to a photo of each other. Badgley started the trend first, which was met with a meme of a kid asking "Is that me?" from Cardi B.
View this post on Instagram
[email protected] pic.twitter.com/JjsxjtrwMb

— iamcardib (@iamcardib) October 20, 2021
The Twitter exchange will have no doubt brought some much-needed comic relief to Cardi B, who's had an otherwise tough week so far. On Monday (October 18), she turned down a guilty plea deal offered by prosecutors in her 2018 strip club assault case and faces up to four years in prison if convicted.
Following the news, Cardi was met with a flood of jokes from Twitter trolls who mocked her for potentially serving a stint behind bars, with one troll even bringing her kids into it. But the ever-outspoken rap mom didn't hesitate to clap back.
"Before I go to prison you gone see me breakin more records and making more Ms," Cardi rebutted.