Chris Rock Is Opening Busta Rhymes' New Album — See All The Rap Albums He's Blessed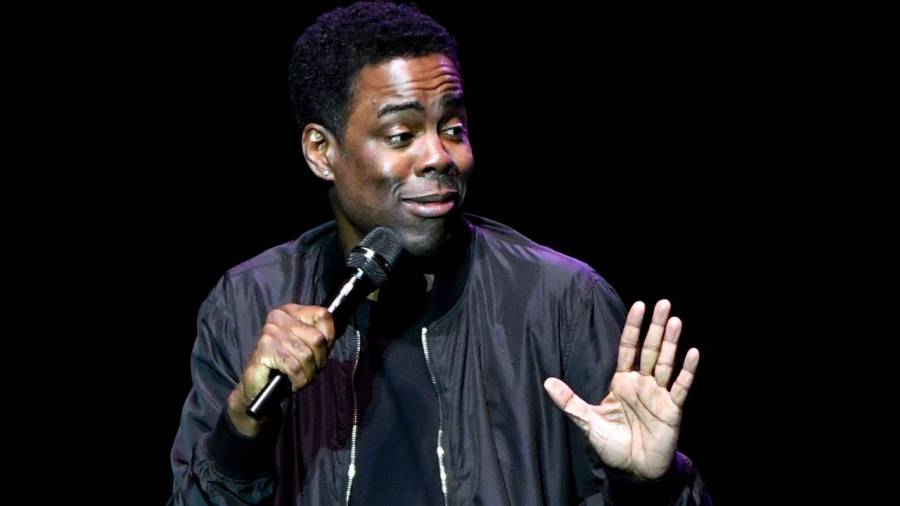 Chris Rock has long been intertwined with the Hip Hop world and he fancies himself a savant of the genre. He once played a rapper while starring in 1993 comedy CB4 and the legendary comedian named N.W.A.'s Straight Outta Compton the best rap album of all-time in 2005, only to hand the crown to Kanye West's My Beautiful Dark Twisted Fantasy five years later.
The comic deity will be strolling back into the Hip Hop realm once again on Friday (October 30) when he guests on Busta Rhymes' much-delayed Extinction Level 2: The Wrath of God album. The Dungeon Dragon released the tracklist on Monday (October 26) and Rock will be setting the album off alongside a couple of Hip Hop legends, Rakim and Pete Rock.
View this post on Instagram

#ELE2THEWRATHOFGOD DROPPIN' ?10.30.20? THE PROPHECY WILL BE FULFILLED!! ONLY 4 DAYS LEFT!!! PREORDER & MERCH AVAILABLE NOW!! Click link in Bio‼️‼️‼️
Rock has been ingrained in the album's rollout, as he actually announced the album in a trailer letting everyone know they can't hang with Busta in the booth back in August. Come Friday, he'll be joined by a fleet of superstars including Q-Tip, Rick Ross, Rapsody and the welcomed return of Kendrick Lamar to name a few.
Rock has found his way onto more rap albums than you might think; take a trip down memory lane to see all of his appearances below.
Rick Ross – Rather You Than Me [2017]
The Hollywood staple explodes onto Rather You Than Me's "Idols Become Rivals" talking a whole bunch of shit. Rock serves as the instigator while sipping Belaire and crushing Wingstop, which sets the stage for Rozay to invade the smooth piano-driven instrumental and shred Birdman with a few scorching bars. Ross used to respect the Cash Money CEO, but all of that went out of the window with the way Baby has burned Lil Wayne from a financial standpoint.
Rock returns on "Powers That Be" alongside Nas to declare Ross the best rapper walking planet earth, before bringing OJ Simpson and God into the equation.
Ludacris – Theater of the Mind [2008]
Rock fittingly joined Ludacris for "Everybody Hates Chris," which is Luda's real name and the title for the show based on the Brooklyn-bred comic's teenage years patrolling NYC. Rock heads to the future — 2010 at the time — and Luda's hometown of Atlanta to introduce the Grammy-winning rapper when Don Cannon's triumphant beat creeps in. The former Saturday Night Live castmate comes back at the tail-end to clown Ludacris a bit more. He jabs him for playing a rapper in Hustle & Flow and not carrying a gun.
Lil Jon & The East Side Boyz – Crunk Juice [2004]
This is vintage Chris Rock — a loud stream of consciousness and listeners have no idea what's coming next, but they'll be sure to get a good chuckle from Rock's boisterous punchlines. Lil Jon called on the comedic legend for three skits to break up his loaded 19-track Crunk Juice album, where he's looking for a certain woman to be his friend, getting into his nightclub antics and explains how you have to get lower than a pregnant woman on the dancefloor.
Ice Cube – War & Peace Vol. 2 [2000]
It's commonplace to find people who try to impress others they're around by lying to fit in. Ice Cube and Rock play off of this sentiment with the Grown Ups star making up fibs about having girls who were supposed to come over and such. He closes out by hopefully joking that Cube owes him $4 million. "You Ain't Gotta Lie (Ta Kick It)" served as inspiration for Kendrick Lamar's "You Ain't Gotta Lie (Momma Said)."
Ol' Dirty Bastard – Nigga Please [1999]
Rock handles introduction duties for the enigmatic Ol' Dirty Bastard on "Recognize," who would tragically pass away five years later. C.R. best describes the erratic former Wu-Tang Clan member by explaining if you find yourself in his presence, you're at the wrong place, at the wrong muthafuckin time. Pharrell offsets a perturbed ODB with soft vocals and spacey Neptunes production.
Method Man – Tical 2000: Judgement Day [1998]
Method Man assembled quite the versatile cast to assist him in completing his sizzling sophomore album for Def Jam. Rock joined the likes of Janet Jackson, members of the Wu-Tang Clan, sidekick Redman, as well as R&B singers D'Angelo and the late Lisa "Left Eye" Lopes on the project. The comedic rockstar takes the mic and runs through every nickname in the book for Meth during a skit, who sends all types of artillery from dogs to dolphins and gunshots to put an end to the playful jokester.
Various Artists – CB4 Soundtrack [1993]
Rock mimicked N.W.A to form the parody Hip Hop trio CB4 alongside Daddy-O and Compton's Hi-C. The group ended up contributing three tracks to the Tamra Davis-directed flick's soundtrack. They hilariously mocked a few rap classics of the past from Kool G. Rap, N.W.A and Sugar Hill Gang. Rock starred alongside an A-list cast which included Ice Cube, Ice-T, Halle Berry, Flavor Flav, NBA Hall-of-Famer Shaquille O`Neal and the late Eazy-E.
Kanye West – My Beautiful Dark Twisted Fantasy [2010]
The multi-hyphenate entertainer's most memorable appearance has to be his raunchy addition to Kanye and John Legend's sorrowful "Blame Game." Rock chimes in shortly after the five-minute mark bowing down to a muse after she sexually pleases him with a graphic rant. "Yeezy taught you well," he concludes.
At the time, Kanye was coming out of a high-profile relationship with Amber Rose, who many interpreted the track to be about. Speaking on Juan Ep in 2014, Rock explained that his work was done over a series of takes. Yeezy would spit out certain topics for him to work with and the comedian improvised from there. Kanye pieced the final product together two weeks after their NYC studio session. Rock is steadfast in his belief that he's apart of the greatest album of all-time.