City Girls' Bring Outside Music To Packed Florida Concert Despite COVID-19 Pandemic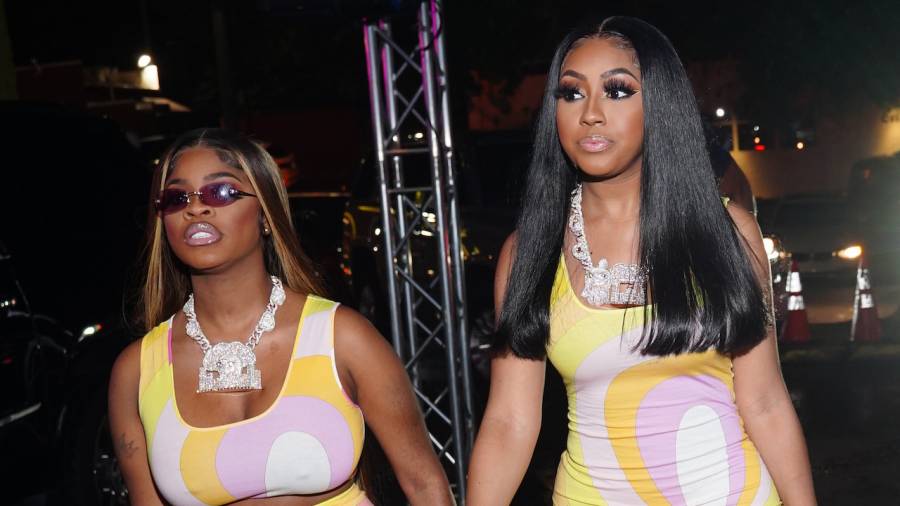 Tallahassee, FL – The City Girls' brought the city out when they stepped on stage in front of a packed Tallahassee nightclub on Friday (January 29). It also drew the wrath of social media in regards to the COVID-19 pandemic.
JT and Yung Miami were booked at Bajas Beachclub and at one point in the night, the two began performing their verses from Moneybagg Yo's "Said Sum" remix featuring DaBaby. A fan captured the footage and uploaded it to Twitter on Saturday (January 30), highlighting the lack of social distancing, mask-wearing and how packed it was inside the venue.
City girls brought the city out @YungMiami305 @ThegirlJT pic.twitter.com/OleSkxlesf

— ??????? ??? (@TBHKEYYY) January 30, 2021
Rappers performing in clubs during the pandemic isn't a new phenomenon. The potential superspreader events have occurred frequently in states like Texas, Florida and Georgia, where COVID-19 restrictions regarding venues are relatively lax. On January 15, Bow Wow was spotted briefly on stage at a nightclub in Houston, Texas, leading to fans openly wondering who would risk COVID to see him. On January 16, a party featuring Fabolous and Trey Songz was shut down amid COVID concerns as well as being overcapacity.
The irony of a packed City Girls' concert comes as JT professed their music had more impact when there wasn't a pandemic and records such as "Act Up" and "Twerk" were frequently played in clubs and outdoor venues.
"If the world was open we would've had HITS Foreal cause we make outside music," she wrote on January 18.
View this post on Instagram
The White House Coronavirus Task Force on Wednesday (January 27) called for bars, restaurants and gyms in Florida to be closed to help curtail the spread of COVID-19. Hospitalizations in the state have increased dramatically over the past few weeks, placing the state in the so-called "red zone" for COVID-19 threat levels.
As of January 30, the Florida Department of Health reports there have been over 1.7 million confirmed cases of COVID-19 in Florida since the beginning of the pandemic with over 26,000 deaths. See some of the reactions to the City Girls' concert below.
Y'all keep that same energy. pic.twitter.com/EeIrDlChyc

— Blujailove (@blujailove) January 30, 2021
when is this strict lockdown coming? ? https://t.co/8M9YfIBBWY

— NORMANI IS COMING (@theesudani) January 30, 2021
Ain't no way ya'll risking lives for a City Girls performance https://t.co/vMm5n638Gf

— ᴡᴏʀʟᴅᴡɪᴅᴇ ɴɪᴄᴋɪ (ʜʜᴛ) (@unifiedluvvvvv) January 30, 2021
Guess we not having a summer again this year SMH https://t.co/rhkwspA1rc

— BlackCultureEntertainment? (@4TheCulture____) January 30, 2021
Ain't no way ya'll risking lives for a City Girls performance https://t.co/vMm5n638Gf

— ᴡᴏʀʟᴅᴡɪᴅᴇ ɴɪᴄᴋɪ (ʜʜᴛ) (@unifiedluvvvvv) January 30, 2021
pic.twitter.com/oR9xezVNOS

— Dieko (@Dieko_bytheway) January 30, 2021
Everybody involved and attending needs to be jailed, idc. https://t.co/mLgGZ48wbA

— theo james' washcloth. (@drizzyxcole) January 30, 2021
these artists do not give a single fuck about the fans or their well-being https://t.co/uE1rpIPYXc

— adrian 2: still postin' (@CrawfinUSA) January 30, 2021
Strong & Jones Funeral Home bout to get PAID ? https://t.co/RUwZJ0bg2c

— Lightskin Stimmy Butler (@callmehuie) January 30, 2021
are people living in a parallel universe? like did this pandemic just finish for some of yall? https://t.co/98ZVPidezE

— alf (@vibebey) January 30, 2021
COVID was in that bitch crowd surfing. https://t.co/SreLyuqkj7

— Jack Of All Asses?? (@LindenIves) January 30, 2021
Just music, just vibes, wit a lil bit a COVID in ya bubble ? pic.twitter.com/q3GHQsbiy7

— Bria?? (@BriaThegorgon) January 30, 2021
y'all risking your lives for city girls? https://t.co/hSvMleTcNs

— ✯ (@shanqhai) January 30, 2021
Local funeral home owner pic.twitter.com/3IMzNoXot4

— Kingstrome1 (@kingstrome1) January 30, 2021
Selfish & disrespectful to your own people. Maybe they haven't heard the COVID statistics for black people.
This is absolutely insane! pic.twitter.com/N1xJzvFAjB

— TheChunkyDiva (@GrayHairedCutie) January 30, 2021