Diddy Reunites With Nas & Mary J. Blige For Turks & Caicos Birthday Celebration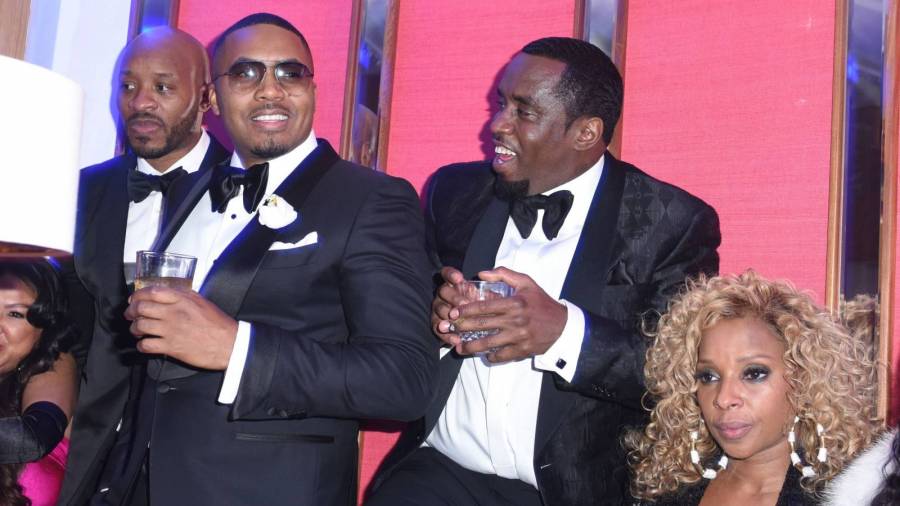 Turks & Caicos – Diddy turned 51 on Wednesday (November 4) but reportedly had a birthday blowout a few days prior with some of his closest friends in Turks and Caicos Islands. Video of his celebration popped up on Twitter and shows the Hip Hop mogul getting his groove on with Nas and Mary J. Blige as a crowd surrounds him — no masks in sight.
Thanks to COVID-19, Diddy's latest birthday party looked a little different from his lavish 50th soiree last year, which included special guests JAY-Z, Kanye West, Pharrell Williams, Beyoncé, Big Boi, Post Malone and Tyga.
Diddy in Turks & Caicos with Nas Draya & Mary J Blige pic.twitter.com/m4C5rC5XYu

— 2Cool2Blog (@2Cool2BIog) November 5, 2020
Nas and Diddy's relationship stretches back decades. In 1999, they collaborated on the explosive anthem "Hate Me Now" from the Queensbridge legend's I Am… album and would continue to build their respective careers throughout the 2000s.
In 2016, Diddy presented Nas with the Jimmy Iovine Icon Award at the REVOLT Music Conference in Miami, Florida where credited the Illmatic mastermind with saving Hip Hop.
"I'm here to present the Jimmy Iovine Icon Award, which honors an innovator and a leader that impacted our culture and changed the game," he said at the time. "Some people consider this lifetime achievement as something that should be given when people get a little bit older. But we gonna keep giving it out to people that are younger, people that are changing the game, people that are changing the world, people that are having an impact, people that are necessary, people that are sent here from God.
"What we do is magical — this Black thing, this Hip Hop thing, it's magical. Nas taught me that. What you do my brother, is something that's truly, truly, truly special. And we gonna honor you to the fullest up here."
Meanwhile, Diddy helmed two of Blige's most celebrated albums, 1992's What's The 411? and 1994's My Life, but they ultimately went their separate ways due to Blige's then-reckless lifestyle.
"The reason we split up is me not understanding the business the way I needed to understand it at the time," she said, according to a 2003 article from MTV. "He had a label, he had a female artist, he had Biggie, but during the time I was really dogging myself. I was a mess on drugs.
"Any smart man or businessman would have moved away from me. It felt like he was becoming distant, but looking back, I now understand why. I wasn't delivering properly. I wasn't taking care of my health, so how can he roll his dice on me?"
While not every one of Diddy's famous friends could be there to celebrate with him in person, plenty of people wished him a happy birthday on social media, including Busta Rhymes, 2 Chainz, producer Scott Storch, Timbaland, Swizz Beatz and Fat Joe.
Check out their posts below.
View this post on Instagram

@diddy So many things have happen since your last birthday party when we allll went ape Shit , you cut different bro I appreciate ya ????! Happy Gday killa
View this post on Instagram

HAPPY BDAY TO MY BIG BRO @diddy ????????????????? The Big Bro & The Dragon ? CELEBRATIN' THE INCREDIBLE ENERGY AROUND #ELE2THEWRATHOFGOD & #ELE2THEWRATHOFGODRELOADED WITH 4 MORE BANGERS ADDED TO THE CLASSIC/MASTERPIECE AND COHESIVE BODY OF WORK AVAILABLE AND STREAMING EVERYWHERE RIGHT NOW!! Click link in Bio‼️‼️‼️‼️
View this post on Instagram

Hbd to my brother and business partner @diddy love you bro thank you for all the years of inspiration, God bless you enjoy your day ??
View this post on Instagram

Happy Ultra Birthday to my brother @diddy ????????
View this post on Instagram

Hbd to my brother @diddy ??
View this post on Instagram

Happy Birthday to my brother @diddy