Dr. Dre & Rick Ross Argue Over Los Angeles Lakers & Miami Heat In 2020 NBA Finals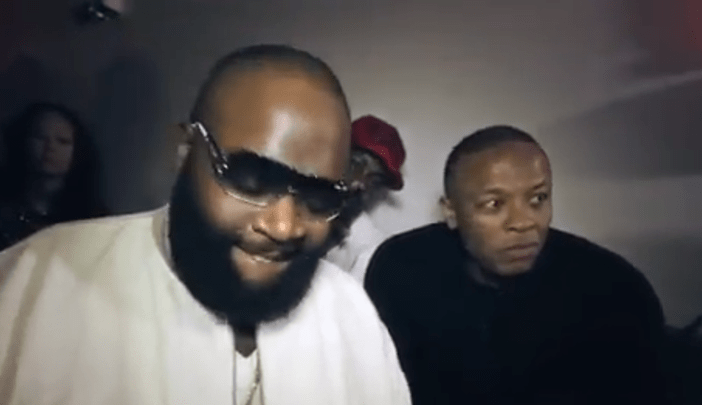 The 2020 NBA Finals are scheduled to begin on Wednesday night (September 30), inspiring Dr. Dre and Rick Ross to proudly rep their home teams. The two clashed over the matchup between the Los Angeles Lakers and Miami Heat as Rozay claimed his squad would win the series in just five games.
"I'm out here in L.A. and I say the Heat in five!" Ross said, prompting laughs and disbelief from Dre and the rest of the crew gathered in the clip.
Rick Ross got the Heat winning in 5 against the Lakers! 👀🏀  @RickRoss @DrDre pic.twitter.com/8fUSUdrXox

— WORLDSTARHIPHOP (@WORLDSTAR) September 29, 2020
Despite getting clowned for his prediction, Ross stood by his claim. He also paid his respects to the Lakers and the late Kobe Bryant.
"Shout out to the Lake Show," he said. "Most importantly, R.I.P. Kobe, Black Mamba. I understand the value of the Lake Show … But I'm out here repping. The Heat in five!"
The Lakers and Heat will face off in a best-of-seven series to cap off a strange year for the NBA. The regular season was put on hold due to the COVID-19 pandemic in March. Players were able to get back on the court in July, resuming play at the Walt Disney World Resort in Orlando.
Games all took place inside the "NBA Bubble," which allowed the league to finish an altered version of the regular season amid coronavirus concerns. The playoffs began in August as the contending teams remained inside the "Bubble" to compete.
The Lakers, who are led by basketball superstar LeBron James, are widely considered the favorites to win the 2020 NBA Finals. James will be facing his former team, the Heat, after helping them win championships in 2012 and 2013.
Game 1 of the 2020 NBA Finals airs Wednesday on ABC at 9 p.m. Eastern. Fans can also stream it on the ESPN app.