Drake Destroyed On Twitter For Justin Bieber-Inspired Haircut — Then He Flexes On Everyone With Yacht Photo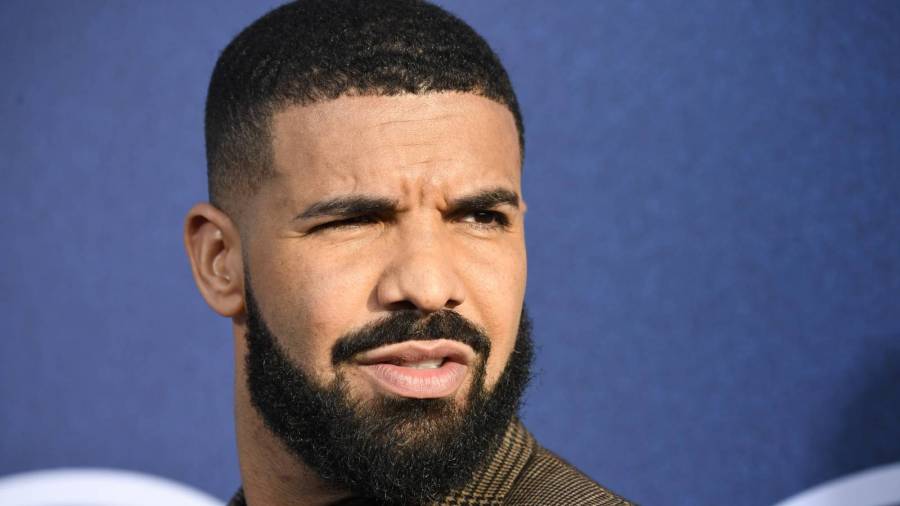 People weren't quite sure what to make of Drake's post over the weekend. On Saturday (January 2), the multi-platinum artist shared an Instagram photo of himself rocking a Justin Bieber-inspired haircut — with Biebs' signature flip and a carefully placed heart sitting prominently in the front.
Drake captioned the post, "#BigMood." Naturally, Twitter went wild with jokes in response to the 2010 era throwback 'do and ridiculed Mr. Certified Lover Boy from here to Zone 6, causing him to ultimately delete the post. But considering he's one of the most famous celebrities in the world with a net worth of at least $150 million, according to Forbes, the 34-year-old wasn't about to let the criticism bother him too much.
Instead, he returned with two photos of his newly completed yacht that blows the competition out of the water. Snaps of the luxurious vessel started making the rounds on Monday (January 4), showing off the pristine interior that rivals a wealthy person's actual home.
Omg Drake got me a yacht for my birthday now he know I don't care for extravagant gifts…I accept ? pic.twitter.com/Xe5WiQY8wD

— Waiting 4 CLB ? (@aubreycertified) January 4, 2021
Drake is the epitome of wealth and clearly a fan of the finer things in life. Last April, he allowed Architectural Digest to come inside of his Toronto home and photograph his sprawling, 50,000 square-foot pad, revealing his NBA regulation-sized basketball court crowned by a 21-square-foot pyramidal skylight, a Bösendorfer concert grand piano designed by Rafauli and Takashi Murakami and his a 3,200-square-foot master-bedroom.
"Because I was building it in my hometown, I wanted the structure to stand firm for 100 years," he explained to AD at the time. "I wanted it to have a monumental scale and feel. It will be one of the things I leave behind, so it had to be timeless and strong."
But as Drake fans drooled over his latest flex, tweets clowning his haircut continued to flood the social media platform's feed, making them impossible to ignore. Check out some of the best reactions below as his fans eagerly await Certified Lover Boy, his sixth studio album.
drake's haircut already ruined 2021 pic.twitter.com/mB2zT0DmdM

— Abdi ? (@JrWave19) January 3, 2021
this how Drake's new haircut got him looking pic.twitter.com/440Bky6Hir

— ???? (@RagersKnights) January 3, 2021
Drake's haircut on some Dave Chappelle shit rn ? pic.twitter.com/i2vPrv7d05

— cheesus wrld (@MatchboxCody) January 3, 2021
What drake looks like after his new haircut pic.twitter.com/0mdPRMcq5S

— ig:gm__exclusive (@gm2exclusive) January 3, 2021
"Drake's new haircut is so ass ???" pic.twitter.com/cWJM1BadXm

— MigosTrash 2.0 (@NotMigosTrash) January 3, 2021
2021 the year of bad haircuts. Drake got a bayang now, Demi got a bowl haircut, Rihanna got a freaking mullet on her head. pic.twitter.com/bCuDD4NGMU

— lewis (@bIondedthot) January 3, 2021
Me after looking at Drake's dream haircut: pic.twitter.com/Nhy6Nn4fen

— Randy Aparicio. (@RandyAparicio2) January 3, 2021
Nobody:
My friend: I love drake's new haircut pic.twitter.com/6Bcai1lssV

— Code Red (@BumMinister) January 3, 2021
drake haircut ? pic.twitter.com/0GsrniVqde

— antonio? (@antonioo4420) January 3, 2021
Drake after getting his new haircut pic.twitter.com/bKcXZ362Rf

— Andrew? (@boixandrew) January 3, 2021
I love drake's new haircut!! ? pic.twitter.com/NgeBjZSZIo

— ?? nahil ?? (@nahi1arious) January 3, 2021
out of all haircuts drake chose this one. pic.twitter.com/xizTpA8tDY

— papi (@Calii_Vibess) January 3, 2021
Wait is this drake haircut FOREAL?! pic.twitter.com/9vRF8vIgZM

— Lito The Diamond ?? (@Trillest_Los) January 4, 2021
Justin Bieber fans after seeing drake haircut pic.twitter.com/LhIM8I7SmW

— lot ? (@_wholelotofsad_) January 3, 2021
How Drake gon rap after his new haircut pic.twitter.com/9Fnjp8nVCE

— Your regular nigga (@AristocIes) January 3, 2021