Drake Gifts DJ Khaled With Iced-Out OVO & We The Best Chain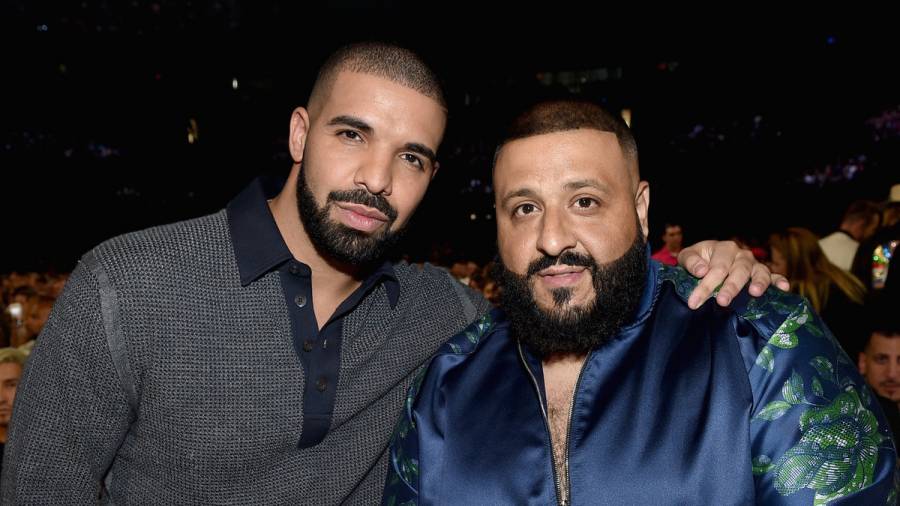 Drake is feeling appreciative of his friendship with DJ Khaled, to the point of blessing him with a diamond-encrusted pendant.
Khaled posted a video to Instagram on Tuesday (September 29) showing off a custom chain that Drizzy had sent him. The piece is a nod to their respective OVO and We The Best labels, featuring a shiny owl, key and lion.
"Shout out to my brother Drake," he said. "Thank you so much. This gift means so much to me. Drake got me a beautiful gift. This is an owl and a key … and then it got the lion head 'cause you know I represent the lion."
Khaled spoke more about their close relationship and revealed the chain is exactly the same as the one Drizzy wears in their "POPSTAR" video.
"Khaled and Drake, Drake and Khaled," he said. "It's always special when we connect … Look at this, come on, fully iced out. It's so heavy, the quality … Drake is wearing one, now I got one. It's called brothers. Drake, thank you so much for your friendship. This is beautiful. Love you for life."
View this post on Instagram

THANK YOU @champagnepapi for this beautiful gift 🎁! Luv forever !🦉🔑 🦁 #WETHEBEST #OVO Luv always KHALED KHALED
Khaled was so happy with the gift, he posted about it again hours later. In another video, he continued to thank Drizzy and zoomed in on a photo of them together on his shelf.
"It's We the Best, OVO," he said. "Drake, thank you again. It's a beautiful gift."
View this post on Instagram
Drizzy and Khaled teamed up on two singles "Greece" and "POPSTAR" in July. Their friendly relationship is evident in the video for "POPSTAR," where Drake jokes about Khaled being "off his rocker" and how he bothers him "every waking moment" of the day.
Their collaborations go back over a decade on songs like "I'm on One," "No New Friends," "For Free" and "Fed Up."
The pair have also exchanged gifts in the past. In December 2016, Drake gave Khaled a pair of diamond encrusted keys for him and his newborn son, Asahd.
"I want to shout out my brother Drake," Khaled said. "My brother Drake got me and my son the most amazing gift. He got us the key, two major keys that can never be separated, together forever and it got my son's name on there and my name on there on both keys."
View this post on Instagram

@champagnepapi thank you so much for this amazing gift for me and my son ASAHD! Thank you for the 2 🔑🔑 that's inseparable !! The 2 🔑🔑s wit my name and ASAHD name on the 🔑s!! @champagnepapi very grateful for your friendship!!! MORE LIFE! MORE WINS! MORE BLESSINGS ! NOTICE HOW I SAID MORE!! Also thank you @kilanijewellery for the great work!! #WETHEBEST #OVO 🔑🔑🔑🔑🔑🔑🔑🔑🔑🔑🔑🔑🔑 FAN LUV PLEASE TELL DRAKE WE SAID THANK YOU SO MUCH !!