Drake, Juicy J, Trippie Redd, Saweetie & More React To Drakeo The Ruler's Death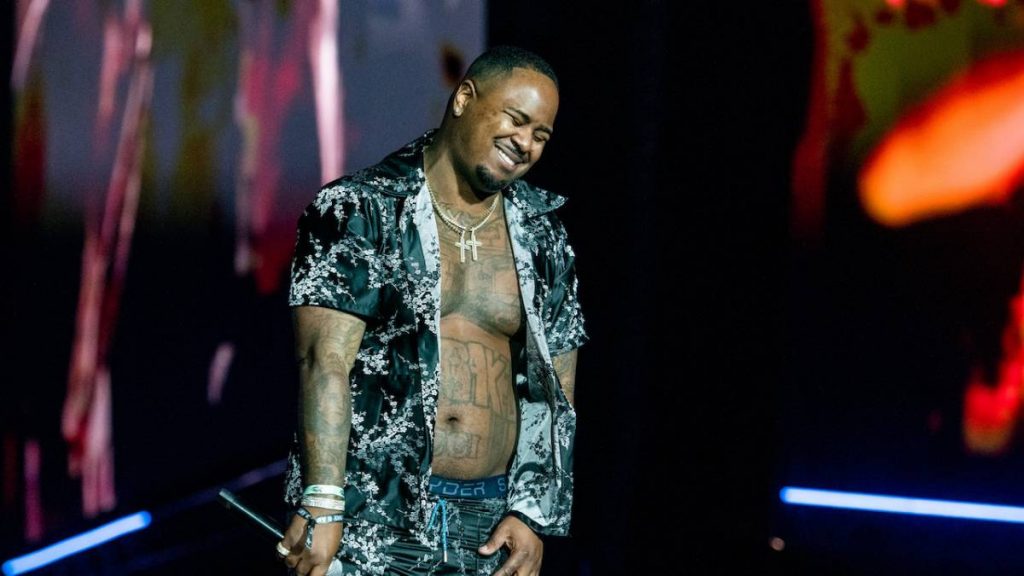 The West Coast rap community suffered another massive blow on Sunday (December 19) when Drakeo The Ruler, one of Los Angeles' more unique voices and a Hip Hop trendsetter, died after a stabbing at the Once Upon A Time In L.A. festival.
Drake, who collaborated with Drakeo The Ruler on the hit single, "Talk To Me," took to Instagram to mourn the rapper.
"Nah man this shit isn't right for real wtf are we doing?" Drake questioned in his Instagram Stories. "always picked up my energy with your spirit RIP Drakeo."
View this post on Instagram
Noted producer Kenny Beats posted "RIP DRAKEO" on Twitter before further elaborating why there need be no room for clout chasers after someone passes away.
RIP DRAKEO

— kennybeats (@kennybeats) December 19, 2021
Meanwhile, Three 6 Mafia's Juicy J shared his condolences on Twitter, offering prayers for the L.A. rapper's family.
"R.I.P. Drakeo the ruler prayers up for the family," he wrote.
R.I.P. Drakeo the ruler prayers up for the family ?? ????

— juicy j (@therealjuicyj) December 19, 2021
Rolling Loud also offered condolences as Drakeo recently performed at the Los Angeles edition of the festival on December 12, less than a week before his passing.
R.I.P. DRAKEO THE RULER ? pic.twitter.com/fJ84zkZwkJ

— Rolling Loud (@RollingLoud) December 19, 2021
Drakeo's brief but spectacular rise in Los Angeles was well documented. He released a string of mixtapes in 2020 after being released from prison, having escaped a life sentence on two separate occasions. He routinely referred to himself as the best rapper in California
"I AM THE BEST RAPPER ALIVE TO EVER COME OUT OF CALIFORNIA AND ITS NOT UP FOR DEBATE !!!" Drakeo declared in all caps in March. "FUCC WHOEVER FEEL SOME TYPE OF WAY. I DONT CARE WHO YOU BRING UP OG RAPPER NEW SCHOOL RAPPER YOU CANT NAME ONE RAPPER THATS MORE INFLUENTIAL THAN ME IN CALIFORNIA NAME ONE RAPPER WHO HAS AS MANY N-GGAS IMITATE THEM THAN ME !!!!!!!! …… ILL WAIT."
Witnesses at the scene claim Drakeo attempted to break up a fight between two individuals backstage when he was allegedly stabbed in the neck. Paramedics rushed him to a nearby hospital where he died.
Trippie Redd, Saweetie and JPEGMAFIA are among the many paying tribute on social media. Check some of them out below.
RIP Drakeo, the greatest West Coast artist of a generation, a legend who invented a new rap language of slippery cadences, nervous rhythms, and psychedelic slang, who beat life twice only to suffer the most tragic fate conceivable. The Ruler, once, always, and forever. ? pic.twitter.com/WKKjMV9PML

— Otto Von Biz Markie (@Passionweiss) December 19, 2021
Drakeo was killed while working. Was there for a performance. All these get out the streets tweets/leave your city tweets. Shut the fuck up. No reason why a knife should be able to be snuck into a music festival. Especially since the Travis Scott shit. Rip Drakeo hope his fam sue

— JOEY FATTS (@JoeyFatts) December 19, 2021
Rip Drakeo u really supported me when u came home I can't do nun but thank u bro and wish u a beautiful journey to the other side ?

— Trippie Redd (@trippieredd) December 19, 2021
Long Live DRAKEO ? it's all Love brother pic.twitter.com/aGnWzylOk0

— Jay Critch (@jaycritch) December 19, 2021
Man Drakeo was always hella cool & respectful ??? Prayers up for his family RIP The Ruler ?

— ICY SEASON ❄️ (@Saweetie) December 19, 2021
RIP DRAKEO ??

— JPEGMAFIA (@jpegmafia) December 19, 2021
Never forget when Drakeo was locked up, Nipsey was the only rapper to offer to pay his bail.

RIP 2 LA legends. pic.twitter.com/HGz2dwgqM9

— LEGIT RECORDS?? (@Shanestackamil1) December 19, 2021
RIP Drakeo man ?

— GUAPDAD4000.eth (@guapdad4000) December 19, 2021
after beating two life sentences, it felt like Drakeo could survive anything. can't even wrap my mind around this. Long Live The Ruler

— . (@HaroldBingo) December 19, 2021
Rest Well Drakeo the MF Ruler

— RJ OMMIO (@rjmrla) December 19, 2021
Black loss seems to be a never-ending cycle, man. And it comes in all forms. To say it's exhausting is an understatement. And as much as we try to push on and cope, the more loss comes our way.

RIP Drakeo, man.

— That Ain't The DJ, That's My DJ (@CoryTownes) December 19, 2021
Man, it's crazy to continually wake up to tragic news of artists dying.

RIP Drakeo, pushed the needle for the whole sound on the West Coast. Gone too soon.

— Noah Miller (@iamnoahmiller) December 19, 2021
RIP to Drakeo The Ruler, I remember reading about how he beat the system multiple times even when they attempted to use his song lyrics against him. He constantly beat the odds. This is heartbreaking, no one deserves to be killed while doing what they love.

— Dedee ? (@thoughtfulbae) December 19, 2021