Eminem Celebrates 'Without Me' Video Hitting 1B YouTube Views With New HD Edition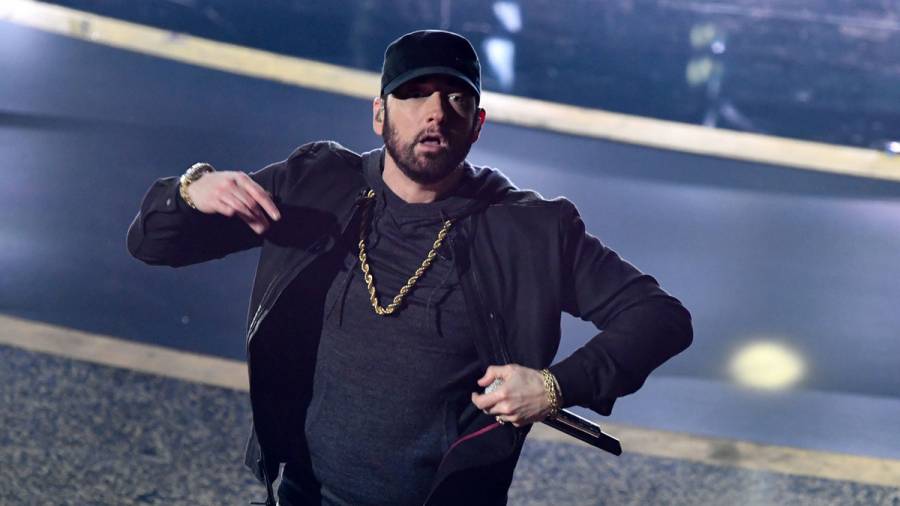 Eminem crossed yet another musical milestone on Tuesday (November 10) when his 2002 video "Without Me" hit one billion YouTube views. To commemorate the occasion, Slim Shady and his Shady Records imprint fired off a tweet announcing a new HD version of the video is now available.
"You waited this long," he tweet read. "Eminem's #WithoutMe just hit 1 billion views and it's now in HD." The post included a link to the recently upgraded video.
"You waited this long.." 📺 @Eminem's #WithoutMe just hit 1 billion views and it's now in HD – https://t.co/hS34WCgaFC @YouTube pic.twitter.com/RI9L6twugL

— Shady Records, Inc. (@ShadyRecords) November 10, 2020
"Without Me" is taken from Eminem's fourth studio album The Eminem Show, which was released on May 26, 2002.
The 20-track project became the best-selling album in the United States and best-selling album worldwide that year. It was ultimately certified diamond by the Recording Industry Association of America (RIAA), while its worldwide sales of 27 million copies make it one of the best-selling albums of all time and the second best-selling album of the entire century.
"Without Me"  — which features a memorable line from Obie Trice in the intro ("real name, no gimmicks") —served as the lead single from the album and peaked at No. 2 on the Billboard Hot 100 and No. 1 in 15 different countries, including Australia, Ireland and the United Kingdom. The song was later re-released on Shady's greatest hits album, 2005's Curtain Call: The Hits. 
As far as the content, the song openly mocked Shady's long line of critics, which included former vice-president Dick Cheney and his wife Lynne, the Federal Communications Commission (FCC), NSYNC singer Chris Kirkpatrick, Limp Bizkit and Moby.
Eminem has hit a couple of other records in recent months. In October, the 8 Mile smash hit "Lose Yourself" crossed one billion streams on Spotify and Curtain Call: The Hits continued a nearly 10-year run on the Billboard 200 when it re-entered the chart at No. 59.
More recently, the Detroit-bred "rap god" officially endorsed Joe Biden for President of the United States when he allowed "Lose Yourself" to be used in a Biden-Harris campaign video. Subsequently, people gave Eminem credit for Biden's win in Michigan.
Check out the ad below and watch the HD version of "Without Me" up top.