Eminem Collaborator Phresher Sheds Tears Of Joy After Receiving Gold 'Revival' Plaque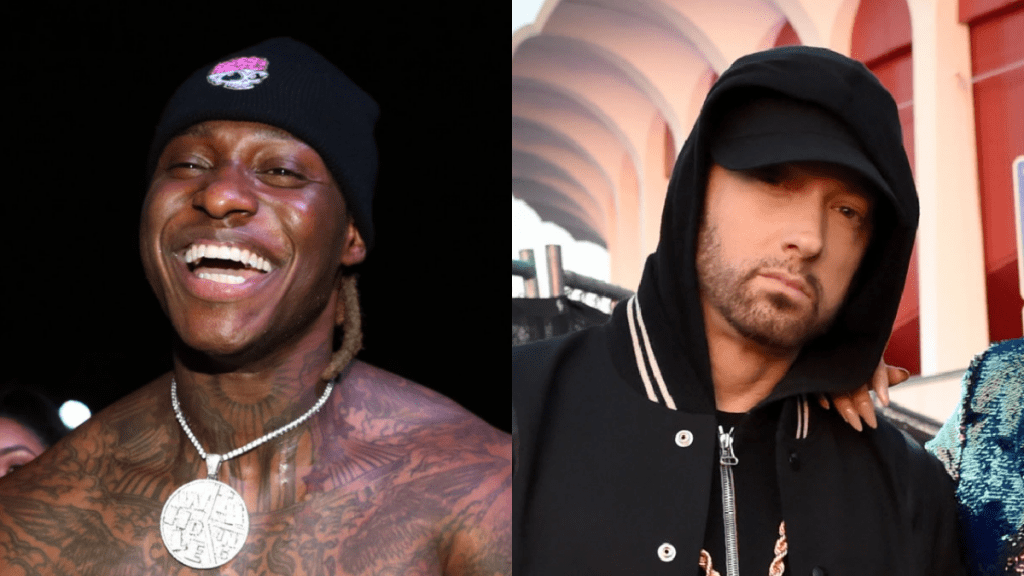 Brooklyn, NY – Eminem's 2017 album Revival was certified gold by the Recording Industry Association of America (RIAA) last March, signifying at least 500,000 sales in the U.S.
With nine multi-platinum projects to his name — including two diamond-certified blockbusters, The Marshall Mathers LP and The Eminem Show — being recognized by the RIAA is practically routine for Slim Shady at this point.
But for Brooklyn native Phresher, Revival's success was a moment he'll never forget.
On Tuesday (September), the 32-year-old rapper held a Back to School giveaway for local children in his native Brooklyn, where he officially received a gold plaque for his contribution to Revival. It was an emotional moment for Phresher as he shed tears of joy while collecting his plaque in front of friends, family and local residents.
Phresher, who appeared on the Revival track "Chloraseptic," posted a video of his special day on Instagram while showing his gratitude to Eminem in a heartfelt message.
"In the music business the numbers don't always match the grind/work you put in," he wrote in the caption. "At least for me but I wanna thank @eminem for allowing me to be apart of his vision … More importantly I wanna thank my family and friends and supporters for helping me achieve what I have thus far … Although I still have a LOOOONG WAYYYYY to go I am EXTREMELY THANKFUL! Stay Blessed #BAMAZraisedME."
View this post on Instagram
Phresher earned a spot on Revival after Eminem heard his 2016 viral hit "Wait a Minute" thanks to Royce Da 5'9's freestyle over the track. Em then flew out to New York to meet with Phresher and secure the "Chloraseptic" hook from him. The Brooklyn native also laid down a verse that made it onto the 2 Chainz-assisted remix.
"I don't believe it until Paul Rosenberg [Eminem's longtime manager] hits my manager: 'Hey, Eminem wants Phresher on a song,'" Phresher recalled in a 2017 interview with ThisIs50. "I had to sit down."
He added, "That conversation with [Eminem] was like, he's telling me how much he appreciates my music. And I'm going, 'No no no, understand you're my favorite artist' … He said, 'Get away, one on one, me and you, we need to have a talk, man' … And that's when I knew that I'm here, I'm doing something."
Revisit Eminem and Phresher's "Chloraseptic" collaboration below.