Eminem Wants To Play For The Detroit Lions: 'I'll Lace Up Whenever'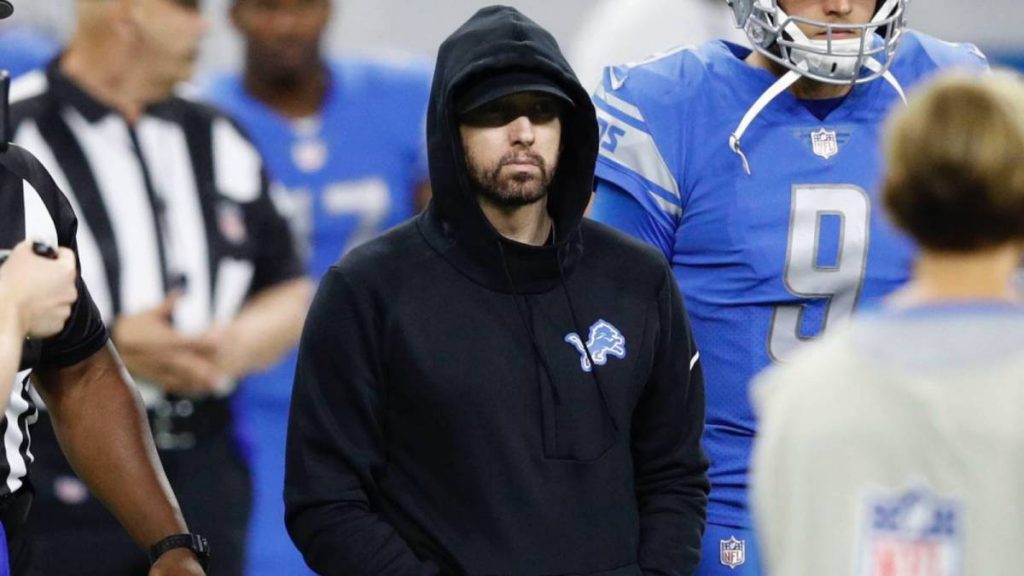 Eminem has expressed an interest in playing in the NFL, telling his beloved Detroit Lions that he'd happily trade in his microphone for a pair of cleats.
The legendary rapper stopped by his hometown team's training camp during the taping of the season finale of HBO's Hard Knocks, which shined a spotlight on the team's second year under head coach Dan Campbell.
On Thursday (September 1), the Lions shared a clip of Em's visit on Twitter, which sees him tell the team he would relish the opportunity for a spot on the roster.
"I said I'm here for whatever position," Eminem tells Denaun Porter while standing on the sidelines of the team's practice. "I'm here. Any of 'em. All of 'em."
Eminem then walks onto the field to speak to the team, informing them that he'll "lace up whenever" and "go to every game."
He continued: "I'll stand on the sideline and if you guys need to put me in, put me in. Any position, I'm good. Actually, any position, I'm great."
We'll keep you in mind, @eminem

Catch the season finale of #HardKnocks on Sept. 6 on @hbomax!

? @nflfilms pic.twitter.com/DY7MmhKhef

— Detroit Lions (@Lions) September 1, 2022
The Detroit Lions begin their season on September 11 against the Philadelphia Eagles at Ford Field. The team's final episode on Hard Knocks premieres on Tuesday (September 6).
On the music side of things, Eminem's most recent release was his Curtain Call 2 greatest hits which arrived on August 5.
Curtain Call 2 boasts 35 records in total and houses Eminem's recently released singles "The King & I" featuring CeeLo and "From The D To The LBC" with Snoop Dogg, along with an unearthed 2009 collaboration with 50 Cent and Dr. Dre titled "Is This Love ('09)."
The album debuted at No.6 on the Billboard 200, earning 43,000 album-equivalent units in its first week. It is Eminem's 12th US Top 10 album, and first since The Slim Shady LP not to reach No.1, ending Eminem's streak of No.1 albums at 10.
Meanwhile, Swae Lee shared a brief cover of Eminem's "Stan" on TikTok earlier this week, and now fans are begging for a full remix.
In the clip, Swae can be seen meandering around his apartment shirtless as he sings the song's hook, which was sampled from the opening lines of "Thank You" by British singer Dido.