Eminem's 1st Ever Recorded Performance Resurfaces Online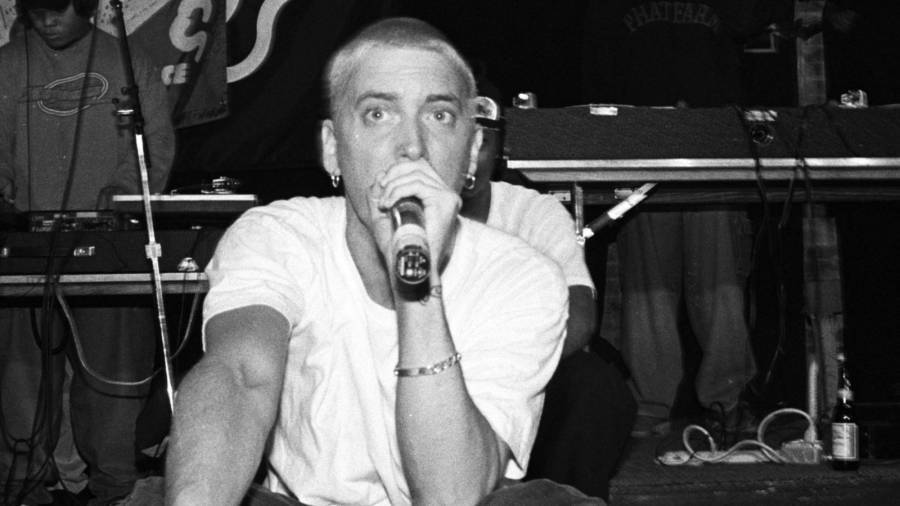 Before Eminem was a diamond-selling, Grammy Award-winning MC who could pack stadiums, there was a time when he'd perform anywhere for anyone — even if it was just an outdoor park.
Such is the case in a recently resurfaced video in which a 24-year-old Slim Shady is performing the song "Low Down Dirty" to a crowd of roughly 12 — and that's being generous. Most people aren't even watching the show, they're just passing through the camera frame to maybe grab a hot dog or slightly singed hamburger off the grill.
Nonetheless, the ambitious young rapper is commanding the stage as he spits alongside members of D12.
"Wearing visors, sunglasses and disguises/'Cause my split personality is having an identity crisis," he raps. "I'm Dr. Hyde and Mr. Jekyll, disrespectful/Hearing voices in my head while these whispers echo/(Murder-murder, redrum)/Brain size of a bread crumb/Which drug will I end up dead from/Inebriated 'til my stress is alleviated/How in the fuck can Eminem and Shady be related?"
The nearly five-minute clip was originally uploaded to YouTube in 2017 and is allegedly from 1996, three years before Eminem signed with Dr. Dre and Aftermath Records.
"Low Down, Dirty" was ultimately released on the Detroit-bred rhymer's Slim Shady EP in 1997, which is rumored to have piqued Dre's initial interest.
Since then, Eminem has become one of the best-selling artists of all time and a pop culture icon. The Hip Hop legend celebrated his 48th birthday on Saturday (October 17) and many of his close friends and collaborators took to social media to express their admiration, including fellow Bad Meets Evil member Royce Da 5'9 who shared a super throwback photo of the then-burgeoning MC.
"48 times …. I can name 48 reasons why he raps better than you," Nickle Nine captioned the post. "48 people who's lives he's changed. Name 48 things he's accomplished that nobody thought he could, EVER… Happy 48th to my brother … The [GOAT] Debate your mother."
View this post on Instagram

48 times …. I can name 48 reasons why he raps better than you … 48 people who's lives he's changed. Name 48 things he's accomplished that nobody thought he could, EVER… Happy 48th to my brother … The ? Debate your mother