Eminem's Debut 'Slim Shady LP' Sold 283K Real Albums Its 1st Week – Fat Joe & Big Pun Actually Waited In Line For Their Copies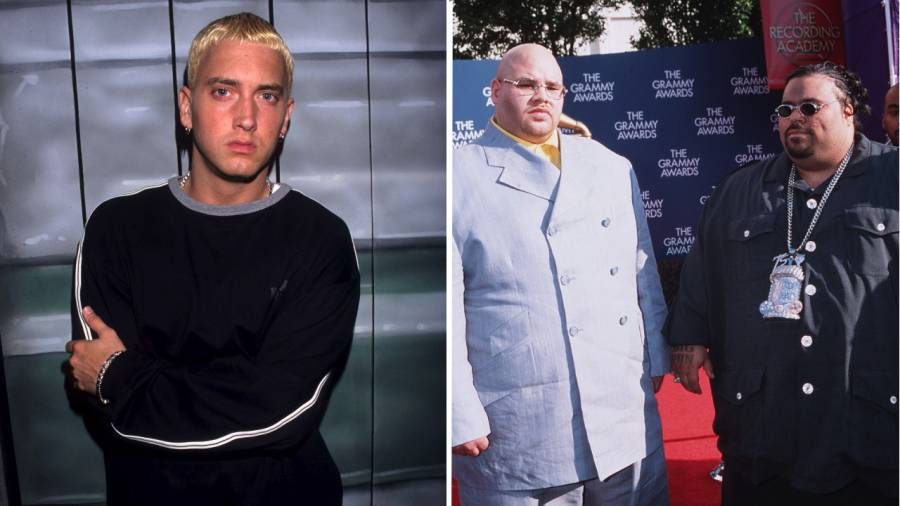 The Slim Shady LP introduced Eminem to the masses when it dropped in 1999, catapulting the Detroit native into superstardom that remains over 20 years later. The major label release debuted at No. 2 on the Billboard 200 (bested by TLC's Fanmail) and sold 283,000 physical copies – which of course was the only option back then.
Fellow rap legends Fat Joe and the late Big Pun were two of those 283k, and Joey recalled the moment fondly while chopping it up on his Instagram Live show with Bow Wow on Tuesday (January 19).
"He's incredible," Joe gushed after Bow named the Detroit native in his top five best rappers list. "Eminem is something else. And you know and I know that if he wasn't something else, he wouldn't be where he was at because they would not let him get no type of pass like that. That man was so exceptional. I remember when Eminem's first album came out, we was in L.A. for the Grammys. Me and Big Pun waited in line – and Pun was nominated for two Grammys! He was already double platinum! And me and him literally, physically waited in line at the Tower Records to buy Eminem's album."
In 2019, Em celebrated the now-4x platinum album's 20th anniversary with an expanded CD/Vinyl edition which featured features deep cuts and acappella and instrumental versions of select songs. He released a limited run of collectable merch along with it as well.
Revisit The Slim Shady LP below.