Freddie Gibbs Clowns DJ Akademiks For Calling Himself 'The Prize' In Spat With Girlfriend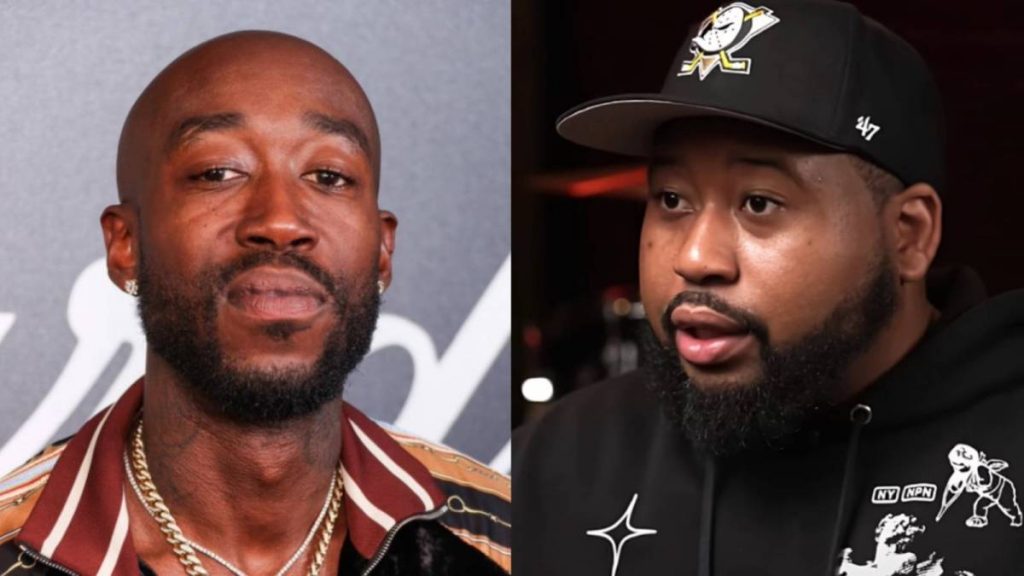 Freddie Gibbs has thrown some shade in the direction of DJ Akademiks after the media personality referred to himself as "the prize" during a spat with his girlfriend.
On Thursday (October 13), a video surfaced that showed Ak in a heated argument with his partner, which reportedly happened after recording an episode of The Fresh and Fit Podcast.
DJ Akademiks (real name Livingston Allen) can be seen shouting aggressively in his girlfriend's face while holding a Louis Vuitton bag that appears to belong to her. "Respect the game, n-gga!" he screams in the clip. "Stop this shit! I'm the n-gga!"
After his partner attempts to confront a red-haired woman stood behind Akademiks, the Off the Record host shoved her against the wall and continued to yell in her face.
Ak's girlfriend retaliates by yanking his hat off his head and throwing it away. The former Everyday Struggle star retrieves it while declaring: "I'm the prize!"
Rushing to social media to add his two cents on the situation, Freddie Gibbs, who's had a longtime rival with DJ Akademiks, poked fun at Ak's bold claim.
"I'm the n-gga? You the n-gga?" Gibbs says in the clip, mimicking Akademiks as he barks at his girlfriend in the clip. "Oh my God … I'm the fucking prize," Gibbs adds before falling out laughing.
View this post on Instagram
At one point in the video, Ak's girlfriend throws his hat on the floor exposing a bald spot on his head. Gibbs moved over to Twitter to roast Akademiks some more.
"Lemme find out this n-gga ak bald in the byke," he wrote alongside a laughing emoji. In a follow-up tweet, he said: "Told y'all don't trust a n-gga that never take his hat off."
Lemme find out this nigga ak bald in the byke 😂 pic.twitter.com/FBhrNcHL6z

— Big 🐰 (@FreddieGibbs) October 14, 2022
Told y'all don't trust a nigga that never take his hat off 😂

— Big 🐰 (@FreddieGibbs) October 14, 2022
The beef between Freddie Gibbs and Akademiks stems from a June 2020 interview Gibbs gave in which he called his former label boss and fellow rival Jeezy musically "irrelevant." Akademiks fired back and said, "If Jeezy is irrelevant, Freddie Gibbs, you are absolutely irrelevant as well."
Since then, they've dissed each other numerous times, with Freddie Gibbs threatening to "torture" Akademiks until he quits his job and clowning him for being "fired" from Complex's now-defunct web series Everyday Struggle.
However, last month, Gibbs said he loved DJ Akademiks during an appearance on Funk Flex's Hot 97 radio show.
"I love Akademiks," Gibbs said of his rival. "We gonna have a sit-down, but you had to get that shit for all that shit you've been kicking. You had to get that."
Flex told the Alfredo rapper that he admires Akademiks because he speaks his mind freely, which Gangsta Gibbs agreed with and claimed he could actually see himself being friends with the media personality.
"I think if we were to have a conversation, we'd probably be cool, I take it too," he added. "I'll take everything he say, and I love it. But you gotta take it when I give back."