Freddie Gibbs Trolls Benny The Butcher WWE-Style While Promising 'Bars' For Griselda Rapper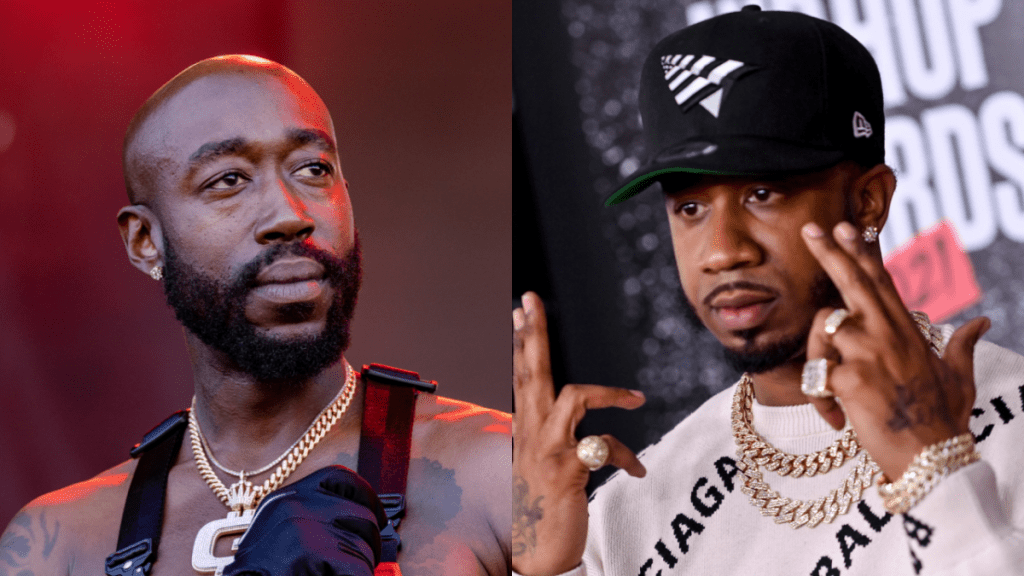 Freddie Gibbs and Benny The Butcher have been entrenched in an emerging feud throughout March, and it looks like Gangsta Gibbs will bring the beef to wax.
Freddie Kane's next single titled "Ice Cream" is set to arrive at midnight on Friday (April 1) and Gibbs is expected to have plenty of bars flying in the Griselda rapper's direction.
New Big 🐰 tomorrow night 🍦🍦🍦 pic.twitter.com/CEpGl2GWHB

— Big 🐰 (@FreddieGibbs) March 30, 2022
The Gary, Indiana native took the opportunity to troll Benny using a photoshopped WWE clip of himself as Stone Cold Steve Austin and The Butcher as Triple H during their feud over two decades ago in 2001.
"This rap shit is a joke to me #SSS #IceCream #BrickJames #IsYouBigMadOrLittleMad," Gibbs captioned the clip featuring commentary from the great Jim Ross.
View this post on Instagram
Freddie added in a separate video, "New shit coming this week, I got to give these n-ggas some bars. They gotta have it — they want some!"
View this post on Instagram
The beef originated when Benny The Butcher claimed his collabs with Freddie Gibbs "came and went" during a Spotify Greenroom visit with Brian "B. Dot" Miller. Gibbs then insinuated Benny's Tana Talk 4 album came and went and that he needed to spark a feud to help improve record sales.
The fuse seemed to be lit from there, but this looks to be a rare feud where fans of both parties aren't throwing kerosene on the fire and would rather the beef be squashed and have Benny and Freddie Gibbs working together again.