GRIP Supplies A Lyrical Feast On Solid Shady Records Debut 'I Died For This!?'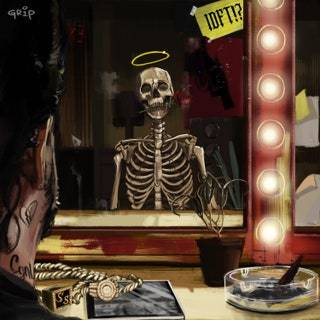 GRIP — long recognized among Hip Hop circles as a gifted storyteller with an affinity for high level concepts and the macabre — took his time to get here.
Now 32, GRIP initially made a home in the underground, producing luminary records without too much care in marketing them, allowing the music to speak for itself. Though it took some persistence — the strategy worked. The glowing reception to his breakthrough album, 2019's Snubnose, helped put him on Eminem's radar, leading to a deal with Shady Records shortly thereafter.
GRIP's Shady Records debut, I Died For This!? pits his love for rap music against his overt disdain for the rap industry and is encumbered by a self-imposed pressure to make his first impression to a wider audience memorable.
The conceit of the album is along the lines of: GRIP dies and looks back over a life spent agonizing over success, chasing the elusive listener, wondering incredulity, "I Died For This!?" It's a cynical and bitter angle, one indicative of a rapper who's given everything he has to his art and received little in return, other than blog points and street respect.
The first time GRIP grabs the mic on "And the Eulogy Read!?," he packs a tumultuous biography neatly into the folds of an acid-drenched bassline. He tells of pandemic-induced tour cancelations and negotiations with suits, which might have been successful if not for a stark lack of respect, or as GRIP puts it: "Labels callin' again, same song and dance/But crackers literally want you to do a song and dance." The track serves as a life-flashing-before-his-eyes moment to connect with the dead rapper bit, which is a theme he doesn't entirely stick to throughout the project.
While this hinders the effect of the theatrical elements and overall artistry, it puts the focus squarely on the main attraction — GRIP's storytelling and technical ability. He exists in the fringe between reality and fiction, with a presence that feels partially fabricated but based on true events. This effect supercharges his stories, resulting in remarkable immersion throughout, with particularly sharp examples on "ConMan?" "A Soldier's Story?" and "At What Cost?".
The beats are uncommonly diverse, coming from all corners of the Southern and Eastern Hip Hop worlds. There are industrial stompers ("And the Eulogy Read!?," "Gutter!"), grimy basslines that wouldn't sound out of place on a J.I.D project ("IDFT!?" "Momma Told Me!") and slow tracks bursting with intellect ("ConMan?," "Patterns?," "At What Cost?").
GRIP is as varied in his lyrics as in his beats, but the album is anchored to his criticisms of the rap industry's preference for entertainment over artistry. The number of jabs GRIP gets in on the streaming model is astonishing, but even more potent is he never once sounds whiny or preachy. He backs his shit talk up with sound logic, condemning airhead rappers on "Hands Up!" by saying, "'Cause see, a kid'll learn a song before they learn how to read/So if it's nothin' in your lines, then how is they gon' succeed?"
When GRIP is allowed to shower down bars, the album is bulletproof. The trouble arises when he's forced to add hooks and melody to his onslaught.
Choruses are generally weak across the project. "Hands Up!" "IDFT!?" and "Glenwood Freestyle!" are some of the many potential hits underserved by labored choruses that exist only because they're needed to check the boxes of a major label debut album. Not even one of the most potent Eminem verses recently can save "Walkthrough!" from its chaotically lazy hook.
Without a chorus to box him in, GRIP is free to mix sophisticated rhetoric with intricate rhyme schemes, like on a "A Soldier's Story?": "I suppose what I write is like a zeitgeist for life's highs and lows/From night lights and tyke bikes to oversized Girbauds." There aren't many rappers out that can match GRIP's talent with a pen.
I Died For This!? is a testament to GRIP's versatility on the mic. Even though the decoration could use some work, the content is thought-provoking, dense and captivating. It's a quality major label debut that shows GRIP's refusal to double back on his conceptual work.
The next steps are finding a way to firm up those concepts and striking a balance between hardcore bars and mass appeal, if that's indeed what he desires.
REPEAT ME:
FAN FEEDBACK:
I'm just gonna listen to @Grip_SS "I died for this!?" until Eminem or Kendrick drop.

— Shawn Kitts (@showmelove34) September 4, 2021
Up until this point I never knew of Grip, however I Died For This!? Was straight 🔥🔥🔥🔥& then I went down the rabbit hole. Snubnose 🔥🔥🔥🔥 Porch 🔥🔥🔥🔥🔥🔥🔥🔥🔥🔥🔥🔥

— Krifreedem (@krifreedem) September 9, 2021
@Grip_SS is now officially in my top 10 of all time. Fight me.

— tomorrowismydayoff (@iamnothappyxx) September 15, 2021