Hip Hop Week In Review: 'Savage Mode 2' Disturbs The Peace, Dr. Dre To Keep His Billion & Megan Thee Stallion Impacts 'SNL'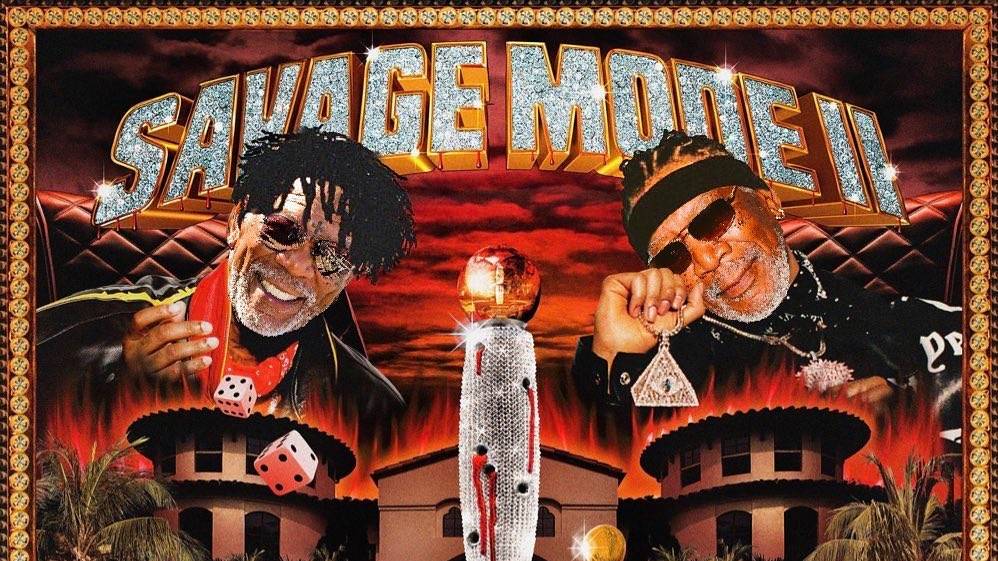 HipHopDX – The NBA Finals commenced this week but rappers were going so hard paint, whether they were dodging bullets or firing them.
Read along to see what we mean.
21 Savage & Metro Boomin's Savage Mode 2 Is Less Merciless Than Cobra Kai
After making good on its teasers involving iconic actor Morgan Freeman and a direct nod to the early No Limit and Cash Money Records days, 21 Savage and Metro Boomin released the sequel to their hood classic Savage Mode and didn't care who's feelings were destroyed.
Especially Drake, who not-so-inadvertently told the world he used to date SZA before the world really knew who they were.
"Yeah, said she wanna fuck to some SZA, wait/Cause I used to date SZA back in '08/If you cool with it, baby, she can still play," Drake crooned on the track "Mr. Right Now."
Following the inevitable trending topics spree, the TDE songstress not only unfollowed Drake's Instagram, but she also let a GIF do the talking for her.
"Excuse me, ma'am! Excuse me! You're in my business? Yeah, don't do that," the clip stated.
View this post on Instagram

#PressPlay: Welp! #SZA has a message, #Roomies👀 (SWIPE for previous post) (🎥:@_deejayyyy) (📸:@gettyimages)
For his part, 21 Savage managed to completely slaughter one rap legend while praising another. On the song "Many Men" (a pseudo remake of 50 Cent's Get Rich Or Die Tryin' cut), The Snowman got his rep lyrically melted when 21 spit, "Need a bad girl like RiRi (Yeah, yeah)/We don't pump fake, we kill beef (21)/21 Savage, not Jeezy (Pussy)."
Although the motive from the sniper shot is unclear, expect both parties to address the incident in interviews in the near future.
To pile onto the melee, guest narrator Morgan Freeman obviously had no qualms reciting all his lines, no matter how greasy or street coded. This includes the interlude "Snitches & Rats," whose title instantly evokes thoughts of Tekashi 6ix9ine thanks to the sensationalism he's brought 2020.
View this post on Instagram

What's your favorite track off #SavageMode2⁉️ 🔥
"Snitches and rats are not the same thing," the Academy Award winner sternly warned on the LP. "A 'rat' is a traitor, a conceiver, planner or physical participator/He doesn't sell secrets for power or cash, he betrays the trust of his team or his family hoping to save his own cowardly ass/The difference is, at least a snitch is human, but a rat is a fuckin' rat, period."
Despite all indicators pointing to another 6ix9ine diss, 21 Savage ensured fans his mousetrap was much bigger than they figured.
"I see y'all talking about this 'Snitches & Rats' song like a 6ix9ine diss song or some shit," 21 exclaimed during an October 2 Instagram livestream. "Man, 6ix9ine ain't the only rat in America. He's not the only snitch in the world, man. Fuck wrong with y'all? Y'all need to listen to that shit though 'cause that shit's facts. A rat is a fucking rat. Period."
21 Savage on Snitches & Rats: "6ix9ine ain't the only rat in America" 🐀 #SavageMode2 pic.twitter.com/96lnBDRNgh

— HipHopDX (@HipHopDX) October 2, 2020
Stream Savage Mode 2 above. It's already one of 2020's most dissected projects.
Dr. Dre's $1B Divorce Sways In His Favor
When a billion dollars is on the line in divorce, you can bet your ass the interest in the story is as great as the interest collected on such an alimony payment. Thankfully for Dr. Dre, Hip Hop's greatest superproducer, a California judge ruled in favor of him keeping his massive empire, ownership of his stage name and rights to his debut album The Chronic.
After several acrimonious demands in court, a judge denied Dre's estranged wife's Nicole Young's accelerated for $5 million to cover her lawyer fees and $2 million per month in temporary spousal support on October 1.
The divorcing couple has been married for over 24 years and have three children together. One of those children, Truly, took longtime Dre affiliates 50 Cent and Xzibit to task for their public comments on the split.
Megan Thee Stallion Has H-Town Heat For Daniel Cameron On SNL
Of all the rappers who've had prominent 2020s career-wise, Megan Thee Stallion's name is brimming towards the top of the list. From nabbing a pair of Billboard Hot 100 No. 1 hits (one which is a serious record-breaker) to covering TIME magazine to being a staple on TikTok to being involved with whatever allegedly transpired between her and Tory Lanez, the crossover avenues have been plentiful.
Perhaps it was the latter incident — where she allegedly was shot by Tory Lanez — that fueled the bulk of her appearance of SNL for the Chris Rock-hosted premiere of its 46th season on Saturday (October 4).
While performing her other chart-topping hit "Savage," she took a detour towards political matters, emphatically reminding viewers Black Lives Matter with flashes of "Protect Black women," Malcolm X soundbites and a much harsher message for Kentucky Attorney General Daniel Cameron, who confidently declared the officers who killed Breonna Taylor were "justified" in their actions on September 23.
"Daniel Cameron is no different than the sellout negroes that sold our people into slavery," the back screen also read along with audio from activist Tamika Mallory, the quote's attributor.
"We need to protect our Black women and love our Black women because at the end of the day, we need our Black women," Megan said during the performance. "We need to protect our Black men and stand up for our Black men because at the end of the day, we tired of seeing hashtags of our Black men."
Elsewhere, she performed her latest bubbling single "Don't Stop" with assistance from Young Thug and guest-starred in the rap spoof skit "Bottom Of Your Face."
Must-Read Material
Yung Bleu Says 'He's Badazz For Life' After Boosie Badazz Let Him Out Of His Deal To Get Bigger
Get the facts from Alabama's newest rap star-in-the-making.
Eminem & Lord Jamar's Longstanding Beef Finally Squashed With Royce Da 5'9's Help
2020 continues to amaze.
Beats By The Pound On Leaving Master P & No Limit: 'We Sold More Than Him After We Left Than He Did Without Us'
The Louisiana production outfit came with receipts.
Tyga's OnlyFans Is Actually XXX-Rated
Yep. Rappers are turning to porn during quarantine.
MC Eiht & Tha Chill Warn Faizon 'Big Worm' Love To 'Stay Outta Crips' Business' After Dave East Comments
A thinly veiled G-checc.
Vote for HipHopDX in the Best Hip Hop Platform category for the 2020 BET Hip Hop Awards.