J. Cole Compares Ari Lennox's 'Age/Sex/Location' Album To Alicia Keys Classic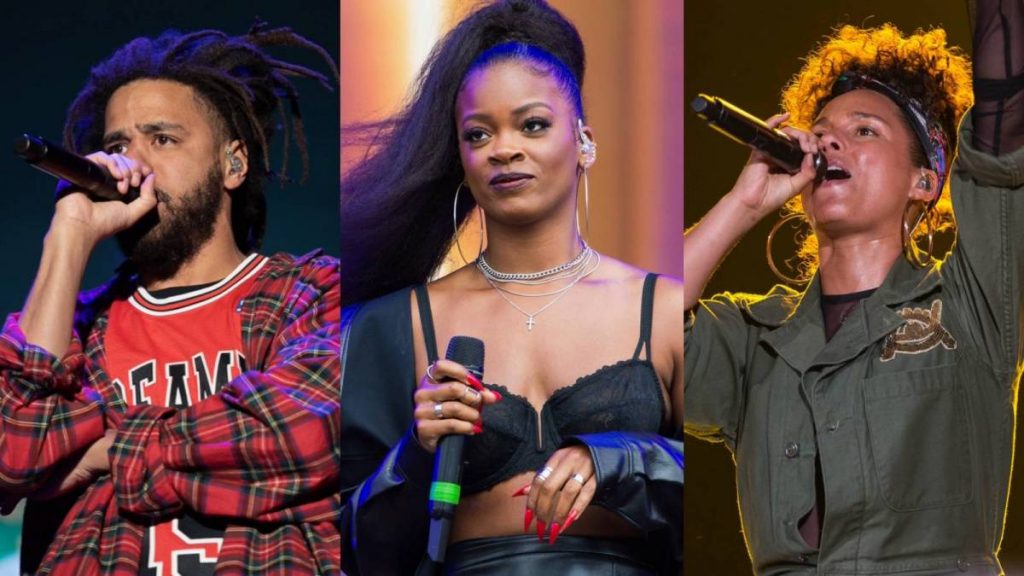 J. Cole has given the highest praise to Ari Lennox, comparing his Dreamville signee's new album age/sex/location to a classic Alicia Keys record.
"Ari Lennox album phenomenal," Cole tweeted on Friday (September 9). "Shit make me feel 14 again like when I heard songs in A minor."
Cole was referring to Alicia Keys's debut album Songs in A Minor, which arrived in 2001 and debuted at number one on the Billboard 200, selling 236,000 copies in its first week.
Long regarded as a classic, the album contained songs Keys had penned when she was just 14 years old and earned her numerous accolades, including five Grammys at the 44th annual awards ceremony.
Ari Lennox album phenomenal Shit make me feel 14 again like when I heard songs in A minor https://t.co/AUHD2s29m3

— J. Cole (@JColeNC) September 9, 2022
The Dreamville head's latest compliment comes after previously showering Ari Lennox with praise over her new project age/sex/location. Cole took to Instagram at the end of August to share a lengthy text Lennox had shared with him, where he said he "fucks with" the new project "heavy."
"I asked Ari what this new album means to her," Cole captioned the screenshot of the pair's text exchange. "I needed to know cuz I fuck with it so heavy."
He continued: "What I hear is the highs, lows, joys and pains of dating life in 2022. But her answer made it even deeper for me. Appreciate you @arilennox Looking forward to the rest of the world hearing it."
In the R&B singer's response, she listed off what age/sex/location meant to her, and described it as her "Eat Pray Love" journey.
"Blocking the resistance to heal. Allowing accountability and maturing," she wrote in part. "Allowing growth to happen. Allowing self worth and self love and inner work to happen. Allowing therapy. Allowing dating me to happen."
She continued: "Doing things I like to do whenever I want. Learning new things. Allowing that desperation and neediness to fade. What's for me is for me and I'm complete on my own. This is my eat pray love journey."
View this post on Instagram

age/sex/location arrives after a difficult year for Ari Lennox. She parted ways with her management company in March, a month after she expressed frustration with Dreamville and Interscope. Those frustrations then hit a boiling point when she sat down for a cringe interview on MacG's Podcast and Chill, where the host asked if anyone had been "sexually satisfying" the singer.
"I want to be dropped from the labels. I'm done and tired," she wrote before replying to a fan, "Shut up! The interview was the icing on the cake. I want to be free."
Lennox ultimately came around, and said in an interview with Vibe that age/sex/location was born out of all the difficult growth she experienced this past year.
"I think [on] Shea Butter Baby, I romanticize a lot of things in life," Lennox said." I feel like I was very naive about a lot of things about romance, about myself, about career, life, whatever, and I feel like I'm just more aware now, more evolved, [and] more, not putting up with certain shit I don't like."
Meanwhile, J. Cole was recently unveiled as the first rapper to receive his own cover in the NBA 2K series.
2K Sports announced on September 1 that the Dreamville boss is the official cover athlete of the NBA 2K23 DREAMER Edition, which was released on PlayStation 5 and Xbox X/S at GameStop in the U.S. and Canada on Friday (September 9).