J. Cole, Lil Uzi Vert & More Appear On Smino's 'Luv 4 Rent' Tracklist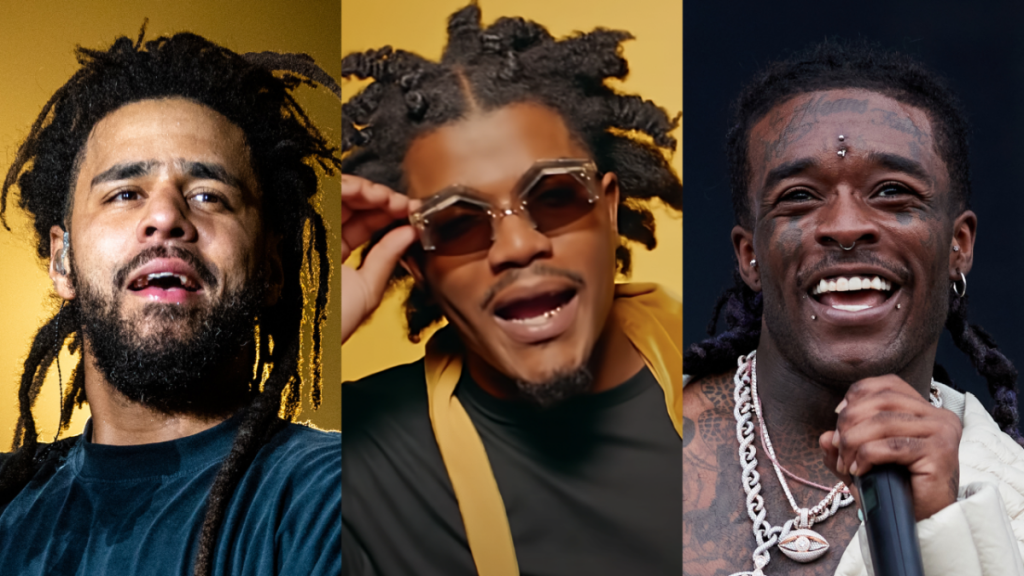 Smino has revealed the tracklist for his new album Luv 4 Rent — check it out below.
The St. Louis, Missouri native sparked further excitement for his upcoming third LP on Thursday (October 20) by sharing the song titles and guest features on Instagram ahead of its October 28 release.
Clocking in at 15 songs, Luv 4 Rent boasts appearances from an eclectic cast of Hip Hop and R&B stars such as J. Cole, Lil Uzi Vert, Doechii, Lucky Daye, Ravyn Lenae, Fatman Scoop, Reggie and Phoelix.
Cole co-stars on the previously-released single "90 Proof," while Uzi pops up on "Pudgy." There's also an apparent ode to Kendrick Lamar (who doesn't feature on the guest list) called "Ole Ass Kendrick."
Behind the boards, production is provided by frequent collaborators like Monte Booker, Childish Major, Kal Banx and Groove.
10/28 pic.twitter.com/XlFl38eyOG

— d r o p t o b e r (@smino) October 20, 2022
During an interview with Apple Music's Zane Lowe earlier this week, Smino explained the meaning behind Luv 4 Rent and how the album "saved" his life.
"This whole album, it's about having fun and recognizing your inner love. Straight up self-love vibe," he said. "I felt like I wasn't personally doing that for myself, and I felt like I was just giving that out too much and not really taking it in.
"So I was in that place, I was in the middle of that and I was like, 'Damn, how I'ma get out of this?' And the art imitates life, you feel me? And that's my life. So, shit, that's what I ended up making it about. Low key, this album probably just saved my life a little bit."
To promote the project, Smino has launched a fictional real estate website, Luv4RentRealty.com, that allows fans to book a slot for his album listening experience, which takes place in Los Angeles, California on Saturday (October 22).
The Zero Fatigue frontman also debuted a new single called "Matinee" on Friday (October 21), which can be heard below. The song features and is produced by Kal Banx, the Texas-raised TDE representative who helped soundtrack Isaiah Rashad's critically acclaimed The House is Burning.
open house ? https://t.co/U0ww641Mlq put ya applications in & come hear da album early .? pic.twitter.com/Xj11BPFZMT

— d r o p t o b e r (@smino) October 19, 2022
While Luv 4 Rent has yet to even hit streaming services, Smino is already looking ahead to what's next. In his chat with Zane Lowe, he revealed a sequel is in the works.
"The crazy thing about everything is I'm releasing part one, but this is just part one of the album," he said. "So the quarantine, I did part two of the album and I'm releasing part one first… My manager's going to be like, 'Damn, bro.' But yeah."
Luv 4 Rent serves as the follow-up to 2018's NØIR, which marked the 31-year-old's first entry on the Billboard 200. It featured fan-favorite cuts such as "KLINK" and "L.M.F.," as well as appearances from Dreezy, Ravyn Lenae and Valee.
Since then, Smino's stock has been steadily rising thanks to high-profile collaborations with J. Cole and Dreamville ("Sacrifices"), Isaiah Rashad ("Claymore") and Doja Cat ("Won't Bite"), among others, helping him to land a major label deal with Motown Records in 2021.
Check out "Matinee," along with Smino's Luv 4 Rent tracklist, below:
Smino Luv 4 Rent Tracklist:
1. 4rm Da Source
2. No L's
3. 90 Proof (f. J. Cole)
4. Pro Freak (f. Doechii & Fatman Scoop)
5. Ole Ass Kendrick
6. Louphoria (f. Cruza)
7. Blu Billy
8. Matinee
9. Modennaminute (f. Lucky Daye & Phoelix)
10. Defibrillator
11. Garden Lady
12. Settle Down (f. Ravyn Lenae & Cory Henry)
13. Pudgy (f. Lil Uzi Vert)
14. Curtains
15. Lee & Lovie (f. Reggie)