J Dilla-Themed Dilla's Delights Donut Shop Among Latest COVID-19 Casualties: 'We're Homeless'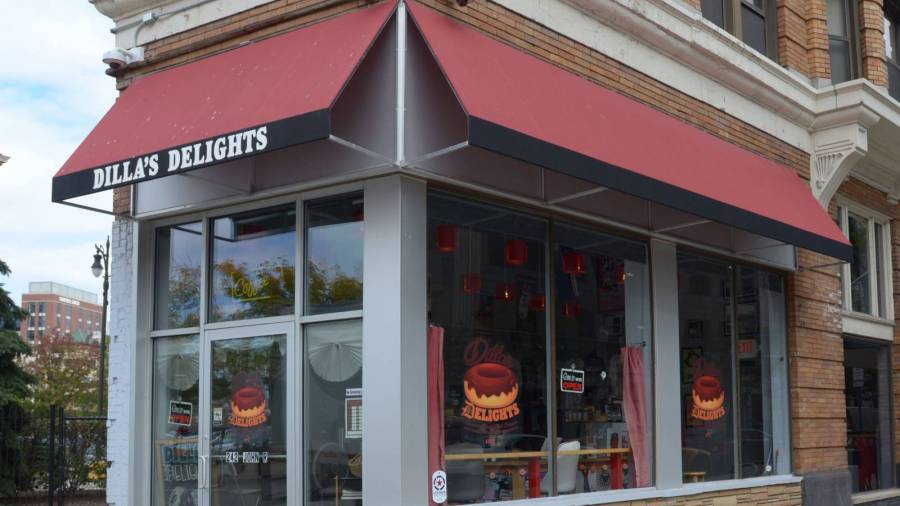 Detroit, MI – Dilla's Delights Donut Shop, owned by J Dilla's uncle Herman Hayes, is closing its doors. During an extensive Instagram Live session on Sunday (January 10), Hayes revealed he could no longer helm the Detroit-based location on John R Road. He also noted the store has actually been closed since March 2020.
"It's official — the donut shop is closed in that location," he said, rocking a custom Phife Forever t-shirt. "We don't quite know which direction we're gonna go in and where we're gonna be, but we're working on some things. That location at 242 John R Road is no longer open and we will not open back up at 242 John R Road and we are looking for a home. We're homeless. We lookin' for a home and the possibilities are out there. Let's put it that way. We may want to open up somewhere else. I don't know. We gotta figure it out."
But he added, "We're definitely gonna keep donuts alive, Dilla's legacy alive…we gonna come back bigger, better and just be creative."
View this post on Instagram
Hayes briefly closed Dilla's Donuts in 2019 when he was battling cancer and the shop was only able to reopen for a few months before having to close again because of the COVID-19 pandemic. At one point in the nearly 60-minute video, Hayes mentioned the pandemic and an expired lease as the reasons for calling it quits — at least for now.
In late December 2019, Hayes launched a GoFundMe crowdfunding campaign to help with expenses of running Dilla's Delight and hit the $15,000 goal within 12 days. He'd planned to use the money to "update, repair and replace equipment used heavily for four years" but has expressed he's wanted a larger location for some time.
Last February, Hayes wrote an update regarding the fundraising efforts and noted the restrictive space was proving to be an issue.
"As we head into the last year of our lease at the Ashley Apartments, we are exploring a different path and location for the future Dilla's Delights," he wrote. "Our original plans in 2013 were to produce our donuts and operate retail in the small 800 square foot property. After three years of postponement due to building demolition, reconstruction, permit delays, and the loss of our production area, we were reduced to 450 square feet of working space.
"We finally opened the retail doors in May of 2016 with the offsite production location provided by the Avalon International Breads bakehouse. The funds we raised here will help carry us through the end of our current lease agreement, and catch up with what we fell behind on during my cancer surgery and treatment."
He added, "We are in negotiations with properties for a larger space to produce and sell our donuts and merchandise with room for seating and a museum. One potential site comes with enormous historic magnitude. We hope to acquire grants, partners, and/or investors to present a Dilla's Delights that truly defines a historical landmark and Detroit tourist attraction."
Dilla had suffered with lupus for years leading up to his death. The seriousness of his condition became public in 2005 when he toured Europe performing from a wheelchair. Dilla died on February 10, 2006 at his home in Los Angeles, just three days after his 32nd birthday and the release of his final album Donuts. His mother, Ma Dukes, said the cause was cardiac arrest.