JAY-Z Flexes Extensive Grammy Awards Collection In Epic Young Guru Photo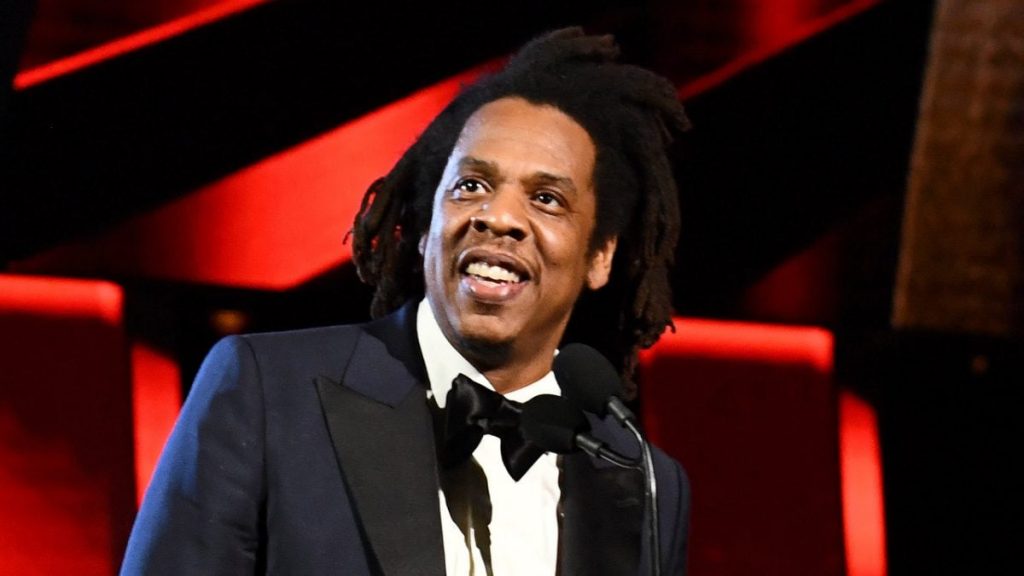 JAY-Z's success at the Grammy Awards can be rivaled by only a handful of artists, let alone rappers — and the Roc Nation boss has issued a not-so-subtle reminder for those who may have forgotten.
In an epic photo shared by his long-time engineer Young Guru on Tuesday (November 8), Hov can be seen posing with his entire collection of gold gramophone trophies, which totals 24.
The picture shows JAY-Z perched on the edge of a sofa surrounded by all of his Grammys, which are neatly placed on serving trays next to a variety of finger food.
Jay, whose face is concealed by a black Los Angeles Dodgers cap, even holds up one of the awards to his mouth as if he was sipping out of it — a nod to the famous photo of him drinking his D'USSÉ Cognac out of a Grammy at the 2013 ceremony.
"It's crazy how one 5 minute convo with HOV can refocus your entire life. I appreciate you Big Homie. My anchor is strong," Young Guru captioned the flick. "For motivational purpose only. But this is my real life!"
View this post on Instagram
Busta Rhymes, DJ Clark Kent, Tony Yayo, Boi-1da and Lenny "Kodak Lens" Santiago were among those who soaked up the motivation in the Instagram comments section.
"This. Is. Nuts. !!!!!!!!!!!!!!!!!" Lenny S. wrote, while Clark Kent declared: "GOAT." DJ Khaled also shared the photo to his Instagram Stories with the caption: "HOV DID!"
JAY-Z's 24 Grammy Awards is the most of any Hip Hop artist, tied with Kanye West. He's also the most nominated artist in Grammys history with a total of 83 nods — two more than Beatles legend Paul McCartney.
Hov's Grammys haul began in 1999 when his blockbuster third album Vol. 2… Hard Knock Life won Best Rap Album, beating out Ma$e's Harlem World and A Tribe Called Quest's The Love Movement, among others.
Despite a string of nominations in subsequent years, Jay's next wins didn't come until 2004 thanks to his "Crazy In Love" duet with Beyoncé, which took home Best R&B Song and Best Rap/Sung Collaboration.
The Brooklyn billionaire's most successful night at the Grammys came in 2013, when he won three awards for his Watch the Throne hits "N-ggas In Paris" (Best Rap Song, Best Rap Performance) and "No Church in the Wild" (Best Rap/Sung Collaboration).
JAY-Z hasn't always shared the best relationship with the Grammys, though. He famously boycotted the ceremony in 1999 after DMX's It's Dark and Hell Is Hot and Flesh of My Flesh, Blood of My Blood, were both snubbed in the Best Rap Album category.
"We both came out that year, he didn't get nominated," Jay explained on LeBron James' The Shop last year. "He had two No. 1 albums in the same year, they didn't even nominate him. I won that year for Rap Album, so my first Grammy win, I wasn't there. I boycotted it for him. There was a competitive thing, but it was big love."
Almost two decades later, JAY-Z entered the 2018 Grammy Awards as the year's most nominated artist with eight nods thanks to his critically acclaimed 4:44 LP, but walked away empty-handed.
He later vented his frustration with the Recording Academy on his "Apeshit" collaboration with Beyoncé, rapping: "Tell the Grammys fuck that 0-for-8 shit."
Although he currently has no plans to release a new album, JAY-Z's show-stealing verses on DJ Khaled's "GOD DID" and Pusha T's "Neck & Wrist" may earn him nominations at the 2023 Grammy Awards.
The nominees are set to be announced on November 15, while the ceremony itself will be held at the Crypto.com Arena in Los Angeles on February 5.