Joey Bada$$ Calls Kanye West Censorship 'Wack' After 'Drink Champs' Episode Gets Pulled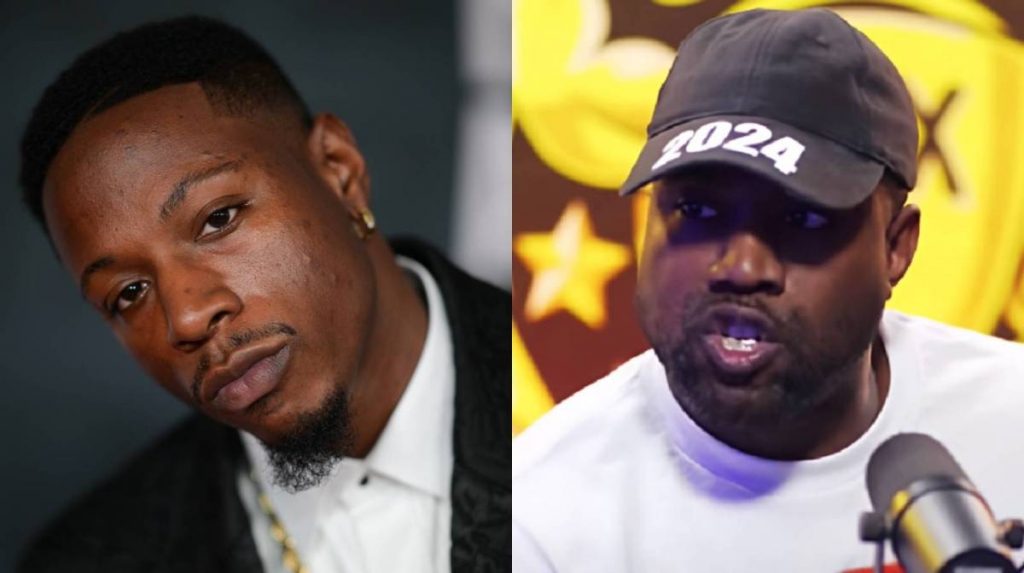 Joey Bada$$ has expressed his disappointment over the decision to pull Kanye West's latest appearance on Drink Champs from YouTube and all streaming platforms.
The "Shine" rapper shared his opinion in a series of tweets on Monday night (October 17), calling on the "mass media" to "learn some new moves."
"I don't support everything Kanye been saying and honestly been trying my best to ignore most of it (for my own peace of mind)," Joey tweeted, "but censoring his right to freedom of speech is WACK. Askin him to come speak on your platform and then removing/blocking the content cuz you don't agree?"
He did not direct his statements at Drink Champs co-host N.O.R.E., who has since apologized about providing Ye with a platform for hate speech. Nor did he mention REVOLT, which made the decision to pull the episode from the network as well, Vibe reports.
In a subsequent tweet, however, Joey did use the incident to issue an indictment on all media.
We can have healthy disagreements. And yes Kanye can do a much better job at his delivery but it's the same old story. Magnifying a small piece of what he said and taking it out of context. The mass media needs to learn some new moves it's corny and so obvious at this point.

— BADMON (@joeyBADASS) October 18, 2022
Less than 20 minutes after the second tweet, as his statements began gaining traction, the Power: Book III actor attempted to remove himself from the conversation, writing that he knew shouldn't have "gotten into the Kanye web." He jokingly pretended to try and change the conversation, but ultimately said he would stand by his words.
"The internet is not a safe space," he tweeted. "I don't delete tweets tho. I'm not pussy. I just bury tweets with more tweets until I get to a comfortable enough point to go ghost again. Like now."
Ye's second appearance on the popular Miami-based podcast has been at the center of controversy since the episode dropped on Sunday (October 16), finding the Donda rapper making a number of controversial remarks during the three-and-a-half-hour conversation.
In addition to calling rap peers like Diddy and Meek Mill "fake hard n-ggas," Kanye launched into another diatribe against "the Jewish people" and even suggested George Floyd was killed by fentanyl, not ex-cop Derek Chauvin kneeling on his neck for almost nine minutes.
On Monday, N.O.R.E. made appearances on both Hot 97's Ebro In The Morning and iHeart Radio's The Breakfast Club to discuss the fallout from the interview, which he called a "learning experience." In both interviews, he apologized to "anybody that was hurt by Kanye's words and actions" and to "anybody who felt like I let them down."
He also pointed out that he did "check" Ye numerous times during the interview, but admitted he could've controlled the conversation in a more "responsible" way.
"I can sit there and say, 'That's only Kanye West, it's only what he said.' But I have a responsibility when I have an audience," he told Ebro. "hen I watched myself, I was embarrassed. I was like, 'Wait a minute? You just let him say that?!' I'm irresponsible for letting it go.
"I still believe people have a right to speak, whether it's something you agree with or not, but you have a right to also check them — and check them immediately. That's what I regret."
N.O.R.E. also revealed that there was some disagreement between him and the network about whether or to even make the interview public. But that, ultimately, he fought to allow Ye a chance to further expound on his recent statements and actions.
"Now that I think about it, sometimes freedom of speech just ain't free," he reflected.