Joey Bada$$ On His Breakout Role In 'Power': 'Acting Comes Pretty Instinctively To Me'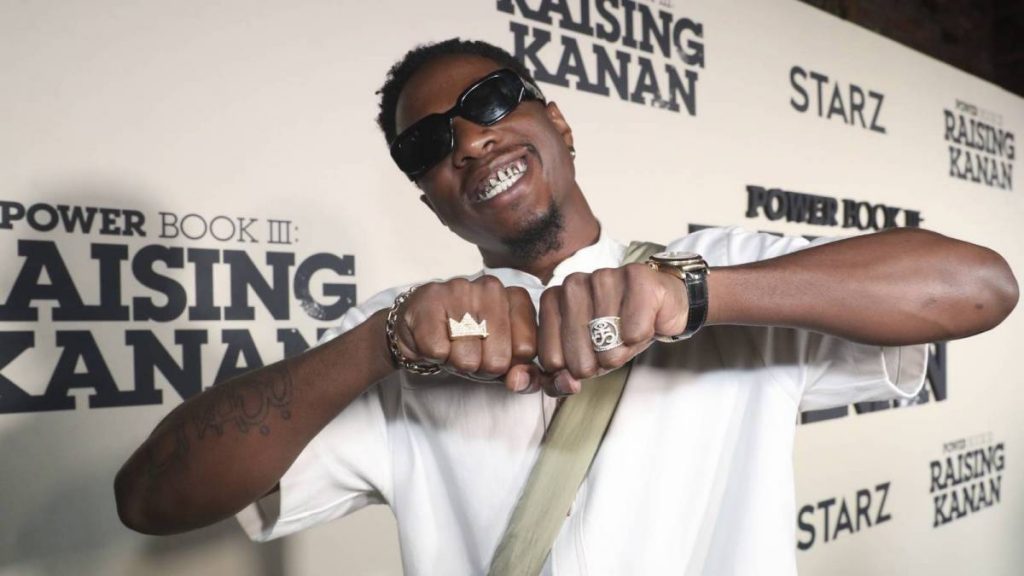 EXCLUSIVE – Joey Bada$$ left quite the impression on fans with his show-stealing role as Kadeem "Unique" Mathis in the first season of 50 Cent's Starz drama Power Book III: Raising Kanaan.
Critics lauded the Brooklyn native for his portrayal of Unique, the show's main antagonist that had a chokehold on the drug game in South Jamaica, Queens. Fans couldn't get enough of his cold-hearted antics as he raised the bar with each episode he appeared in.
Joey's acting on the show had a sense of realism as if he was a drug kingpin in a past life. Actors that can make viewers believe their character's intentions are primarily veterans at their craft with years of acting on their résumé. Joey has only six years of acting under his belt with roles in Mr. Robot and a few others; so how was he able to get Power fans to buy into his character?
Speaking to HipHopDX, Joey said he knew the inner workings of a drug dealer thanks to witnessing deals go down within his family and neighborhood in Bed-Stuy, Brooklyn.
"I always been around that stuff, but I never took that path because it was right there," Joey explained. "I wanted to challenge myself to do other things, and then I had good older cousins and family that pushed me to not do that because they were doing it. It would've been easy for me to do it, but they wanted to see better for their little cousin and nephew."
He continued: "So it was easy to just kind of pull from those experiences that I've had or those observations that I made as a kid. Acting, in general, comes pretty instinctively to me, and I find it very similar to music, just in a way where you kind of go somewhere else. Like on that stage, I gotta go into superstar mode. I'm still here but it's like a superstar hangover, but when I'm home, it's a different vibe where I'm chill."
View this post on Instagram
Joey Bada$$ was interested in acting way before jumping into the music space. When he was younger, he applied for a position at Fiorello H. LaGuardia High School of Music & Art and Performing Arts, the institution that produced acting greats such as Al Pacino and Robert De Niro.
He wasn't approved but later found himself attending Edward R Murrow high school in Brooklyn, which fueled his passion for the arts. It's also important to note Joey won an Academy Award last year for his role as Carter James in the critically acclaimed short film Two Distant Strangers, which was co-produced by Diddy.
There's no question that the 2000 rapper is a film and theater enthusiast. When asked if there were any films or characters that inspired how he wanted to portray Unique, Joey listed off some of the classics.
"Of course, I grew up watching movies like New Jack City and Juice," he said. "I want to say Nino Brown and Bishop were like my main influences for Unique, aside from my own observations as a kid with a bunch of my uncles and cousins and just being from New York and seeing real characters like that in the streets.
"But hell yeah, I wanted Unique to be on that level of like Nino Brown meets Bishop from Juice. There are a lot of scenes where I would tap in and be like, 'Yo, that felt like that 2Pac or Wesley Snipes moment.'"
Joey Bada$$ also revealed the legendary Denzel Washington played a key role in him getting into character. Denzel has given fans memorable performances throughout the years, and for Joey, there was no one better than the legendary Training Day actor to help push him into the space he needed to be in to lure viewers into his psyche.
There's one scene in particular from season one where Joey Bada$$ really felt tapped in with his Power character. It happened towards the end of episode nine when Unique addresses his soldiers in a chop shop to declare war against Kanaan's mother Raquel Thomas and her drug-slinging family.
Unique and his son were targeted by Raquel's brother Marvin in a drive-by shooting after the drug kingpin had his crew firebomb his brother Lou Lou's house. It was a moving scene that set the tone for the incoming battle for South Jamaica's drug trade.
"I felt like I went to the same place Denzel be going to in that scene, and I felt him in that realm," Joey said. "When I was addressing the whole crew saying, 'I don't give a fuck' I was tapped in, dude. I was so tapped in that they would cut in between takes, and nobody wanted to talk to me because I was so hot and locked in."
Season two of Power Book III: Raising Kanaan premieres on Sunday (August 14) and will reveal what's next for Unique, who was arrested at the end of episode 10 after Kanaan and Raq set him up.