Juicy J TWICE Had A Columbia A&R Try To Sign Him Without Knowing He Was In Three 6 Mafia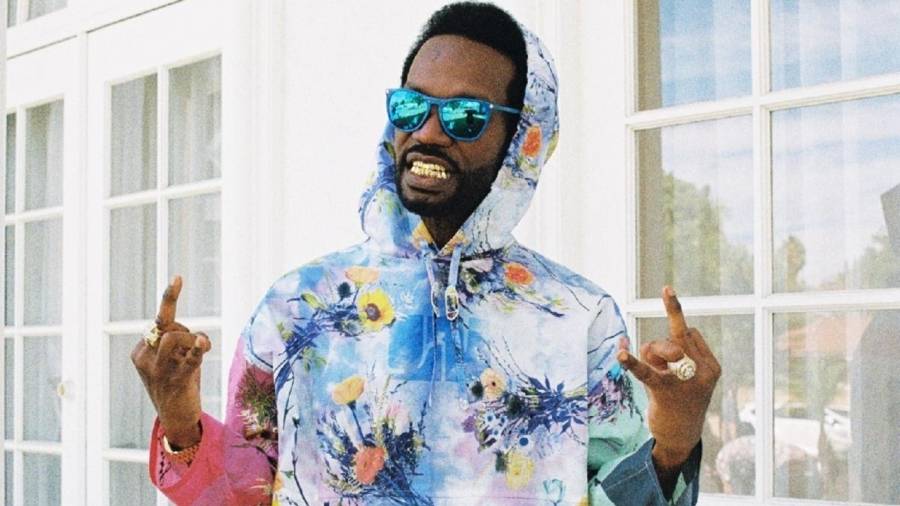 Los Angeles, CA – Three 6 Mafia has been active since 1995 but marquee member Juicy J has successfully re-invented himself as a solo artist numerous times since the group's inception.
In a new exclusive video interview with HipHopDX, The Hustle Continues rapper actually vented about a situation when his label of two-plus decades, Columbia Records, tried to sign him again — revealing the figurative shit-show commenced after he dropped his platinum single "Bands a Make Her Dance."
"So I came up with it ["Bands a Make Her Dance"] in the bathroom and I was like, 'Hey, this is a dope ass fucking hook,'" he remarked.
"My engineer showed up. He had a hundred dollar microphone and I got some beats from Mike WiLL — Mike WiLL Made-It. I told him to send me some beats and he sent me some beats. He sent me a whole bunch of beats, sent me like maybe like 10 beats. I was just going through the beats."
While sifting through the beats, he found the instrumental the ended up becoming, "Bands a Make Her Dance," and says he was immediately drawn to it and wanted to make something different.
"And I heard that one beat. I was like, 'Damn,'" Juicy J reminisces.
"And this shit sounded like an R&B slow jam type vibe because the beat is kind of misty, mysterious like that. And I just wanted to do something different. I mean I'm going to put this hook over this beat and I think these two going to work because I feel like everybody's used to hearing a booty shaker song, with a little bouncy New Orleans kind of beat. You know what I'm saying? Something real fast. But what I liked about it, I said this catchy hook I have, and this trippy surfed out beat is going to make this muthafucka be a classic because I felt like it's different. I'm always trying something different."
Motivated by the challenge of meshing a "slow jam type vibe," with his aspirations for a "booty shaker song," he remembers he just jumped in the booth and started rapping.
"So I was like, 'Nobody would try to do a booty shake and riff it over this kind of beat,'" he implores.
"They'd be like, 'No, that's like a weed-smoking beat.' I said, 'No, I'll put this booty-shaking song on this slow ass, trippy ass beat,' because that's how I was feeling at the time. And I'm smoking, rapping the lyrics in the microphone — hundred-dollar microphone there. And I'm just rapping, I'm saying whatever comes to mind, 'You say no to ratchet pussy,'. Whatever comes to mind, that's what I'm spitting."
Juicy J says he knew the track was a hit after receiving a call from Mike WiLL summoning him to Atlanta.
"He called me and said, 'Man, you got the biggest song in Atlanta,'" he says.
"I didn't even know this. I was like, 'You lying.' I said, 'Dog, you lying.' [Mike WiLL Made-It] 'No, you need to come down to Atlanta. You got the biggest song in Atlanta.' So I went down there. I went to some strip clubs, went to meet with some DJs and they was telling me the song was blowing the fuck up."
Shortly after his Atlanta excursion, the Memphis native says he and his lawyer started getting back-to-back calls from his label. But by the time Columbia Records reached out, "Bandz a Make Her Dance" had earned Juicy J his fifth-highest appearance on the Billboard Hot 100 Charts at No. 29. 
"They [Columbia Records] ended up calling me back," he languishes.
"But what was weirder is somebody in that office didn't tell somebody that I was already signed to them. So some dude called my lawyer like, 'Yo, we trying to sign Juicy J. He has a hot record out.' And my lawyer was like, 'You idiot, you fucking idiot!'" he continues.
"They didn't recognize, 'Oh, this is Juicy J with Three 6 Mafia, which we already have on contract.' They finally figured it out because my lawyer was like, 'You fucking dumb ass! Dude been signed with you all for over 20 years. You don't know who the fuck your artist is? You all don't give a fuck about this group!'"
Watch the full interview clip above and additionally check out Juicy J's new independently released album The Hustle Continues, with features from Lil Baby, Megan Thee Stallion, A$AP Rocky, Wiz Khalifa and more.