Juicy J Wants To Get A Beat On Ariana Grande's Album: 'Me & Katy Perry Went Double Diamond'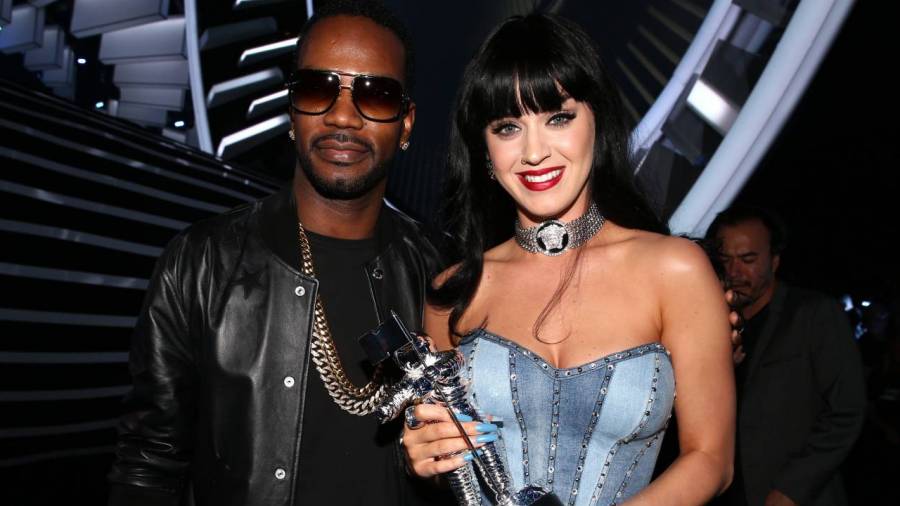 You say no to longshot offers, Juicy J can't. The Memphis native is looking to sneak a beat onto Ariana Grande's upcoming album. After the pop star announced her next project was dropping before October's out, the Three 6 Mafia rapper took a shot in the dark on Wednesday (October 14) by sending a beat to Grande's DMs.
"I got a fire beat for your album," he wrote. Check DM."
I got a fire🔥🔥🔥beat for your album check Dm https://t.co/Y3eaLJ6sn2

— juicy j (@therealjuicyj) October 14, 2020
Unfortunately, Grande is yet to respond to Juicy's request publicly, and it seems as if the album's already done. She previously said she was turning in mixes back on October 7 in a Tweet prompting people to go out and vote.
The Memphis native's request caused a stir on social media, and Juicy was quick to bring up another pop smash on his resume with Katy Perry's 2013 single "Dark Horse." The hit record has over two billion views on YouTube and is 11x-platinum certified by the RIAA. It also topped the Billboard Hot 100.
"Now Don't you forget… me & Katy Perry went double diamond," he began. "No cappuccino. Gimme my flowers, mane."
Now Don't you forget …me & Katy Perry went double diamond 💎 💎no cappuccino 🧢 gimme my flowers mane

— juicy j (@therealjuicyj) October 15, 2020
Juicy's The Hustle Continues album is due out before the end of the year, but in the meantime, the Taylor Gang artist put fast-food giant Arby's on blast for an uncleared Three 6 Mafia sample he discovered in one of their 2017 commercials.
View this post on Instagram

#PostAndDelete: It looks like #JuicyJ may be interested in making sure he gets that bag from #Arby's 👀
The ad repeats "triple-thick" in a way that is reminiscent of Three 6 Mafia's "Now I'm Hi" series. He didn't threaten Arby's with a lawsuit exactly, but at least the information is now public knowledge.