Just Blaze Revisits Ghostface Killah's Influence On JAY-Z's "Girls, Girls, Girls"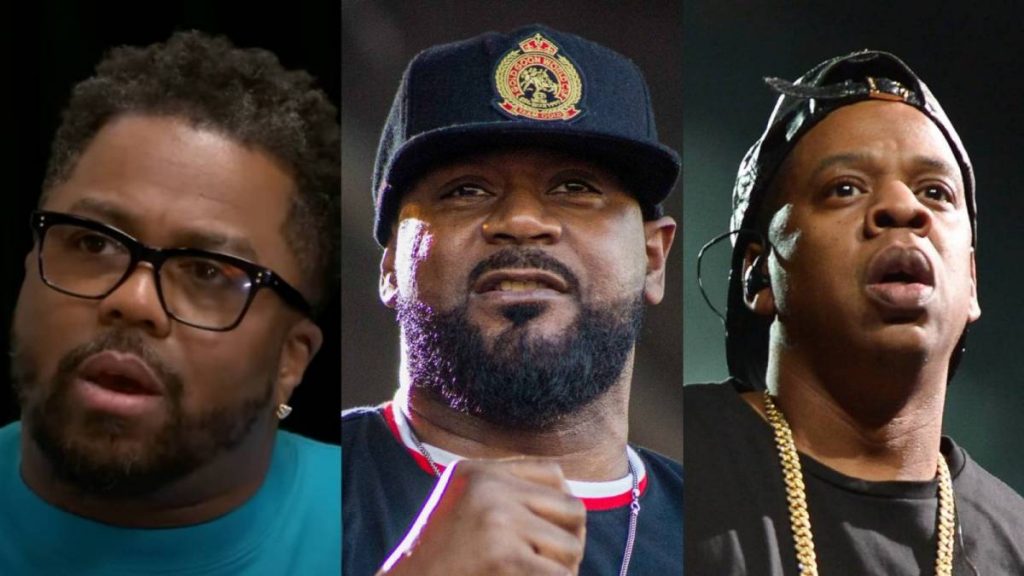 Just Blaze has revisited Ghostface Killah's influence on JAY-Z's hit single, "Girls, Girls, Girls," in a new interview — check it out below.
The super producer has previously shared that he created the beat for the 2001 track with Tony Starks in mind, but during an appearance on People's Party With Talib Kweli, he offered additional details about the connection.
Just was asked about the importance of the three artists featured on the track: Biz Markie, Slick Rick and Q-Tip. While answering co-host Jasmin Leigh's question, he revealed that the song was, in fact, one of the first tracks recorded for Jay's sixth studio album, and essentially set the tone of the project.
"The Blueprint is kind the culmination of what we were tryna figure out on [The Dynasty: Roc La Familia] and [Beanie Sigel's] The Reason," he explained. "Hip-Hop [Kyambo Joshua] will tell you himself, Ghostface was his favorite rapper. So we were all definitely influenced by Supreme Clientele, specifically. When we were in that chamber, I had actually made 'Girls, Girls, Girls' for Ghost; about a year and a half before The Blueprint was ever a thought, that beat was already done."
He went on to tell Kweli and Jasmin that once he, Hov, Hip-Hop and others working on the album settled on the feel of the album, he immediately thought of the beat he had made with Ghostface in mind.
"I remember Jay walking into the studio like, 'Yo, I just got the CD from Ye, let's go.'," Just recounted. "And I'm like, 'What we doin?' And he says, 'We're back to the soul music.' So the first thing I think of is that Ghost beat. Ghost is my brother now. At the time, I didn't have the link to Ghost. So, I could hold out and pray that I meet Ghost one day; or this is the chamber that Jay's in right now, boom."
As for the choice of features for the song, the producer said that the intent had always been to give "Girls, Girls, Girls" an old-school vibe.
"We wanted it to be familiar voices that, even at that time, were old school voices," he added. "And we wanted it to feel like Hip Hop. Because if you remember, we were just coming out of that keyboard beat phase. So it was definitely a conscious ode to a different time and a different sound.
"Like, as that album started to take shape," he continued, "we knew that we were about to change things sonically. So it wasn't a coincidence that we got those three artists."
JAY-Z's sixth studio album marked a turning point in both Just Blaze and Kanye West's career. And while Just remembers their time collaborating on the project fondly, saying that the two remained close for a few years after, and in contact until very recently; Kanye's recent accounts of the relationship have been less positive.
Late last year, Ye made headlines when he diminished his counterpart's contributions to The Blueprint during an appearance on N.O.R.E.'s Drink Champs podcast.
"He get credit for The Blueprint, and I did the first half of The Blueprint, and he just copied my half," he said. "I mean look — look where I'm at today and look where he at today. I like the originators man. I don't mind, like, you know, the copycats too, and — by the way — you just gotta say it like it is. … But I love you, but just know what it is."
Just responded with a detailed breakdown of what the two hitmakers' relationship had been in the 20 years since the groundbreaking album was released; and decidedly took the high road about the "copycat" comment.
"Regarding that one comment: respectfully, I'm happy for him and the fact that he has succeeded in the ways he wanted to, but not everyone wants to be where he is," he wrote. "Everyone's definition of personal success is a bit different. I'm quite happy where I am creatively, with my family, and my life in general. We were a part of history together and I wish him well and continued success."