Kanye West Defended By Louis Farrakhan Amid Anti-Semitism Backlash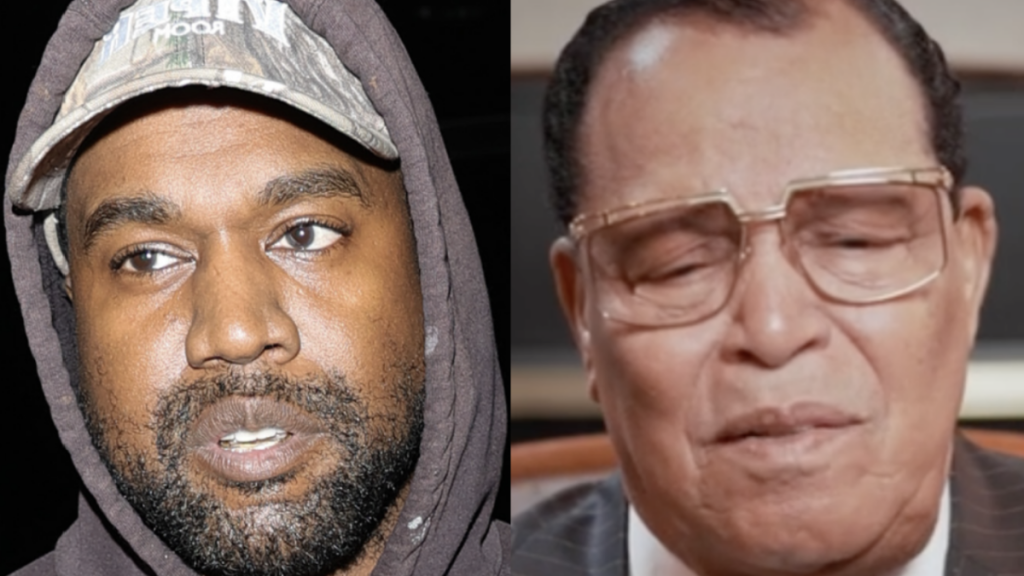 Kanye West has faced severe backlash in recent weeks for his controversial anti-Semitic remarks, but minister Louis Farrakhan is in his corner.
Farrakhan addressed the public on Thursday (November 10) in a 50-minute diatribe vehemently defending Kanye West and embattled NBA star Kyrie Irving, who is currently suspended by the Brooklyn Nets, for their actions.
"Another brother who is called a rapper but he's so much more than that, brother Ye. And the controversy that is swirling around these two men that is causing unfortunate division among a people that can least afford to be broken more apart because of misunderstanding.
"Unfortunately parts of ignorance that we don't see the enemy who is working 100 percent to bring bloodshed about among us because of the serious nature of what is happening."
The minister continued: "Some of you that are persecuting him are the very ones that took away from him and from us, the knowledge of self. You took our language, you took our culture, you took our history, you took our minds and inserted your mind into our minds through your systems.
"I will stand on the truth that I was taught and stand with God… As long as I stand with God, I will be the winner and so will Ye and so will Kyrie and so will any of us who want truth in our lives."
This is a message on behalf of my Teacher, The Honorable Elijah Muhammad, on the controversy surrounding the false charges of anti-Semitism against hip-hop artist, producer and businessman, Ye (formerly known as Kanye West) and NBA star Kyrie Irving. https://t.co/cLORQdrFk1

— THE HONORABLE MINISTER LOUIS FARRAKHAN (@LouisFarrakhan) November 10, 2022
Louis Farrakhan previously defended Kanye in October through a social media video declaring that the Chicago native did nothing wrong.
"Kanye West don't bow to the pressure to apologize to anybody," he stated. "You said nothing wrong."
Kanye West has seen his name dragged through the mud a lot as of late and many companies he's partnered with in the past have severed ties from him, including Balenciaga, Vogue, Def Jam, and adidas as a result of his controversial remarks last month.
Ye's net worth took a significant hit after being dropped by adidas. According to Forbes, Ye's $1.9 billion fortune plummeted to a reported $400 million.
Meanwhile, Kanye West is facing a fresh lawsuit over a Boogie Down Productions sample on "Life of the Party," his collaboration with André 3000 from last year's Donda.
The suit was filed not by BDP leader KRS-One, but the company that owns the rights to Boogie Down Productions' iconic 1986 Bridge Wars diss "South Bronx," which was allegedly sampled without permission.
According to TMZ, the unnamed company claims Ye and his team initially reached out to clear the sample, but an agreement was never reached. However, that apparently didn't stop the Chicago native from retracting his offer and using the sample anyway.