Kanye West's 'Donda' No-Shows Again But Kid Cudi, Lupe Fiasco + More Have Their Album Critiques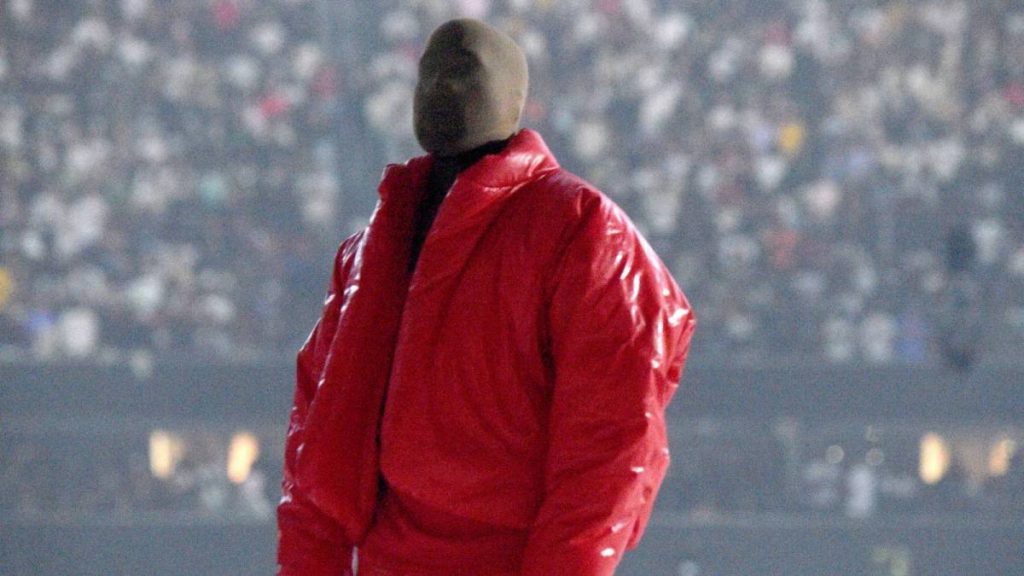 Atlanta, GA – Kanye West hosted the second Donda listening party at Atlanta's Mercedes-Benz Stadium via Apple Music on Thursday (August 5), just hours before he was expected to drop the long awaited project. But as typical for Ye, the 24-track effort still hasn't shown up on digital streaming platforms. But that hasn't stopped a flood of comments flowing in on social media.
From fans to peers alike, everyone seemed to have an opinion on what they heard. After all, the initial version Kanye played on July 22 isn't anything close to the latest version. The sheer amount of special guests on the project alone is staggering.
JAY-Z, Kid Cudi, The Weeknd, Roddy Ricch, Travis Scott, Lil Baby, Playboi Carti, Lil Yachty, Fivio Foreign, Don Toliver, Young Thug, Westside Gunn, Conway The Machine, Jay Electronica and The LOX (who apparently didn't sleep after their Verzuz battle against Dipset) were among the many voices who popped up on the album, several of which were added in the eleventh hour.
As contributor Kid Cudi confirmed on Twitter, "I wasn't on Donda when I tweeted that I wasn't. Ye hit me the following week and we made it work. Realest n-gga alive. No need to lie to kick it . Hope u guys enjoy!!"
I wasnt on Donda when I tweeted that I wasnt. Ye hit me the followin week and we made it work. Realest nigga alive. No need to lie to kick it . Hope u guys enjoy!!

— The Chosen One (@KidCudi) August 6, 2021
Fellow Chicagoan Lupe Fiasco also had something to say about Donda, tweeting simply, "This new Ye is a slapper."
This new Ye is a slapper.

— TAPE TAPE & HOUSE EP NOW PLAYING (@LupeFiasco) August 6, 2021
But Kanye must've heard something he didn't like and appears to be back at the drawing board, once again putting on what should be the final, final touches.
Even so, Organized Konfusion legend Pharoahe Monch, Guapdad 4000 and BROCKHAMPTON's Kevin Abstract were among the many artists and other members of the Hip Hop community who loved what they heard — or at least thought it was a vast improvement from what they were presented with a couple of weeks ago.
Check out the reactions below as Kanye fans continue to wait for Donda to materialize.
Kanye getting a Grammy

— GUAPDAD 4000 (@guapdad4000) August 6, 2021
THAT LAST PART IS INSANE PERFECT SONG WOW

— kevin abstract (@kevinabstract) August 6, 2021
Jay Z 🐐

— PHAROAHE MONCH (@pharoahemonch) August 6, 2021
Vic Mensa in attendance 🔥 #DONDA pic.twitter.com/2HZ90msFPW

— HipHopDX (@HipHopDX) August 6, 2021
Maybe it has come out and we're watching a new way to release albums 🤷🏾‍♂️ https://t.co/m6o1i20wqJ

— CROOK (@CrookedIntriago) August 6, 2021
I feel like, creatively, Kanye has been doing this thing where he tries 2 capture "Right Now" in album form & release it, immediately

I feel like he's been on the idea for a minute

This theory that, almost like produce, the freshest record is the newest record, distributed best

— Lateef (@TruthspeakerHQ) August 6, 2021
this is MUCH better than the last album we heard #Donda

— Andrew Barber (@fakeshoredrive) August 6, 2021