Kendrick Lamar Does Pull-Ups While Linking With A$AP Ferg & Dapper Dan In Harlem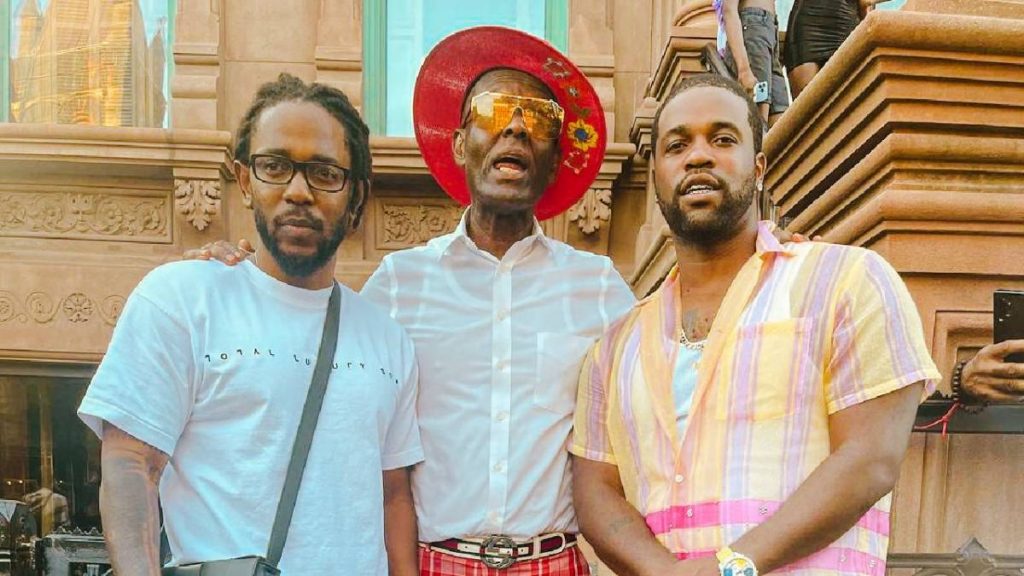 Harlem, NY – Kendrick Lamar got a traditional New York City workout in while hanging out with A$AP Ferg and Dapper Dan in Harlem this week.
On Monday (August 8), footage of K. Dot roaming the NYC borough alongside Ferg, his manager Dave Free and pgLang labelmate Tanna Leonne circulated online.
It was Kendrick's last day in the Big Apple after performing three shows throughout the city on his Mr. Morale & The Big Steppers Tour, which took over Brooklyn's Barclays Center and Long Island's UBS Arena last week.
At one point, Kendrick and A$AP Ferg's uncle, T-Nyce, were seen having a pull-up contest on a piece of scaffolding in the middle of the street.
Even though T-Nyce is bigger in size, the Compton rapper barely broke a sweat while performing the exercise. He even threw in some hanging leg raises to further flex his strength.
[email protected] is out and about in NY doing some pull ups 💪https://t.co/FoC4kydEIQ pic.twitter.com/encEltoY4m

— HipHopDX (@HipHopDX) August 8, 2022
😂😂😂 @kendricklamar pic.twitter.com/7kWWXUJDd5

— KENDRICK LAMAR BIBLE (@dakendrickbible) August 9, 2022
After the impromptu workout, Kendrick Lamar and A$AP Ferg headed to Dapper Dan's atelier where they celebrated the famous fashion designer's 78th birthday.
The legendary designer was surprised with a special cake modeled after one of his many hats as K. Dot, Ferg and others wished him a happy birthday.
"@kendricklamar came to Harlem to wish me a happy birthday!" Dan wrote on his Instagram Stories. "Thank you nephew @asapferg."
Dapper Dan celebrates his Birthday with Asap Ferg & Kendrick Lamar in Harlem pic.twitter.com/VspJyayHj8

— 2Cool2Blog (@2cooI2blog) August 9, 2022
Kendrick's Harlem field trip comes a few days after he performed an intimate set in front of JAY-Z and Beyoncé at Dumbo House in Brooklyn following one of his aforementioned Barclays Center concerts.
A video posted on Dave Free's Instagram Story captured K. Dot performing "The Heart Part 5" and thanking Hov for letting him use his line, "I do this for my culture" — from his 2001 The Blueprint hit "Izzo (H.O.V.A.)" — free of charge.
Kendrick Lamar heads to Philadelphia on Tuesday for the next stop on the Mr. Morale & The Big Steppers Tour. He's already performed in southern cities such as Houston, Miami and Atlanta, with future dates in Boston, Toronto, Chicago and Los Angeles, to name a few.
Check out more clips from Kendrick's visit to Harlem below.
📍HARLEM pic.twitter.com/VpSzxnoa5S

— A$AP MOB (@ASAPMOB) August 8, 2022
Kendrick Lamar kicking it w/ Asap Ferg in Harlem pic.twitter.com/jHZvKfCVRU

— 2Cool2Blog (@2cooI2blog) August 8, 2022
View this post on Instagram