Kendrick Lamar Performs With Sampha, Tributes Slain L.A. Rapper On 'SNL'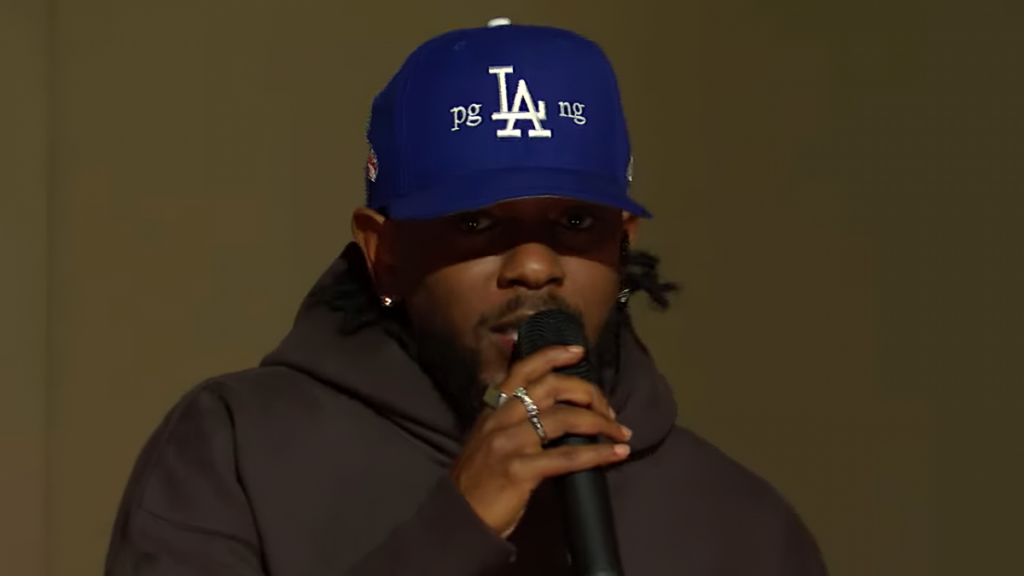 New York, NY – Kendrick Lamar brought his latest album Mr. Morale & The Big Steppers to life for the season 48 opener of Saturday Night Live.
Introduced by actor Miles Teller, the Pulitzer Prize-winner performed a trifecta of tracks from his critically acclaimed fifth LP on Saturday night (October 1).
Wearing a pink hoodie, trucker hat and black leather pants, along with an assortment of bejeweled accessories, Kendrick opened with "Rich Spirit" while stood still inside a sparse, dimly-lit cube — a nod to his Big Steppers Tour, which asked fans to "help Mr. Morale get out of the box."
Halfway through the song, the modest set design was infused with a tough of magic as K. Dot's shadow, which was projected onto the wall behind him, began to move on its own.
The Compton native then cranked up the energy by transitioning into "N95," becoming much more animated as a lights show unfolded around him.
Various messages were projected onto the walls, such as: "Lil L Got His Passport Yall," "4 Peez Kee Riches," "The Homie Jason Keaton Wrote Two Books In Prison The Edges [And] Envy In The Eyes" and "Yea We Still Playing Industry Politics."
Kee Riches, a fellow Los Angeles rapper, was shot and killed in Compton on September 24, while Keaton is a Compton-bred author who Kendrick has referenced in his music in the past (see: 2009's "Uncle Bobby & Jason Keaton").
Kendrick later returned to perform "Father Time" with British crooner Sampha, who joined him inside the cubic stage, newly-decorated with a bed, armchair, bedside table, lamp and a stack of books.
The set yet again came to life as the walls slowly closed in on the duo, seemingly reflecting the emotionally-restricted upbringing that K. Dot unpacks on the song.
"I come from a generation of home invasions and I got daddy issues, that's on me / Everything them four walls had taught me, made habits bury deep," he raps.
This time, Kendrick's eccentric outfit was swapped out for a more modest ensemble, complete with a custom blue pgLang L.A. Dodgers cap — which his longtime manager and pgLang partner Dave Free insisted is for members only. "You gotta be from pg to get a fitted. Not for sale," he tweeted during the broadcast.
Kendrick Lamar's Mr. Morale & The Big Steppers medley marked his fifth appearance on SNL and first in four years.
He made his debut in 2013 to perform good kid, m.A.A.d city hits "Swimming Pools (Drank)" and "Poetic Justice," before returning in 2014 to play would-be To Pimp a Butterfly single "i" and "Pay For It" alongside Jay Rock and singer/pianist Chantal Kreviazuk.
He's also appeared twice as a guest, joining Imagine Dragons for "Radioactive" in 2014 and assisting Anderson .Paak with "Tints" in 2018.
Kendrick has been gracing stages across the continent of late. Between July and September, he packed arenas across North America on his Big Steppers Tour alongside fellow pgLang signees Baby Keem and Tanna Leone. He also headlined Glastonbury Festival and Rolling Loud Miami this past summer.
As for Mr. Morale & The Big Steppers, the album debuted at No. 1 on the Billboard 200 in May after earning 295,000 album-equivalent units in its first week. It has since surpassed one billion streams on Spotify — the first rap album from this year to achieve the feat — while reportedly selling over 800,000 units in the U.S.
The project has helped power Kendrick to nine nominations at the 2022 BET Hip Hop Awards, including Hip Hop Artist of the Year, Hip Hop Album of the Year and Lyricist of the Year.
Meanwhile, Hip Hop will continue to make its presence felt on SNL later this month with Megan Thee Stallion pulling double duty as the show's host and musical guest on October 15.