KXNG Crooked Fears Snoop Dogg Vs. Eminem Could Become Most 'Polarizing Beef Ever In Hip Hop'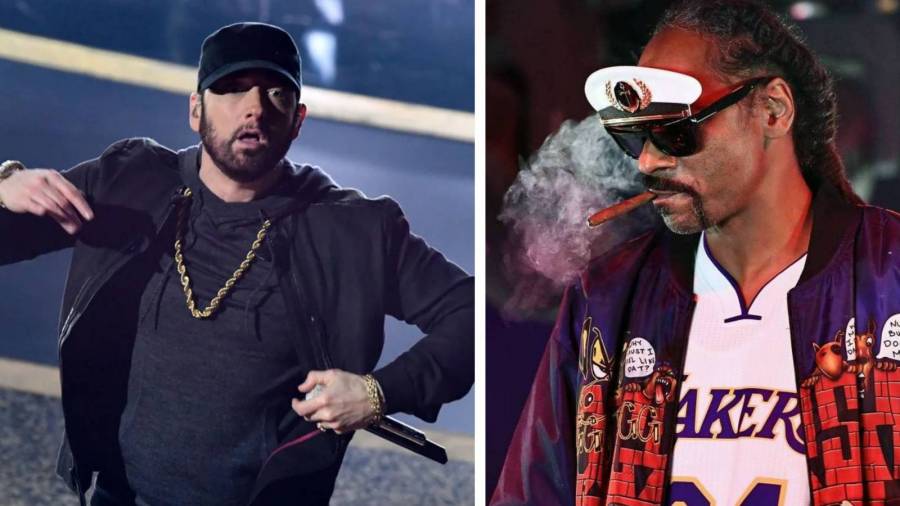 KXNG Crooked and Eminem have developed a close friendship over the years. The Long Beach-born MC was one of the few people Slim Shady sat down with while doing press around Music To Be Murdered By and he even contributed to the track "I Will" featuring fellow Slaughterhouse members Joell Ortiz and Royce Da 5'9.
So when Crooked speaks on anything Eminem related, he tends to have some kind of insight his fans simply don't. On Sunday (January 3), he shared a roughly six-minute YouTube video, sharing his thoughts on the bubbling beef between two rap titans — Snoop Dogg and Slim Shady. He fears it could evolve into a much more serious situation if they do indeed take their grievances to wax.
"For everybody who thinks that this shit is gonna just be two records going back and forth, or a few records going back and forth, you're very wrong," Crook said. "This has the potential to be the most polarizing beef ever in Hip Hop, you know what I mean? And for that reason, I think it's not good for the culture. I don't think it's good for the culture."
Crooked is evidently concerned it will turn into a "racial thing" and spiral out of control.
"That's gonna start a conversation that becomes bigger than the actual music, the diss records," he continued. "The conversation will become bigger than the diss records. Trust me on that. They're gonna make it a racial thing and it's gonna widen the divide in the culture. That gap is gonna be like The Grand Canyon when they're done with this shit. You better understand what you're asking for."
The tension continued to mount after Eminem snubbed Snoop on the Music To Be Murdered By: Side B track "Zeus." As part of his verse, makes a reference to Snoop's July 2020 interview with The Breakfast Club in which he said he wouldn't consider Shady in his Top 10 rappers list.
"As far as squashing beef I'm used to people knocking me," he rapped. "But just not in my camp/And diplomatic as I'm tryin' to be/Last thing I need is Snoop doggin' me/Man, Dogg, you was like a damn god to me/Meh, not really (haha)/I had dog backwards."
Snoop finally responded to the line over the weekend, calling it "soft ass shit." Em explained why Snoop's comments bothered him during a special New Year's Eve interview with SiriusXM host Gray Rizzy.
"Everything he said, by the way, was fine, up to a point," Em explained around the 30-minute mark. "Him saying I'm not in his Top 10 because there are some rappers in the '90s I can't fuck with. A: Him saying Dre made the best version of me, absolutely, why would I have a problem with that? Would I be here without Dre? Fuck no, I wouldn't. The rappers he mentioned from the '90s — KRS One, Big Daddy Kane, [Kool] G Rap — I've never said I could fuck with them. I never said that."
He added, "I think it was more about the tone he was using that caught me off-guard 'cause I'm like, where is this coming from? I just saw you, what the fuck? It threw me for a loop. Again, I probably could've gotten past the whole tone and everything, but it was the last statement where he said, 'Far as music I can live without, I can live without that shit.' Now you're being disrespectful. It just caught me off-guard. I wasn't ready for that."
Listen to Em's comments below.