Lil Baby Accepts Quincy Jones Humanitarian Award At Black Music Gala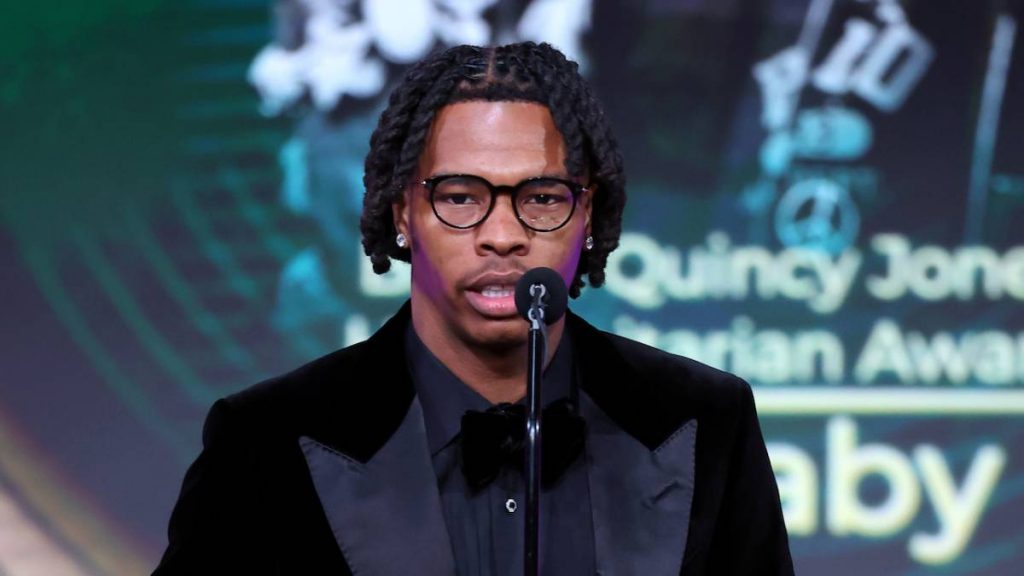 Lil Baby is no stranger to receiving praise and accolades for his music, but this week he took home a prestigious honor in Beverly Hills for his humanitarian efforts.
On Thursday (September 22), the QC rapper was recognized with the Black Music Action Coalition's Quincy Jones Humanitarian Award.
"To even be acknowledged in music, let alone by a role model like Quincy Jones and the Black Music Action Coalition," Lil Baby started his acceptance speech. "I honestly didn't know what a humanitarian award was, but as I looked into it and I started reading, I understand I'm actually a humanitarian."
The Atlanta native was honored along with another music dignitary, Sony Music Publishing executive Jon "Big Jon" Platt, Congresswoman Maxine Waters and author and educator Nikole Hannah-Jones at the event.
Lil Baby accepts Quincy Jones Humanitarian Award at Black Music Gala 🙌https://t.co/3Yh0bPe0KA pic.twitter.com/vIXgpeOJjM

— HipHopDX (@HipHopDX) September 24, 2022
Before he took the stage, Baby was introduced by a touching tribute video by his mother, Lashawn Jones and Quality Control Music Group's Pierre "Pee" Thomas and a letter from Quincy Jones himself.
"Not only have you made music history and impacted the course of modern Hip Hop, but you use your platform to give back to the community in a meaningful way. And that's what it's all about," Jones wrote in a letter to the Atlanta rapper, which was read to the crowd by his son and producer Quincy Jones III.
Powered by the Black Music Action Coalition (BMAC), the Music in Action Awards Gala celebrates artists, executives, businesses, entrepreneurs, activists, and companies that have utilized their platforms to effect social change over the past year. Baby is the second recipient of the award following The Weeknd, who was honored in 2021.
Since the release of "The Bigger Picture" in 2020, Lil Baby has amplified his voice within his community, giving back in various ways, from back-to-school events to launching his $150,000 "My Turn" scholarship for students at his former high school.
On September 2, the QC rapper formally announced the follow-up to his 2020 chart-topping album My Turn titled It's Only Me, along with a new single titled "Detox."
Also at the event, 300 Elektra Entertainment's Kevin Liles was honored with the BMAC Social Impact Award and used his speech to advocate for the Restoring Artistic Protection (RAP) Act. The bill, introduced by Congressmen Hank Johnson and Jamaal Bowman, would limit the admissibility of evidence of creative or artistic expression against an artist in court.
"I'm gonna set aside the common sense thing that artistic creative expression is the same thing as a confession. I'm gonna set aside a First Amendment should protect our freedom of expression," Liles said. "Scholars around the world have tracked almost 500 cases of Black and brown people subjected to a double standard and treating that art as confessions in court. This doesn't happen if you're white. Not ever."
The bill has become a chief mission of Liles in light of Young Thug and Gunna's current incarceration and pending trial on charges related to racketeering.