Lizzo Doubles Down On Drake 'Rumors' Lyrics: 'We Have A Small Relationship'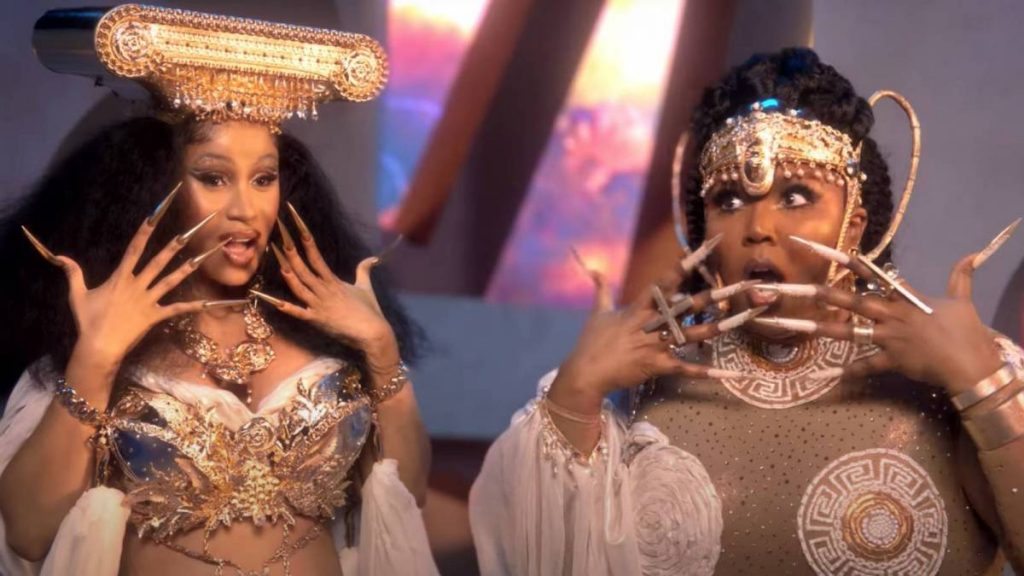 Lizzo and a very pregnant Cardi B unleashed their new collaborative single and accompanying video "Rumors" on Thursday night (August 13), satisfying the itch for those who want more salacious content from the two Grammy Award winners. As suggested by the title of the song, the playful track addresses the various rumors floating around online about both Lizzo and Cardi B.
But one particular line of Lizzo's stood out among the rest when she sang, "Last year, I thought I would losе it/Readin' shit on the internеt/My smoothie cleanse and my diet/No, I ain't fuck Drake yet (Ha)."
Lizzo explained why she decided to name-drop the famous Canadian during a recent interview with Apple Music, telling Zane Lowe, "I just thought it would be so funny to say. I have a small relationship with him. He's very cool.I just feel like women, there's so many times where girls' names get dropped in songs because they're fine."
Hey big head @Drake

— ALL THE RUMORS ARE TRUE (@lizzo) August 13, 2021
While Drake has yet to respond to Lizzo's lyric, the 33-year-old singer did speak rather candidly to Apple Music about the constant scrutiny surrounding her weight. She's been relentlessly criticized for years, with people targeting her body rather than focusing on the music she puts out. But somewhere along the way, she feels her willingness to fully embrace who she is has made an impact.
"This is the part of my career that's really hard for me to grasp, is accepting that I've done something that has never really happened or that I was a part of a new movement or a wave, because I was just being myself," she explained. "I was just being me, what the hell? I'm still dealing with it. Everybody's been like this. Right? This has always been the status quo. But I remember when I made a song and it was, I'm in love with myself. I'm in love with myself [2015's 'En Love']. I was like, you know what? I've never heard anyone say that in a song so I'm going to say it.
"And I did it just kind of off the cuff, silly, funny, but I didn't realize it would start this whole thing. I was watching a commercial and it was these big girls in it and it had nothing to do with being big. And I was like, did I do that?"
Lizzo was also quick to point out just her mere presence has been enough to shake things up in the music industry and being called "fat" no longer bothers her.
"I just didn't have the luxury of hiding behind anything because I'm fat,' she said with a laugh. "So it's like, I immediately am out here. I don't know how to describe it. How do I put this in a way that makes sense? I feel like fat is the worst thing people can say about me at this point. This is the biggest insecurity.
"It's like, 'How dare a pop star be fat? How dare…' I had to own that. I feel like other people who were put on that pedestal, or who become pop stars, probably have other insecurities or have other flaws, but they can hide it behind a veneer of being sexy and being marketable."
Even so, with the focus on marketability and sex appeal, Lizzo knows this is only the beginning of a long and arduous fight.
"They always ask me about change. 'How has it changed?' and I'm like, 'There's two worlds going on here.' Do you know what I'm saying? There's the media, there's mainstream culture, the surface of things, the veneer, and then there's the infrastructure. I feel like music can influence the culture and the way things look, commercials, billboards, but that changes so much. The infrastructure has not changed as much.
"There's still so many people who suffer from being marginalized systemically. Meanwhile, there's a plus-sized black girl at the Grammys, but plus-size Black women are still not getting the treatment they deserve in hospitals and from doctors and at work, you know what I mean? We got a long way to go."
Elsewhere in the interview, Lizzo talked about the state of female rap, being a nerd as a kid and dedicating her Grammy to the late Kobe Bryant. Watch it in full above.